Lakers News: Los Angeles Can Add Key Pieces To NBA Title Aspirations
On paper, the Los Angeles Lakers look formidable. The injury to DeMarcus Cousins is seen as a big loss but they did fill up that hole with the signing of Dwight Howard. But then again, there is no telling if the 6-foot-11 can recall the old form that made him a three-time NBA Defensive Player of the Year.
In short, anything can happen this 2019-20 NBA season. The Lakers could live up to their billing as one of this year's favorites or flounder. Should they need more manpower heading into the playoffs (assuming they do reach it this far), they now have another chip they can use – a disabled player exception.
Sources told Shams Charania of The Athletic that the Lakers were granted a disabled player exception worth $1.75 million by the NBA for the expected season-ending ACL injury to DeMarcus Cousins. It expires on March 10, 2020.
This means that the Lakers could add a player who would be willing to play for $1.75 million. Seeing how good the chances the purple and gold hold in possibly winning it all, there are a lot of players who are expected to be open to the idea. But this still depends on what the Lakers plan to do with Cousins.
As of this writing, Cousins remains a Laker and the only way a roster spot can open is if the 29-year-old center is waived. Boogie is on a one-year deal with the Lakers and unless he can show he can play at some point, chances are he will be waived to make room for someone who can help the Lakers 2019-20 campaign.
Aside from the injury, Cousins is also facing domestic violence charges. In a previous post, it was detailed how the newly-married NBA star threatened his former girlfriend, Christy West, for now allowing their son to attend his wedding. Cousins married long-time flame Morgan Lang before the domestic violent row cropped up.
Also factoring in is Howard. If the eight-time NBA All-Star can respond well in the company of LeBron James and Anthony Davis, the Lakers would more likely be inclined to waive him and skim the market for players who can be of help. Right now, it appears the purple and gold could benefit more adding players to any position on the squad.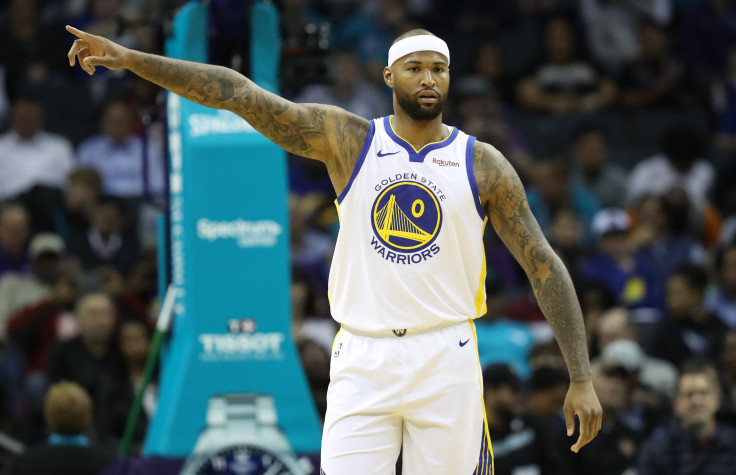 © Copyright IBTimes 2023. All rights reserved.