Lakers Playoff Scenarios: Possible Opponents For First-Round After 2021 Play-In Tournament
Several possible scenarios sit in front of the Los Angeles Lakers as they head toward the 2021 NBA play-in tournament. The defending champs will either miss the playoffs or enter the postseason as the No. 7 or No. 8 seed in the Western Conference.
The Lakers on Wednesday host the Golden State Warriors in the play-in tournament. Should the Lakers win, they would advance to the first round of the playoffs and a series with the Phoenix Suns.
A loss against the Warriors would put the Lakers into an elimination game. Los Angeles would host the winner of Wednesday's contest between the San Antonio Spurs and Memphis Grizzlies Friday night. A victory in the second play-in game would give the Lakers the No. 8 seed, setting up a first round matchup with the Utah Jazz.
The Lakers are favored by 4.5 points over the Warriors, suggesting they are most likely headed for a series with the Suns.
The Lakers went 1-2 against the Jazz in the regular season. LeBron James missed two of the games, and Anthony Davis didn't face Utah once.
Los Angeles also went 1-2 against Phoenix. Davis didn't play in one of those losses, while James missed the other defeat.
With Davis and James healthy, the Lakers would likely be favored against either Utah or Phoenix in a seven-game series. Los Angeles hasn't clinched a playoff berth yet and is still the betting favorite to represent the West in the 2021 NBA Finals.
The Jazz have lost in the first round of the playoffs in two straight seasons. The Suns are making their first playoff appearance since 2010.
Since leaving the Cleveland Cavaliers for the first time in 2010, James has made the playoffs nine times. The superstar's team reached the NBA Finals in all nine of those seasons.
The Lakers needed just five games to eliminate each West opponent from the playoffs during last year's title run.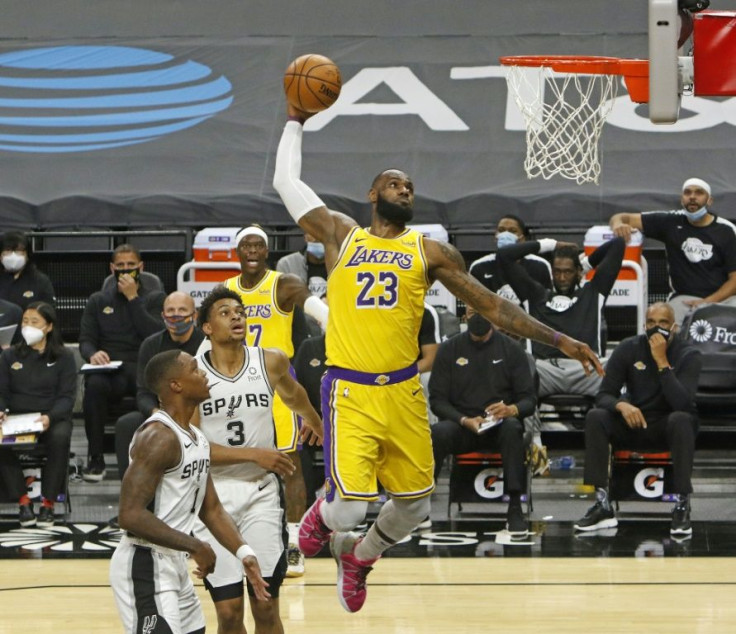 © Copyright IBTimes 2023. All rights reserved.