Lakers Rumors: Could LeBron James Really Join LA? Lots Of Questions Surround 2018 Free Agency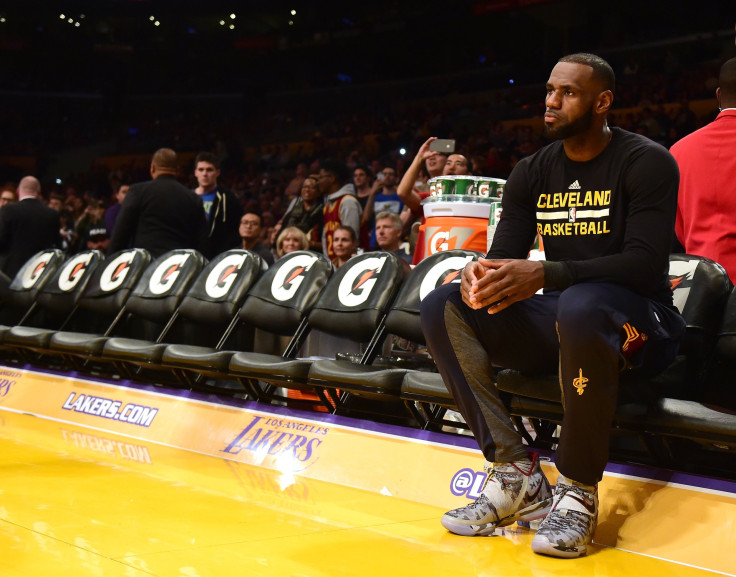 Where will LeBron James take his talents? The face of the NBA is a free agent at the end of 2018 season, and there is plenty of speculation from pundits that the Cavaliers superstar may once again leave Cleveland for a warm-weather city that has a better chance of winning a title.
ESPN analyst Will Cain has already provided a spirited endorsement of James joining the Los Angeles Lakers.
"The question is: does he have a better shot with the Cavs or a better shot with the Lakers? I think we've seen the Cavs' best shot," Cain said on an ESPN panel. "The Cavs' best shot was this past year. You got Kyrie [Irving]. You got Kevin Love. And you have a team that is extraordinarily over the cap and handcuffed with their ability to get better. They are going to have a world of trouble making that team better. They tried to trade for Jimmy Butler, but didn't pull it off. You can try to trade Kevin Love for somebody to increase that third option, but you haven't pulled it off so far.
"Now what do you get if you go to the Lakers? You will have Lonzo Ball already on his second season. I happen to be a Lonzo Ball 'believer.' I know it's Summer League but he is lighting that thing up. And that way this guy plays the game makes everyone around him better. He's making passes three or four . . . plays ahead of time. He's making a pass he knows three passes down the road is going to lead to a basket. He has a basketball I.Q. higher than a player I've seen come in the league in a long time—except maybe the exact guy we're talking about: LeBron James.
"LeBron James, I'm sure, would relish the opportunity to play with somebody with this level of basketball I.Q. You don't just get Lonzo, by the way. You get about $48 million in cap space. So you get Lonzo, you get LeBron, which is, by the way, the primary the reason Cleveland's in the finals every year. And you get 'x other player' that LeBron can recruit from his 'buddy pool,' which is pretty large, to make the Lakers better. Once you put all those things together, I like the Lakers' chances. I like the Lakers' chances to take on the Warriors two or three years down the road."
Meanwhile, NBA insider Adrian Wojnarowski said that new team president Magic Johson and general manager Rob Pelinka were targeting James "from the day they got the job." Jalen Rose added that James believes "he's as good as gone."
How much truth is there to Cain and Rose's assessments and Wojnarowski's inside information? On the surface, it might make sense for James to play for the Lakers, but it also presents some big questions about his legacy and his strategy to win at least one more title.
James Would Be Turning His Back On Cleveland... Twice?
James and loyal members of the media can present the argument that James and owner Dan Gilbert are on bad terms after some questionable front office decisions, prompting him to leave Cleveland a second time after his first exit for the Miami Heat in 2010. But the overriding opinion will be that James simply doesn't want to play in a city like Cleveland and on a roster that doesn't provide him enough of a chance to win a title.
While legends like Magic Johnson, Larry Bird, Kobe Bryant, Tim Duncan and James' idol Michael Jordan won all their rings with one team, James will be remembered for being nomadic. Some may view jumping from city to city has tarnished his legacy.
Why Would James Want To Play In The West?
Getting through the Western Conference can be an exhausting proposition, especially considering the Golden State Warriors are loaded with talent and the San Antonio Spurs seem to have a stranglehold on winning at least 50 games a year. Meanwhile, the Houston Rockets have put together an impressive roster, and the Oklahoma City Thunder can be contenders for years if they hold onto Russell Westbrook and Paul George. The Western Conference also features up-and-coming teams like the Minnesota Timberwolves, who could finally be ready for a title push by 2019.
The East, on the other hand, looks weak without James on the Cavs. The only serious current threat in the conference is the Boston Celtics. The Philadelphia 76ers could one day be contenders if all the pieces fit into place by 2018-19.
Are The Lakers Really The Right Fit?
There has been talk that James may want to play with George and Westbrook. But if he wants to do that, why do the two Thunder stars need to leave L.A. when James can just head to Oklahoma City? By joining the Thunder, George and Westbrook could sign max deals and James can play in a state that has low income tax.
Indeed, the options for James don't begin and end with the Lakers. He can also consider playing for teams that have a stronger infrastructure in place or might have more salary cap space to lure free agents.
Will The Lakers Be Ready To Compete In 2018-19?
The short answer is "probably." Ball is certainly a creative player, but he has yet to play one minute in a real NBA game and though he is a talent, he's an unproven talent. Johnson raves about Brandon Ingram's potential, but he's only 19 and his rookie season didn't stand out amongst other first-year players. The Lakers have a ton of cap space, but can James lure more than one star player to join him? If the answer is yes, James can give the Lakers a lot more consideration.
The Lakers have some other solid players, but this is by no means a complete roster. It might be difficult for James to immediately win a title, and the 32-year-old has already logged plenty of NBA seasons.
© Copyright IBTimes 2023. All rights reserved.