Lakers Rumors: LeBron James To LA Heating Up Ahead Of 2018 Free Agency?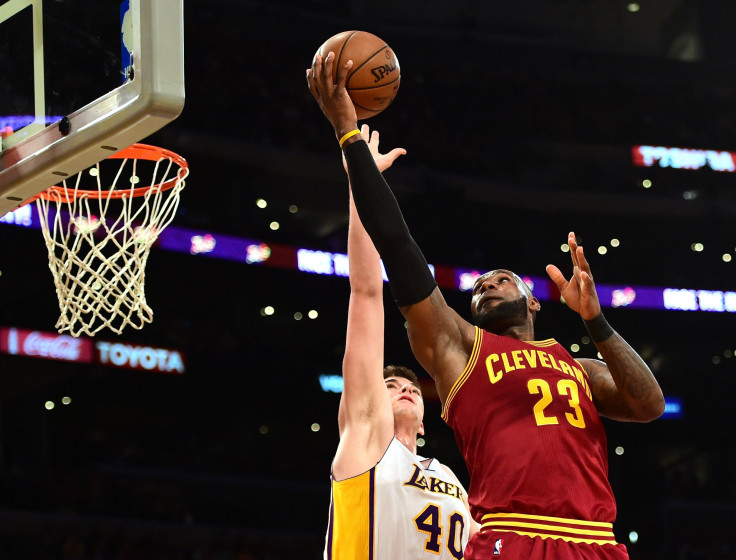 Rumors have been incessant that LeBron James will join the Los Angeles Lakers as a free agent in the summer of 2018. The Cleveland Cavaliers superstar has been considered a top target of the Lakers for months, and several notable pundits have been adamant that the three-time NBA champion is set to play his final season in Cleveland before bolting for the warmer pastures of Los Angeles.
On Saturday, longtime NBA insider Peter Vecsey joined the LeBron-to-L.A. chatter by offering the boldest claim to date.
"I'm publicly terminating the pandemic of speculation surrounding LeBron James' playing plans past this season," Vecsey wrote on Patreon. "For months, many in the media declared or composed presumption the Lakers would be the beneficiaries of his talents when he became a free agent July 1, 2018. I'm eradicating all conjecture and uncertainty! I'm comfortable now in stating unequivocally, LeBron will leave the Cavaliers a second time and join the Lakers, and return the team to LA Lore status."
There isn't anything groundbreaking with Vecsey's comments other than they sound supremely confident, but they do add to the growing sentiment that James is done with the Cavs and thinks he has a better chance of winning titles with the Lakers.
NBA insider Chris Sheridan said James is "100 percent leaving" Cleveland. ESPN's Adrian Wojnarowski has made suggestions that general manager Rob Pelinka will be in an all-out pursuit of James, while Stephen A. Smith had linked James to the Lakers as far back as 2016. Betting website OddsShark.com listed the Cavaliers as the favorite to have James on their roster in 2018-19 at +250 odds, but the Lakers were not far behind at +275, and the Boston Celtics were a distant No. 3 at +700.
It's certainly not a done deal, or necessarily a wise decision, that James would take his talents to Los Angeles. The Lakers play in the highly competitive Western Conference, James would be paying a lot in California taxes and James would be playing on his third team in 16 seasons — a career path legends like Michael Jordan, Kobe Bryant, Larry Bird and many others avoided.
Yet there are plenty of reasons to believe James will spend the final years of his career with the Lakers.
1) The Lakers Have Up-And-Coming Players
When James rejoined the Cavs in 2014, he knew there was young talent already in place for Cleveland to thrive. Kyrie Irving was 22 years old, Tristan Thompson was 23 and Cleveland owned the rights to the first overall pick in the 2014 draft, which was ultimately traded for Kevin Love. The Cavs won't have much salary cap maneuverability to add a free agent of significance and James will be dealing with new faces next season from the Irving trade with the Celtics.
The current Lakers are in a somewhat similar position to the Cavs in 2014, with the roster including incoming rookie point guard Lonzo Ball and budding star Brandon Ingram. The Lakers also have some other solid young players under contract like Jordan Clarkson, Julius Randle, Larry Nance Jr., Ivica Zubac and Kyle Kuzma.
2) The Lakers Have Cap Space To Lure Another Free Agent
Should James make the decision to join L.A. he almost certainly won't be arriving by himself. The Lakers have a projected cap space of $36.1 million and that figure can even improve with some trades, which means they can possibly add Southern California natives Paul George or Russell Westbrook, or perhaps both. James is all about championships and he won't commit to a team unless he's surrounded by other stars.
3) There Are Limited Option Beyond The Lakers
Not many teams have the cap space, the big-city allure and the infrastructure in place to land James and another free agent. James could consider the Dallas Mavericks or the Chicago Bulls, but he seems better off in Los Angeles because of the many quality pieces in place.
4) James Likes Warm Weather
Most NBA players gravitate to warm-weather cities and James has already done it once when he bolted for Miami in 2010. Teams like the New York Knicks, Brooklyn Nets and the Bulls had the cap space to add James, but he chose a team that plays in one of the warmest cities in the country. Like many other players, James spends his offseasons in Los Angeles.
5) He Accomplished So Much In Cleveland
Cleveland fans should be a bit more accepting of James potentially leaving again this time around after he delivered the city its first since 1964 with a thrilling Game 7 victory over the Golden State Warriors in 2016. When James left in 2010, many felt that betrayed by a local sports hero who had given up on the city after winning no titles. There will be less hard feelings in 2018 if he leaves again.
After what would be 11 seasons in Cleveland, Cavs fans can feel grateful for James' stellar statistics and deep playoff runs. James, who gave a heartfelt statement about rejoining the Cavs in 2014, will feel less remorse this time around after ending Cleveland's long championship drought.
6) LA Is The Entertainment Capital Of The World
James will be 33 in the summer of 2018, so he is no doubt aware of life after basketball. Like many wealthy athletes, James is interested in the entertainment industry and his production company, SpringHill Entertainment, is located in Burbank.
7) He Owns A Home In Brentwood
There won't be any annoying moving issues for James. He also has reportedly scouted high schools for his son.
8) Magic Johnson Is The Lakers' President
The Lakers had a reputation for being a mess under former executive Jim Buss. Under Johnson, a basketball icon and a highly reputable entrepreneur, James will feel comfortable with the team's management and direction.
© Copyright IBTimes 2023. All rights reserved.