Lamar Jackson Net Worth: Patrick Mahomes Rival Is Only Earning $1.3M This Season
KEY POINTS
Lamar Jackson is only making $1.3 million in 2020
Patrick Mahomes is signed to a 10-year, $503 million deal
Jackson is set for a bigger payday once his rookie contract expires
Lamar Jackson is one of the NFL's brightest stars. Surprisingly, he is also one of the most underpaid.
Jackson will only receive $1.3 million in 2020. He made $1 million in 2019 and $5.4 million in 2018, a report from Spotrac revealed. Next season, he is set to make $1.7 million. His deal includes a 5th year option and if the Baltimore Ravens don't want to risk losing him to other teams, they must prepare to open their war chest, not any ordinary war chest, but something that could contain around half a billion.
Jackson's rival, Patrick Mahomes, signed a 10-year, $503 million deal to play for the Kansas City Chiefs. His mammoth deal eclipsed the record set by Los Angeles Angels outfielder Mike Trout's $426.5 million deal for 12 years, per Sports Illustrated.
The Chiefs have put incredible trust in Mahomes and if he remains healthy and committed, fans have no reason to believe he doesn't deserve the money. At just 25 years old, Mahomes has plenty of time to prove his critics wrong. The same can be said of the Ravens star QB. Jackson is only 23 years old and has accomplished so much at his age. Once the time comes his current deal expires, experts agree that he should be paid the same if not bigger than what the Chiefs rewarded Mahomes with.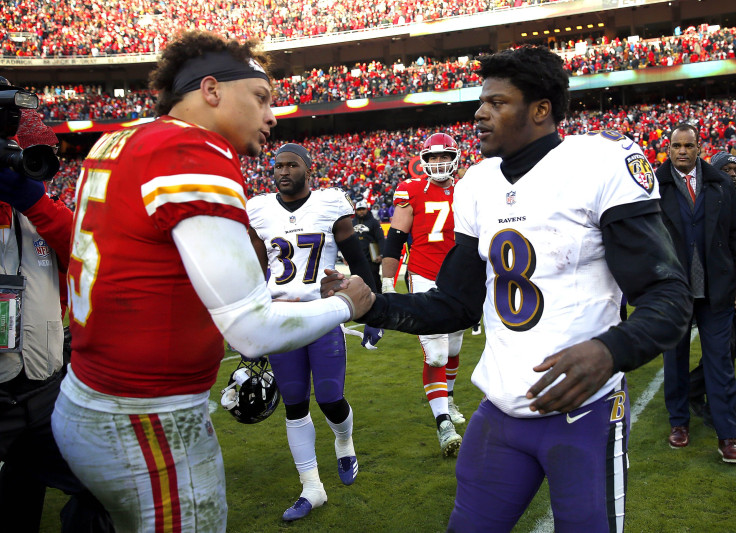 Jackson and Mahomes are both former NFL MVPs; the former did it in 2019 while the latter won it in 2018. While the Pompano Beach, Florida native is still on his $9.5 million rookie contract, it includes a $4.9 million signing bonus and $7.5 million guaranteed. Aside from winning the MVP, "Smiley Face" has been giving fans a glimpse of what he is capable of during his college days at Louisville. According to Celebrity Net Worth, he captured the Heisman Trophy, Maxwell Award, Walter Camp Award, Associated Press Player of the Year and Sporting News Player of the Year, among others.
Fortunately, Jackson has several lucrative deals off the field which compensates for his low salary. A separate Sports Illustrated article claims that Oakley made the Ravens star QB their newest ambassador. While terms of the contract were not revealed, Jackson joins other NFL superstars who are Oakley endorsers such as Mahomes and JuJu Smith-Schuster.
Smiley Face also hired his mom to be his agent, per Bleacher Report. This means there will be no agent fees and money is directed to their family. In addition, this also gives him more power to decide what he wants for his future.
© Copyright IBTimes 2023. All rights reserved.