Lance Armstrong Stripped Of 7 Tour Titles Amid USADA Doping Charges Report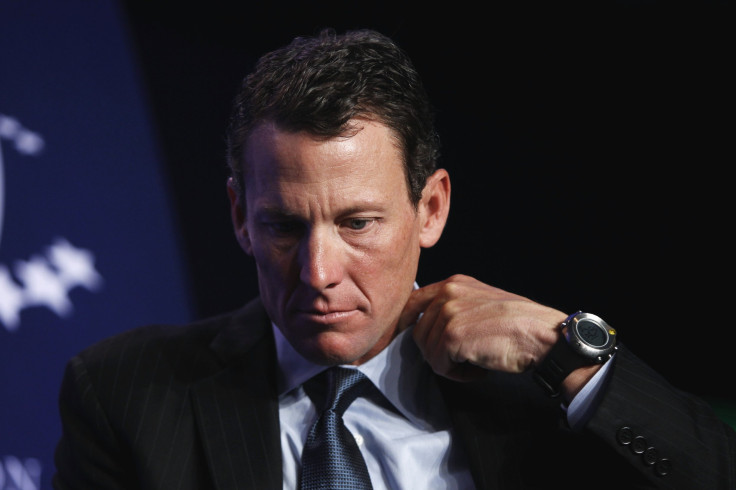 Lance Armstrong has been stripped of seven Tour de France titles, the International Cycling Union announced Monday.
According to a statement released by the sport's governing body on Monday morning, the 41-year-old Armstrong will also be banned for life from the tournament as a result of a damning report from U.S. officials that concluded he cheated throughout his career.
"Lance Armstrong has no place in cycling," the union's president, Pat McQuaid said, announcing that Armstrong is banned from the sport.
McQuaid, speaking at a news conference Monday, said he does not believe cycling will ever be free from doping, because "I don't think in any aspect of society there are no cheats. I do believe that doping can be hugely reduced."
The union's decision coincides with a report that says Armstrong and his teams used steroids, the blood booster EPO and blood transfusions. The report included statements from 11 former teammates who testified against Armstrong.
While Armstrong has long since denied claims that he used performing enhancing drugs while competing, he recently chose not to fight USADA in one of the agency's arbitration hearings, arguing the process was biased against him. Former Armstrong team director Johan Bruyneel is also facing doping charges, but he is challenging the USADA case in arbitration, Fox News reports.
The International Olympic Committee also is reviewing the evidence and could revoke Armstrong's bronze medal from the 2000 Sydney Games, according to CNN.
On Sunday, Armstrong greeted about 4,300 cyclists at his Livestrong charity's fundraiser bike ride in Texas, telling the crowd he's faced a "very difficult" few weeks.
"I've been better, but I've also been worse," Armstrong, a cancer survivor, told the crowd.
While the allegations against Armstrong have more than likely taken a toll on him mentally, the claims have proven to be a significant blow to his professional career as he has since been dropped by longtime sponsors Nike, Trek Bicycles and Anheuser-Busch.
Armstrong also recently stepped down as chairman of Livestrong, the cancer awareness charity he founded 15 years ago after surviving testicular cancer which spread to his lungs and brain.
His highly-publicized return from the life-threatening illness to the peak of his formerly celebrated cycling career was once seen as one of the most inspirational stories in sport of cycling. However, his downfall has ended "one of the most sordid chapters in sports history," USADA said in its 200-page report published two weeks ago.
If Armstrong's Tour victories are not reassigned there would be a hole in the record books, marking a shift from how organizers treated similar cases in the past.
© Copyright IBTimes 2023. All rights reserved.