Las Vegas Sands Corp Stocks Drop At Hands Of Macau Gaming Revenue Losses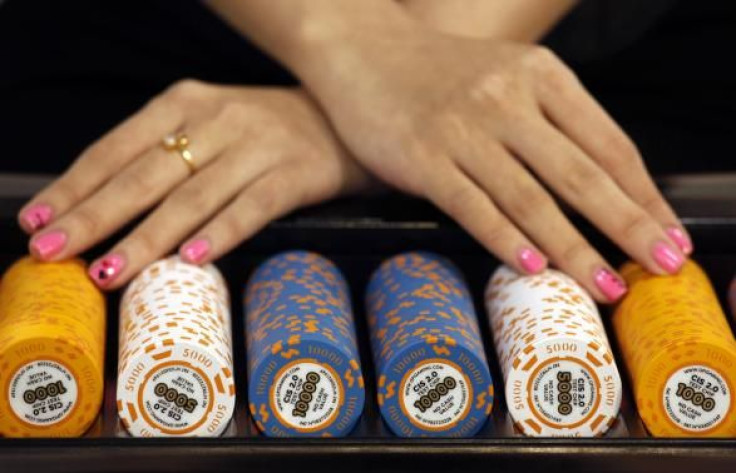 Gaming revenue for Macau casinos has fallen for the 10th straight month, and while the dramatic drop in gambling has Macau's tourism and casino businesses taking a hit, it also has had profound effects on companies overseas with a vested interest in Macau's hospitality industry.
In the past, Macau -- which, like Hong Kong, is a special administrative region of China -- has been a haven for China's high rollers. While gambling remains illegal on the mainland, Macau, located just off the southern coast of China, was the hospitality hot spot for Las Vegas-style casino gambling, bustling nightlife and dining. Recently, however, Macau has been losing its luster.
Data from the Gaming Inspection and Coordination Bureau of Macau said that gross gaming revenue plummeted by 39.4 percent last month, the 10th straight month of decline.
"It's going to be a very hard year for Macau," John Bruce, the Macau director of Hill & Associates' Hong Kong consultancy branch, told the South China Morning Post. "What's really pulling down the figures are political factors. China's anticorruption drive is stopping VIP guests from coming."
Beijing's crackdowns on corruption, displays of wealth and luxury spending by government officials have had a significant effect on Macau's gambling scene. While leisure gambling is likely plummeting, Chinese officials also would launder cash under the facade of gambling, allowing them to move money offshore without raising too many eyebrows. However, Beijing caught on and has zeroed in on Chinese officials who are financial fugitives laundering their money in Macau. This week, a Beijing official, Huang Shuxian, the deputy chief of the Central Commission for Discipline Inspection, called on Macau's domestic anti-graft bureau to cooperate with mainland authorities to track down officials.
Across the Pacific, the exodus of VIP clientele from Macau casinos is also a concern for Las Vegas-headquartered Las Vegas Sands Corp., which owns the Sands Macao casino. While Las Vegas Sands has been able to maintain the same gross revenue over the past 10 months, the dropping stock price over the same period indicates concern over performance in Macau. Harry C. Curtis, Kelvin Wong and Brian H. Dobson, Nomura Securities analysts, said in a note on Wednesday that February's gaming revenue data is what prompted them to lower price targets for Las Vegas Sands to $53 from $54, a trend that has occurred over the past 10 months. In the 10-month period from May 2014 to February 2015, shares of Las Vegas Sands dropped 28.29 percent, according to data from Thomson Reuters. At its highest, shares were at $81.25 on May 2, falling as low as $49.82 on Dec. 17.
Still, Sands is not yet in crisis mode. With appropriate marketing, casinos can lure China's increasingly wealthy and well-traveled middle-class tourists, who are spending a record $164.8 billion abroad, which can offset the decline of VIP official clients.
"The mass market in Macau, fueled by China's rising middle class and its newfound ability to travel and take vacations, has been growing steadily," Bradley Seth McNew, an investor who says he's hanging on to his Las Vegas Sands stock, said in a blog post on the Motley Fool, a financial services advice website. Las Vegas already has become a hit among Chinese tourists, but a concerted effort needs to be made to push their Macau outposts too. "Las Vegas Sands is particularly primed to take advantage of this trend," McNew said, "with more properties and more hotel rooms than any other company in Macau."
© Copyright IBTimes 2022. All rights reserved.
FOLLOW MORE IBT NEWS ON THE BELOW CHANNELS