Latin Lovers: China And U.S. Both Vying To Increase Influence And Trade In Latin America, Caribbean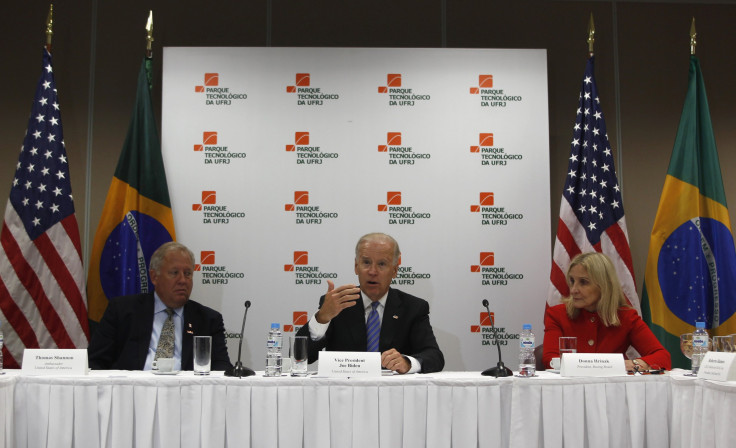 The battle is on. The world's two largest economic superpowers, China and the United States, are making moves on Latin America, hoping to gain more geopolitical influence in a booming region.
U.S. Vice President Joseph Biden arrived in Rio de Janeiro on Wednesday, while Chinese President Xi Jinping just landed in the Caribbean island nation of Trinidad and Tobago and is following closely in Biden's steps.
Biden's visit to Brazil marks the end of a six-day swing through the region, which included stops in Colombia and Trinidad and Tobago. Xi's trip to Trinidad, Costa Rica and Mexico is the first since the formal transition of power ended in China in March. These parallel journeys from the world's top powers to Latin America emphasize how the region's vast natural resources and steady economic growth are making it an increasingly attractive trading partner.
China's designs on Latin America have long been apparent, with imports to the Asian giant surging from $3.9 billion in 2000 to $86 billion in 2011, as calculated by the Inter-American Development Bank. Now, China seeks to start buying massive amounts of soy beans, copper and iron ore from Latin nations, reports the South China Morning Post.
The U.S., on the other hand, which has had deep involvement in many Latin American nations for the past two centuries, has nonetheless been less than consistent in its recent trade policies, said Boston University economist Kevin Gallagher, who has written about China's incursions in the region. "The onus is on the U.S. to come up with a more flexible, attractive offer, but that's not so easy because it doesn't have the deep pockets like it used to," he told Bloomberg.
During his visit to Colombia, Biden signed a two-year free trade agreement between the countries, calling it "just the beginning." The VP said, at the end of a particularly tense discussion about trade in Trinidad on Tuesday, that the U.S. is deeply invested in the region, and wants to expand that investment with more agreements. "Our goal is not simply growth, but growth that reaches everyone," he added.
In Rio de Janeiro, Biden met with President Dilma Rousseff and invited her to a meeting in Washington to finalize a strategic accord. Biden mentioned being particularly interested in oil and energy companies like state-owned Petroleo Brasilero, better known as Petrobras (NYSE: PBR), reported Brazilian newspaper O Globo.
Biden mentioned that trade with Brazil could be increased by 400 percent from the current $100 billion, if trade between the two largest Western Hemisphere nations included biofuels and aviation.
Meanwhile, China's blossoming relationships with the region evince a shift in its strategy; indeed, in the past Beijing deferred to U.S. economic interests in Latin America, due to geographic proximity, even referring to the region as "Washington's backyard." But now, in a globalized world, China seems to view the entire planet as its own "backyard."
"You don't hear that anymore from Xi's team," said Evan Ellis, professor at the National Defense University in Washington, D.C. In fact China has recently ousted the U.S. to become the top trade partner for Brazil and Chile, reported Bloomberg News.
Moreover, China is seeking to advance its footprints in the region in gradual steps -- for example, Beijing plans to lend Costa Rica $400 million to help expand a highway, reported local newspaper La Nación.
"If the Chinese decide to unroll one of their little packages in Trinidad [the biggest energy supplier in the region], they will win the entire Caribbean over," said Gallagher.
Still, the U.S. and China both deny they are competing in the vast region. Ultimately, the decision lies with Latin American leaders, says Gallagher. "If I was [a Latin American leader], I'd be very happy because I now have more chips to play with," he added.
Follow me on Twitter: @PReyMallen
© Copyright IBTimes 2023. All rights reserved.
FOLLOW MORE IBT NEWS ON THE BELOW CHANNELS