Law Firm Representing Kentucky Clerk Kim Davis Termed Hate Group For Anti-Gay Stance: Report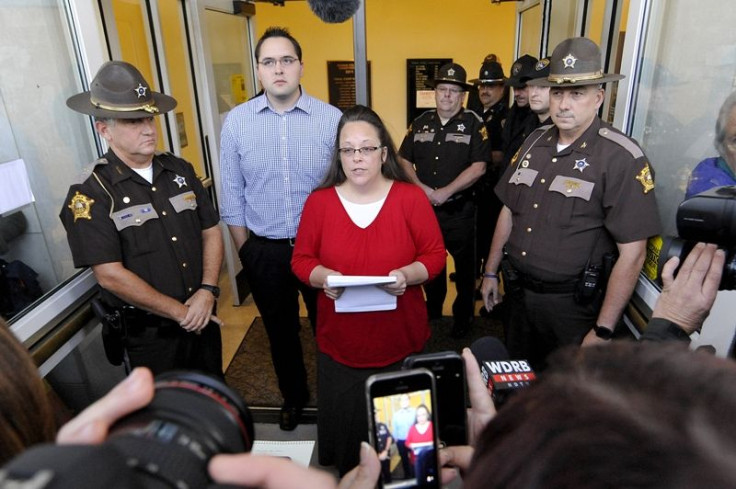 Liberty Counsel, a law firm representing Kentucky clerk Kim Davis, has been termed as hate group for spreading false information by a nonprofit legal advocacy group, the Associated Press reported Sunday. The Southern Poverty Law Center's senior official Mark Potok said that people at the firm "are way, way over the line" according to AP.
The law firm is representing Davis' stance for not issuing marriage licenses to homosexuals on religious grounds. Davis also spent five days in prison last month after being found in contempt of court for denying the licenses.
The Liberty Counsel is reportedly of the opinion that hate crimes should be banned across the country because it curbed freedom of speech and conversion therapies that claim to turn homosexuals into heterosexuals should be implemented as it believed in "personal autonomy." The Liberty Counsel argues that homosexuality is associated with increased rates of promiscuity and incest, despite scientific evidence contradicting the statements, Potok said.
However, Mat Staver -- founder of the Liberty Counsel -- said that the firm could not be deemed as a hate group because it loved God's creation, AP reported. "It is irresponsible and reckless to call someone a hate group because you disagree with them," Staver said. Tony Perkins, president of the Family Research Council, called Staver a courageous legal scholar.
However, other civil rights advocates were of a different opinion.
"There is an enormous amount of bluster amid his [Staver's] legal arguments," Barry Lynn, a minister and executive director of Americans United for Separation of Church and State, said, according to AP. "It looks to me like he's making claims that will get his clients great publicity, but not necessarily get them victories," Lynn added.
Late September, 50-year-old Davis -- in a court filing -- accused Kentucky Gov. Steve Beshear of her legal troubles. After the U.S. Supreme Court legalized same-sex marriage across the country in June, Beshear sent a directive to Kentucky's 120 county clerks instructing them to issue marriage licenses to homosexual couples. Davis said that his directives to abide by the Supreme Court's decision forced her to defy the court and spend prison time. The Liberty Counsel had argued that that Beshear's warning was "ominous."
Beshear's lawyers, in reply to the suit, said that Davis' arguments for not issuing gay marriage licenses on religious grounds were "absurd," "obtuse" and "forlorn."
© Copyright IBTimes 2023. All rights reserved.