At Least 114 African Migrants Dead After Ship Capsizes Near Italian Island Lampedusa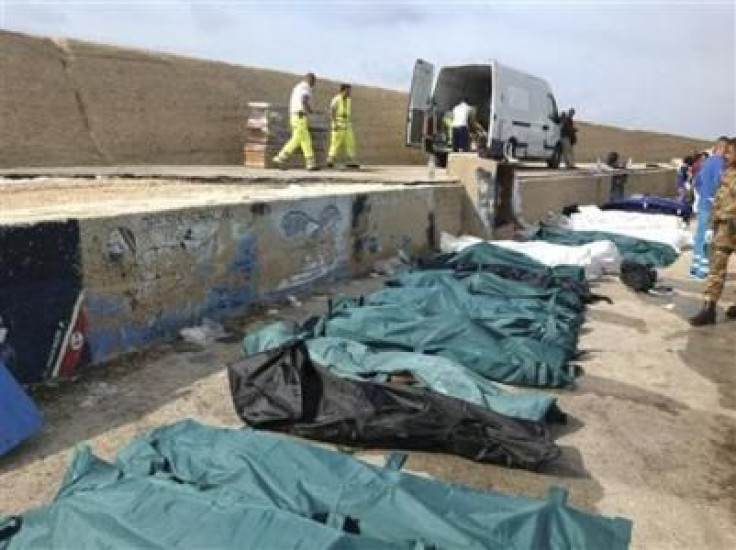 At least 114 people died and some 200 were still unaccounted for late Thursday after a fishing boat heading toward the small Italian island of Lampedusa -- a vessel overcrowded with African migrants -- capsized, Italian officials said.
Between 450 and 500 people were believed to be on board the trawler, which set sail from Libyan capital Tripoli, according to the Associated Press.
The 66-foot boat was carrying migrants from Eritrea, Ghana and Somalia, Italian coast guard spokesman Marco Di Milla told the AP.
The craft capsized about a half-mile from Lampedusa. Health commissioner Antonio Candela said that only 159 people were rescued, and Italy's Coast Guard was continuing its search for more survivors, the New York Times reported.
The ship was the third boat of the night en route to Lampedusa, an island about 70 miles (113 kilometers) off Tunisia and closer to Africa than the Italian mainland, and place that's at the center of wave after wave of illegal immigration, according to the Times. In certain months, boats packed with migrants and people seeking asylum arrive there almost every day.
After the fishing boat started taking on water, someone set a fire on board to alert passing ships, the AP reported. But as the fire spread, frightened passengers rushed to one side of the craft to escape. The vessel then capsized, tossing hundreds of adults and children -- many who didn't know how to swim -- into the Mediterranean Sea.
"We need only caskets, certainly not ambulances," said Pietro Bartolo, chief of Lampedusa health services.
"It's an immense tragedy," Mayor Giusi Nicolini added.
The accident, which took place within eyesight of the island, is one of the worst in recent memory to occur in the Mediterranean. The death toll underscores the often dangerous and desperate efforts by migrants from Africa and the Middle East to reach Europe, the Times pointed out.
The tragedy also draws extra attention to strict European immigration policy, a politically volatile issue that's underscored, for instance, by a fence that's nearly eight miles long that Greece positioned to block its border with Turkey, a move that closes off a key land-migration route, the Times noted.
The difficulty of entering Europe by land has inspired many migrants to attempt the trip by sea, which if often a more dangerous way to travel. According to statistics from Save the Children, 21,780 migrants, including 4,000 children, arrived in Italy from January to September 2013, according to the Times.
Pope Francis, who visited the island in July to draw attention to the plight of migrants, expressed sadness and outrage over Thursday's accident, according to reports.
"The word disgrace comes to me," the pope said, calling for prayers on behalf of the dead and their families. "Let us unite our efforts so that similar tragedies do not happen again. Only a decided collaboration among all can help to stop them."
According to the Times, it was unclear whether the migrants were delivered by smugglers and then repositioned to a smaller boat, or if the passengers all traveled in the same ship -- one in which those on board obviously weren't able to alert authorities in time.
Smugglers usually have mobile or satellite phones to call for help when they encounter trouble. But on this boat, someone set a fire to attract the attention of passing ships.
"Normally, these boats have a satellite phone, or someone on board will call a relative in Italy who alerts the authorities," said Veronica Lentini, who works with the International Organization for Migration in Lampedusa, and spoke with several survivors. "But in this case, no one advised anyone."
Lillian Pizzi, a psychologist who works with migrant families on Lampedusa, spoke about the survivors.
"They're exhausted and they're finding it difficult to explain exactly what happened," said Pizzi, who works for Terre des Hommes, a nonprofit group. "It is something that happens all too often. It has to be read politically. This is not an accident at sea. It is something else."
© Copyright IBTimes 2023. All rights reserved.