LeBron James, Chris Paul, NBA Stars Speak From Their Bubble On Jacob Blake Shooting
Some of the NBA's top players had little interest in talking about what happened on the basketball court after big playoff victories in the wake of the shooting of Jacob Blake.
LeBron James led Los Angeles Lakers to a victory over the Portland Trail Blazers Monday night that put L.A. one win away from reaching the second round of the postseason, but moments following the final buzzer, the NBA's biggest star didn't sound like someone who just had a historic playoff performance.
"It's a wide range of emotions. Extremely proud of my team the way we played tonight ... and then at the same time having the emotions of going on of what happened outside of Milwaukee to Jacob Blake," James said on TNT right after Monday's game.
"It's what we've been talking about and it's what we're going to continue to talk about. Having two boys of my own and me being and African American in America and to see what continues to happen with the police brutality towards my kind, continue to see what goes on with just the in-just — it's very troubling. We play a beautiful game. We bring so many families together to enjoy and to enjoy it, but at the same time never losing track of what's really going on in our world especially in America. So my prayers go to that family and hopefully we can have some change."
Chris Paul had a similar message on the court right after the Oklahoma City Thunder defeated the Houston Rockets. When Paul was asked how the Thunder pulled away from the Rockets in the fourth quarter by TNT's Stephanie Ready, he didn't even address his team's comeback victory.
"I don't know, that's all good and well, I just want to send my prayers out to Jacob Blake and their family," Paul said.
"The things that we decided to come down here to play for and we said we're gonna speak on, the social injustice and the things that continue to happen to our people — it's not right. It's not right."
NBA players have made their voices heard on social justice issues since the league made its way to Orlando, Florida to resume the season that had been halted because of the coronavirus pandemic.
Black Lives Matter is painted on each court, and players are wearing shirts that read Black Lives Matter during warm-ups and while on the bench. Almost every player and coach has kneeled during the national anthem. Players have also discussed the killings of George Floyd and Breonna Taylor.
For some, that isn't enough. A coalition of players, led by Brooklyn Nets star Kyrie Irving, voiced concerns in June about resuming games amid calls across the country for racial and social justice. Milwaukee Bucks guard George Hill was almost distraught after his team's victory.
"First of all, we shouldn't even have came to this damn place to be honest," Hill told reporters Monday after his team defeated the Orlando Magic. "Coming here just took all the focal points off what the issues are. But we're here. It is what it is. We can't do anything from right here. But definitely when it's all settled, some things need to be done. This world has to change. Our police department has to change. Us as a society has to change. Right now, we're not seeing any of that. Lives are being taken as we speak day in and day out. There's no consequence or accountability for it. That's what has to change."
Despite Hill's potential regrets, the games will continue. The playoffs are still in round one of four. The NBA Finals might not conclude until Oct. 13.
That doesn't mean the players will shut up and dribble.
In June, James launched More Than a Vote, a nonprofit organization devoted to supporting Black voters. The league's most recognizable faces will use their platform to raise awareness about voting, police brutality and other social justice issues.
"The win is good, but voting is real," Paul said Monday. "I'm gonna challenge all my NBA guys, other sports guys, let's try to get our entire teams registered to vote. There's a lot of stuff going on in the country. Sports, it's cool, it's good and well, it's how we take care of our families, but those are the real issues we gotta start addressing."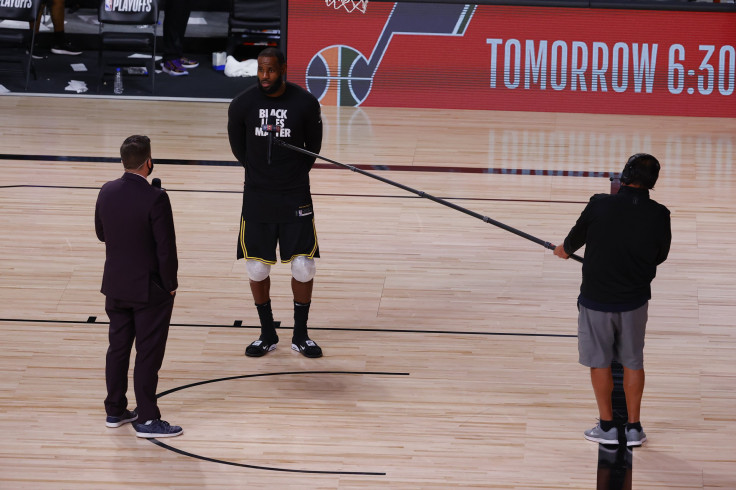 © Copyright IBTimes 2023. All rights reserved.