LeBron James 'Much Better Basketball Player' Than Michael Jordan, NBA Legend Says
The debate as to who the NBA's greatest player of all time (GOAT) does not seem to be going away any time soon as former Detroit Pistons star Isiah Thomas stirred the pot by claiming LeBron James is a "much better basketball player" than Michael Jordan.
Throughout the last 20 years, Jordan was considered basketball's unanimous GOAT given his six NBA titles, six MVP awards and overall talent and marketability that saw him popularize the sport into the mainstream.
However, in recent years, James has slowly challenged Jordan's claim by continuing to play at the highest level at 33 years of age as well as seemingly breaking a number of records every time he plays.
On Sunday night, the debate was further reignited when the Akron, Ohio, native scored 35 points and recorded 15 rebounds and nine assists to help the Cavs defeat the Boston Celtics on the road in Game 7 for a fourth consecutive NBA Finals appearance.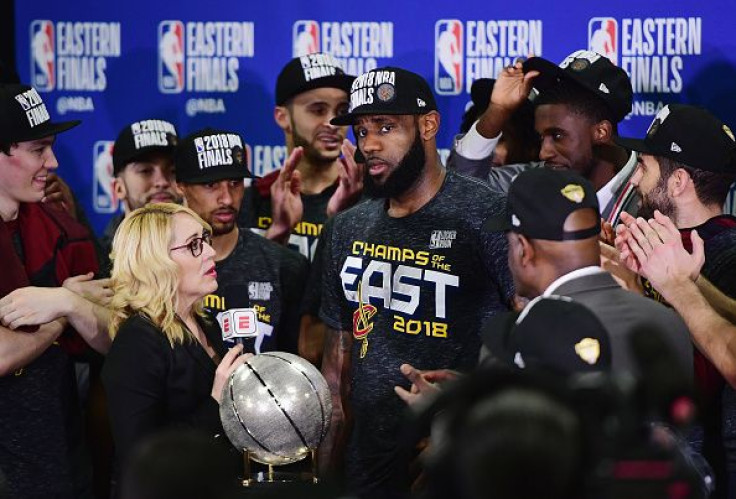 Despite the Cavs trailing 35-23 at point in the second quarter, James was not to be denied as he would enjoy one of the best performances of his career with 12 of his 35 points coming in the fourth quarter, helping Tyronn Lue's men win 87-79.
"The best. Yeah, I think so..." Lue said when queried on how good James' performance was. "I mean he's had a lot of lawdy games but I just think Game 7, in Boston, all the circumstances that surrounds Boston, the history behind Boston, playing a team that's very well coached, a good young team that's undefeated in the playoffs at home and to come on over [with] all the games [that] have been lopsided, to come here in a hostile environment, [and win] Game 7, Eastern Conference Finals, this and Game 7 of the NBA Finals in 2016 are right there."
While some sections of fans believe the performance further proved James is the new GOAT, especially given the circumstances of the current Cavaliers team, others are still not convinced, mainly pointing to his record of just three NBA championships in eight Finals appearances.
Thomas, who played against "MJ" back in the day, did not get into the GOAT debate but went one better by stating James was a superior basketball player to Jordan.
"I say this with no disrespect to Jordan," Thomas said on ESPN's "Get Up!" morning show. "And every time I say this, I get 'Well, Isiah hates Jordan, doesn't like him, so forth and so on' but what I'm witnessing and seeing in LeBron James as a complete basketball player, dominating this period of time, I haven't seen anyone else do that in our league with the exception of two people. That's Kareem Abdul-Jabbar and Bill Russell."
When asked to clarify if he was calling James the GOAT, Thomas responded in terms of championships won, the 33-year-old does not compare to the likes of Jordan, Abdul-Jabbar and Russell, all of whom have won at least double the amount of titles.
However, from an all-round ability perspective, Thomas believes James trumps Jordan.
"We break this down into categories so when we go like the six seven [titles] and under," he added. "Because when you put Kareem, you put Wilt in there, and you put Russell in there, it's different kind of argument but when you talk about just a basketball player, a complete basketball player, LeBron James is a much better basketball player than Michael Jordan."
While Thomas' comments will be controversial, James has a serious chance of furthering his claim as the GOAT if he helps guide the Cavaliers to a second NBA title in three years when they face the Golden State Warriors. Game 1 begins Thursday.
© Copyright IBTimes 2023. All rights reserved.