LeBron James' Reasons For Joining 'Championship Franchise' Los Angeles Lakers
As he unveiled his "I Promise" school in his hometown of Akron, Ohio, LeBron James also spoke for the first time about the reasons behind his decision to join the Los Angeles Lakers on Sunday.
After opting out of his Cleveland Cavaliers contract to become an unrestricted free agent, James would proceed to sign with a four-year deal with the Lakers earlier this month which marked the third team he would play for in his professional career.
In addition, he would be joining the Western Conference for the first time which for some, was a questionable decision especially given the presence of the Golden State Warriors and the Houston Rockets.
For James, he could not only pass up the opportunity to play for the 16-time champions but to work with its president of basketball operations Magic Johnson, who the 33-year-old worshipped growing up.
"You look at the Lakers," James explained, as per NBA.com. "Being able to play for a historic franchise with so much history, and now being able to partner with Magic Johnson, someone I kinda like looked up to when I was younger and wanted to make no look passes like Magic, wanted to get on the break and be Showtime like Magic and then for it to all come to fruition at this point..."
"I think timing is everything. For me to be in this position now, the excitement that I have to be a Laker, I'm happy to be apart of it because I believe the Lakers is a historical franchise, we all know that, but it's a championship franchise and that's what we're trying to get back to. I'm happy to be a part of the culture and be a part of us getting back to that point," he said.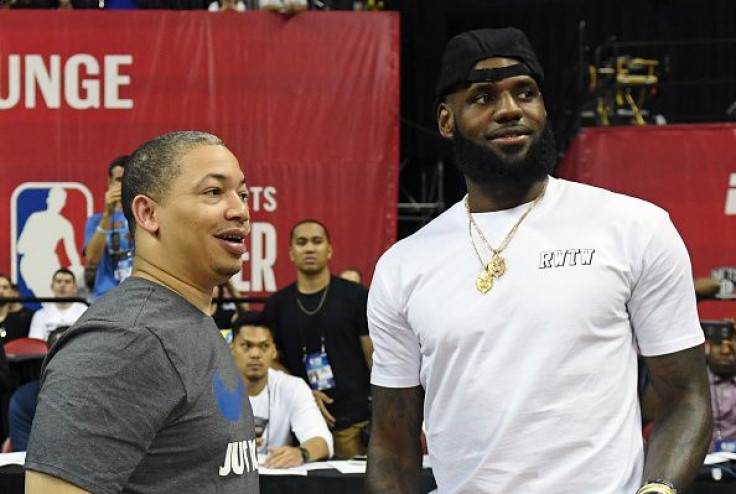 James' departure from Cleveland was met with more acceptance than it was back in 2010, especially as he delivered on his promise of a first-ever championship for the city when he helped the Cavaliers defeat the Warriors in the 2016 NBA Finals.
And he is only continuing to help out his community with the unveiling of his "I Promise" public school in Akron which is geared toward at-risk children.
According to ESPN, James and his foundation are hoping that "more than 1,200 children will pass through the program and into college by 2029." The first day of school will commence on Monday.
"It's kinda crazy right now because I've been sitting and thinking over the past couple of weeks and months on what it means to open up a school and how excited I am about this possibility for me to be able to be in my hometown and be able to open up at school and to know who's going to benefit from it," James added.
"I know these kids basically more than they know themselves. I've walked the same streets, I've rode the same bikes ... I went through the same emotions, the good, the bad, The adversity, everything that these kids are going through. The drugs, the violence, the guns... everything that they're going through as kids, I know. And for me to be in a position where I have the resources I have the finance, I have the people, I have the structure and I have the city around me, why not," he added.
With the resources James has, he will be able to remain involved with the school even as he embarks on a new chapter in his career in Los Angeles.
"On one hand I got my school, which I'm blown away by," he added. "And then I have my next chapter of my personal life, being a part of the Lakers organization and continuing to do what I love to do, and that's to play the game of basketball, so, there it is."
© Copyright IBTimes 2023. All rights reserved.