LeBron, Rondo Out For Kings Game, Curry Advises Lakers Star On Injury
Rajon Rondo played arguably his best game on Christmas Day after joining the Los Angeles Lakers this summer when he steadied the ship after LeBron James' injury and led them to a 26-point win over the Golden State Warriors.
The veteran point guard, however, will miss the Lakers' trip to Sacremento to take on the Kings on Thursday after suffering a grade 3 sprain to his right ring finger during the 127-101 win over the Warriors. Rondo finished the game with 15 points and 10 assists with zero turnovers in 23 minutes.
The Lakers confirmed Wednesday night that the veteran guard will not travel with the team while also revealing that a more detailed update will be made available on Friday after Rondo undergoes further tests.
The former Boston Celtics point guard received special praise from James and Warriors coach Steve Kerr, who thought Rondo "took over the game" in the fourth quarter. He has ranked in the NBA top five for assists in seven of the last nine seasons.
"Rondo was gigantic at controlling the pace, getting to his spots — either for scoring from his layup package or finding guys out there," LeBron said, as quoted on NBA.com.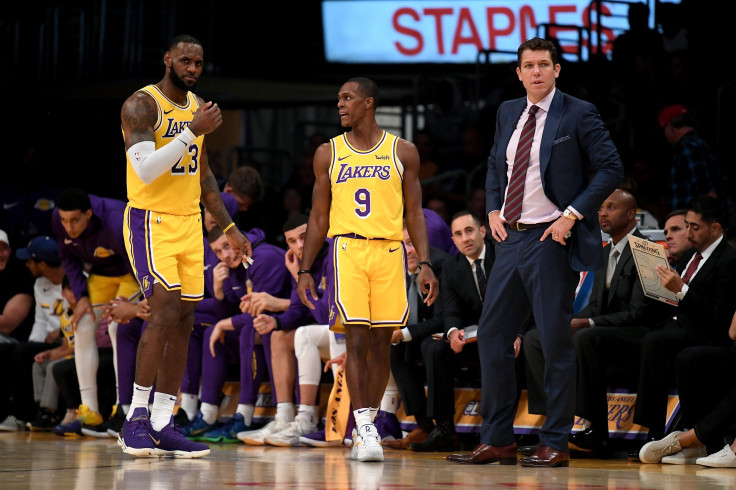 "Rajon Rondo was fantastic in the fourth quarter," Warriors coach Steve Kerr said after witnessing the guard score nine points in the fourth quarter that ensured the Lakers' win on Christmas Day. "I thought he took over the game."
Rondo's absence on Thursday will be a big blow for coach Luke Walton, who according to ESPN, will also be without LeBron James, who suffered a groin strain in the third quarter during their win over the Warriors. He will have to depend on the young core against the Kings.
While James is listed as day-to-day after initial scans revealed the injury is much better than first feared – he is not expected to travel to Sacramento on Thursday.
Stephen Curry, meanwhile, has offered some insight into James' recovery process after he missed 11 games earlier in the season with a similar injury. He warned his Lakers rival that the initial stages are crucial as to ensure no further damage in inflicted on the groin.
"You got to take those first four or five days, that was what my experience was, to make sure you don't do any more damage," Curry told The Undefeated. "You have to let the healing process start. That is one you can't really rush. That is how I felt because it was such a delicate area."
"The biggest frustration is that you get to a point where you are pain-free but you still have to be a little bit more cautious," the Warriors point guard added. "I don't know the severity [of LeBron's injury], but becoming pain-free is just one step. And then you have to ramp up your load on the court to make sure everything you do won't set you back. That is the one thing that you can't afford with that injury, is to keep reinjuring it."
© Copyright IBTimes 2023. All rights reserved.
FOLLOW MORE IBT NEWS ON THE BELOW CHANNELS