Leilani Estates, Hawaii, Being Evacuated, Lava Erupts From Ground As Kilauea Rumbles
UPDATE: 4:20 a.m. EDT — In addition to Highway 132 and Pohoiki Road, Highway 137 and Pohiki Road, and Highway 130 and Leilani Boulevard were also closed as the evacuation of Leilani Estates was underway.
Hawaii Senator Mazie Hirono tweeted saying, "Tonight, I spoke with Governor Ige and Mayor Kim to get an update on the state and local response to the eruption and lava flow at Leilani Estates and offered my support as a member of the Congressional delegation to assist affected communities."
Following the Puna Geothermal Venture temporarily shutting down its operations as part of the emergency plan, Rhea Lee-Moku, Hawai'i Electric Light spokeswoman said: "We will continue to work closely with Civil Defense to monitor and assess the situation. We strongly encourage the community to be safe and heed the advice of Civil Defense and first responders."
Meanwhile, residents of Leilani Estates were fleeing the region with minimal belongings.
"My family is safe, the rest of the stuff can be replaced," one resident said, Hawaii News Now reported. "When I bought here 14 years, I knew that this day would eventually come. But the reality is sinking in now."
"You never expect to see that kind of fountaining outside the crater," another resident Dawn Javellana said, Hawaii Tribune-Herald reported. "To see that so close to home, I never could have expected it."
UPDATE: 2 a.m. EDT — Hawaii County Civil Defense and Federal Emergency Management Agency (FEMA) has mobilized resources in Leilani Estates, Hawaii, to aid in evacuations of almost 10,000 residents after a fissure opened up in the lower Puna area, spewing lava and ash in the region. FEMA is also monitoring the area for possible forest fires, power outages and water supply disruption.
Jeremiah Osuna, a resident of Nanawale Estates in Puna, flew his drone near what he described as a "curtain of fire."
"It sounded like if you were to put a bunch of rocks into a dryer and turn it on as high as you could. You could just smell sulfur and burning trees and underbrush and stuff," he said, according to local news outlet KHON 2. "I couldn't believe it. I was kind of shaken a little bit and realizing how real everything is, and how dangerous living on the East Rift can be."
According to County officials, Puna Geothermal Venture is executing their emergency plan and starting to shut down operations. A resident on the southern part of Hawaii's Big Island told the Associated Press that lava fountains were shooting 150 feet in the air through a crack at Kilauea volcano.
It was also reported lava spread out over an area about 200 yards behind a house in Leilani Estates on Thursday.
UPDATE: 12:50 a.m. EDT — In addition to Pahoa Community Center, a second evacuation center was opened at Keeau Community Center, for residents of Leilani Estates, following lava spewing out of a fissure in the area.
Highway 132 at Pohoiki Road, which was one of the evacuation routes, was closed, Hawaii News Now reported.
"I urge residents in Leilani Estates and the surrounding areas to follow instructions from the County of Hawai'i's Civil Defense Agency. Please be alert and prepare now to keep your family safe," Hawaii Governor David Ige tweeted.
Hawaii Mayor Harry Kim wrote: "Hawaii County Civil Defense is on high alert on a 24-hour basis for possibility of eruption in lower Puna. All areas bordering East Rift Zone at high risk for eruption."
According to National Weather Service of Honolulu, National guard was mobilized to help with evacuations at Leilani Estates. In addition, residents of Hilo, Hawaii was informed that they could experience power cuts as Puna Geothermal plant was shut down.
The State Department of Education in Hawaii tweeted saying that Pahoa-Keaau Complex Area schools were not affected by the eruption in Leilani Estates and that the schools will be open tomorrow.
Original Story:
Following an earthquake of magnitude 5.0, and a number of minor tremors in eastern Hawaii on Thursday, which threatened the eruption of Kilauea – the region's most active volcano – officials ordered emergency evacuations.
According to Express, Tina Neal, Hawaiian Volcano Observatory scientist-in-charge, said: "It appears that ground shaking from the earthquake caused rockfalls in the Pu'u O'o crater on Kilauea Volcano's East Rift Zone, which resulted in a short-lived plume of reddish ash rising above the cone."
Hours after pink smoke was seen coming out of the Kilauea volcano Thursday, residents of the Leilani Estates in lower Puna, Hawaii, took to social media to post videos of a fissure that had opened on a street, from which lava was being spewed up 20 feet into the air.
Hawaii Mayor David Ige tweeted: "I am in contact with @MayorHarryKim, and the state is actively supporting the county's emergency response efforts. I have activated the Hawai'i National Guard to provide support to county emergency response personnel to help with evacuations and security."
Evacuations were commenced around 4 p.m. local time (10 p.m. EDT).
Public schools were closed in the area, as a result of the volcanic activity, and a number of evacuation shelters were set up. The American Red Cross opened a shelter for evacuated residents at the Pahoa Community Center, 15-3022 Kauhale Street, Pahoa, Hawaii.
No injuries were reported at the time of writing this story.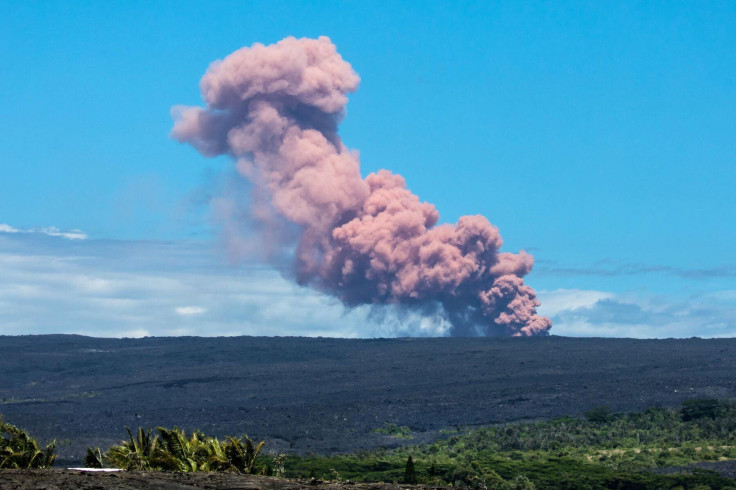 This is a developing story.
© Copyright IBTimes 2023. All rights reserved.