Sponsored Article
Is LinkedIn Sales Navigator Worth It? From Pricing To Features, Here's What We Think
This article uses affiliate links, which means if you purchase products through these links, we may earn a commission. Click here to see our
T&C
. For licensing please click
here
.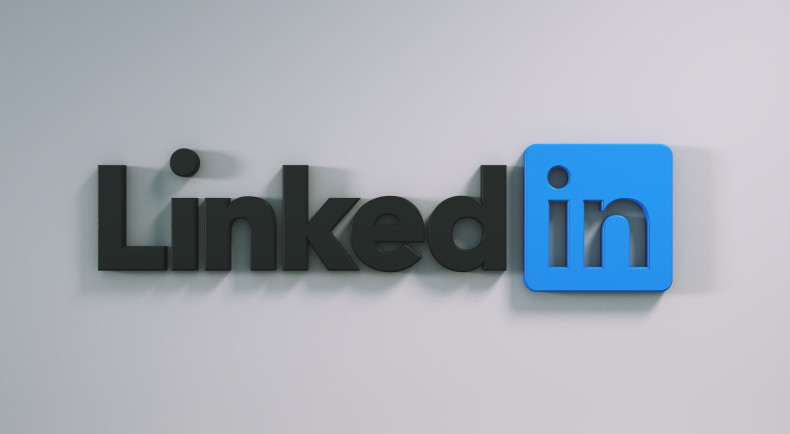 Building professional relationships can be hard work, especially if you don't know how and where to start. These connections are vital in growing your company and successfully carrying out your business goals. Who do you connect with? How do you reach out to them? Luckily, LinkedIn offers a service that can give you the answers -- the LinkedIn Sales Navigator.
How does LinkedIn Sales Navigator work?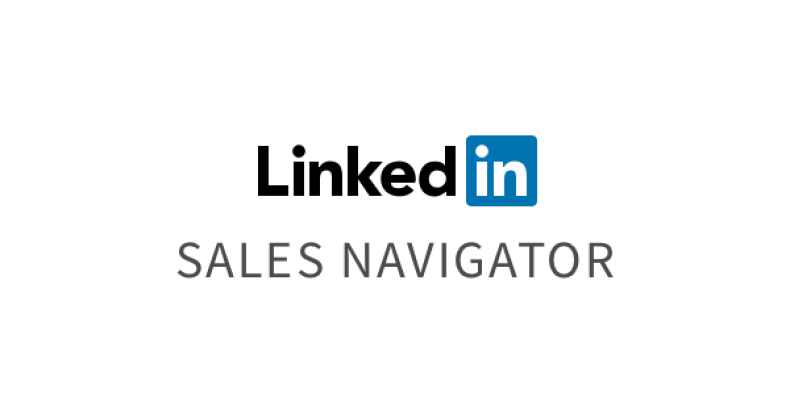 You probably already have a LinkedIn account. You're now able to build your network. But it's not that easy, is it? The Sales Navigator is used by sales and marketing teams to generate leads and connect with potential partners. This tool helps you make the right engagement decisions. It targets the right buyers and helps you understand key insights so you can personalize your outreach.
It may seem like you're already swimming in an ocean of potential clients with LinkedIn's 560M+ member network. But how many deals can you close without an edge? The Sales Navigator gives you an advantage by giving you targeted prospects and increasing your chances of sealing the deal. The cutting-edge tool helps organizations, sales teams and individuals boost their sales performance which will eventually result in higher profits.
The advanced search filters narrow down your choices so you can focus on nurturing relationships with only those that truly value your business goals. By building the right relationships, you can become more successful in no time. It maximizes the vast pool of users that LinkedIn provides and allows you to directly communicate with them through InMail.
Additionally, PointDrive Presentations can help you stand out from other LinkedIn profiles. You can use it to create more captivating and interactive sales content. Easily keep track of your engagements by gaining access to who has viewed your content. This lets you identify your potential clients and be able to reach out to them.
LinkedIn Sales Navigator Pricing
Annual rates:
Commit to a yearly subscription and enjoy savings of up to 25%.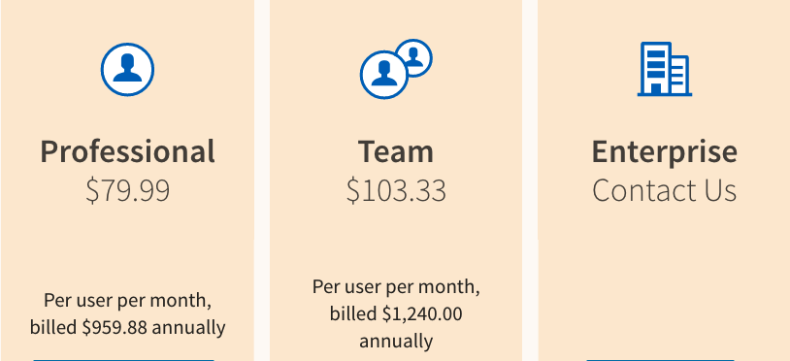 Monthly rates:
Don't worry about signing up and trying out Sales Navigator, as they also have monthly subscriptions.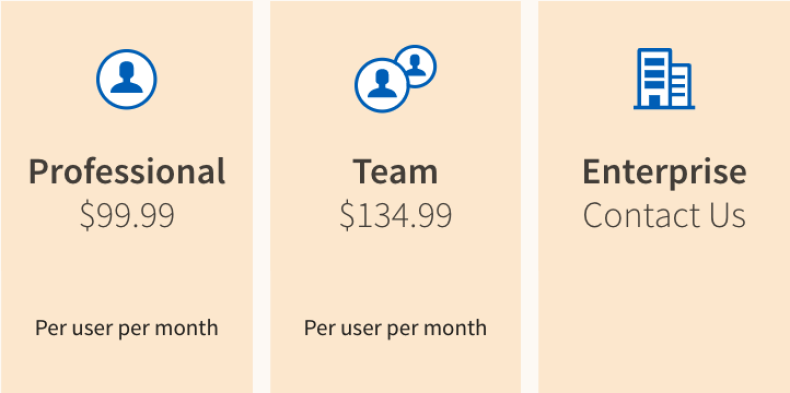 Try before you buy
If you want to try out Sales Navigator before finalizing your subscription, you'll be glad to know that they offer free trials.
For companies with more than 70 reps, request your free demo here.
For individual sales reps, start your LinkedIn Sales Navigator free trial here.
Features
Apart from the benefits that come with using LinkedIn as a platform, the Sales Navigator offers so much more. Instead of the standard 1,000 profiles, you're allowed to view each month, you get to bump that up to 2,500 profiles. It also gives you the ability to save searches, personalize your newsfeed showing only saved contacts and create notes and tags for these contacts. On top of that, you gain access to additional search filters.
LinkedIn Sales Navigator offers three great plans, which provide helpful features that will be very beneficial for your business. From Extended Network Access, Advanced Search/Sales Spotlights, Lead and Account Recommendations/Sales Preferences, Saved Leads/Accounts, Custom Lists/Buyer Interest/Notes, Smart Links and more, here's a look at the features included per plan so you can better choose which works best for your business.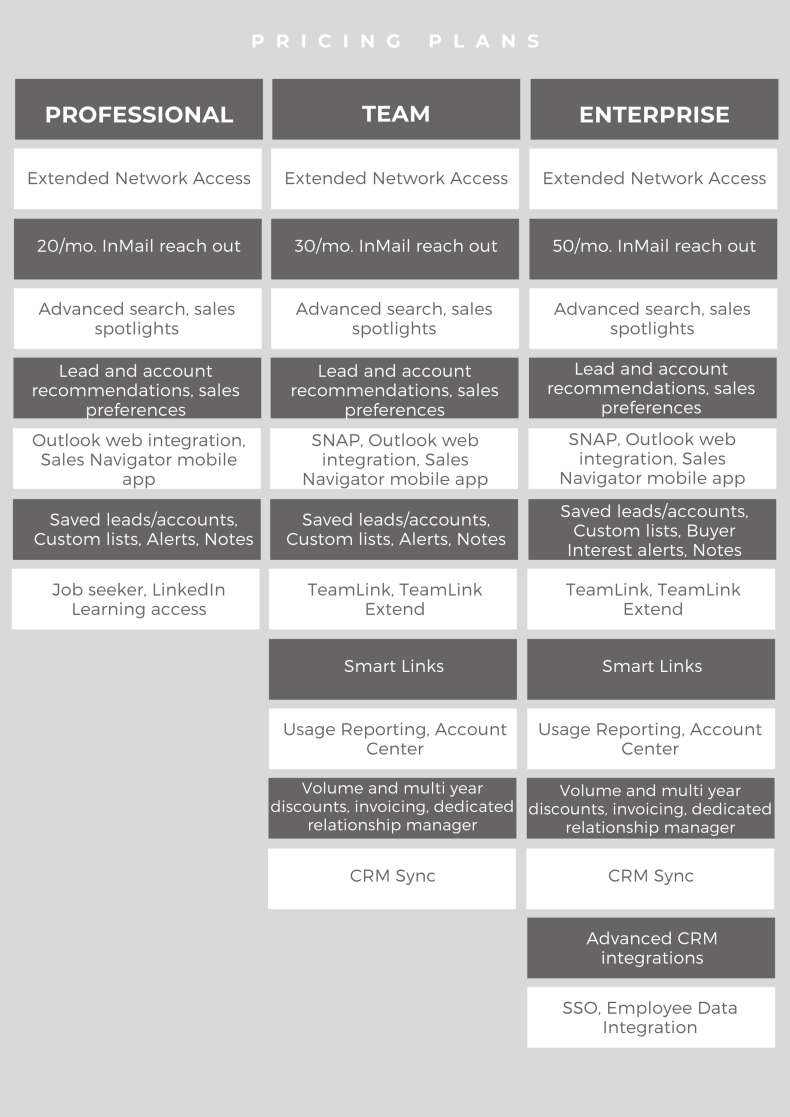 Is LinkedIn Sales Navigator worth it?
According to LinkedIn, saving leads on Sales Navigator gives you a 17% increase in your win rates. When you use the tool to connect with decision-makers, you gain 42% larger deals. Furthermore, you get 15% more pipeline when you find customers using its features. This sounds like a win to us. Investing in your business is the smartest decision, especially when it is easy to drown in an ocean of competitors. With Sales Navigator, you can stand out and save your sales pitches to the right people. Trusted by more than 80% of the Forbes Cloud 100, your business will certainly be in good hands.