Linsanity Girl's Sign: 'Jeremy I Want You Linside Me' [PHOTO]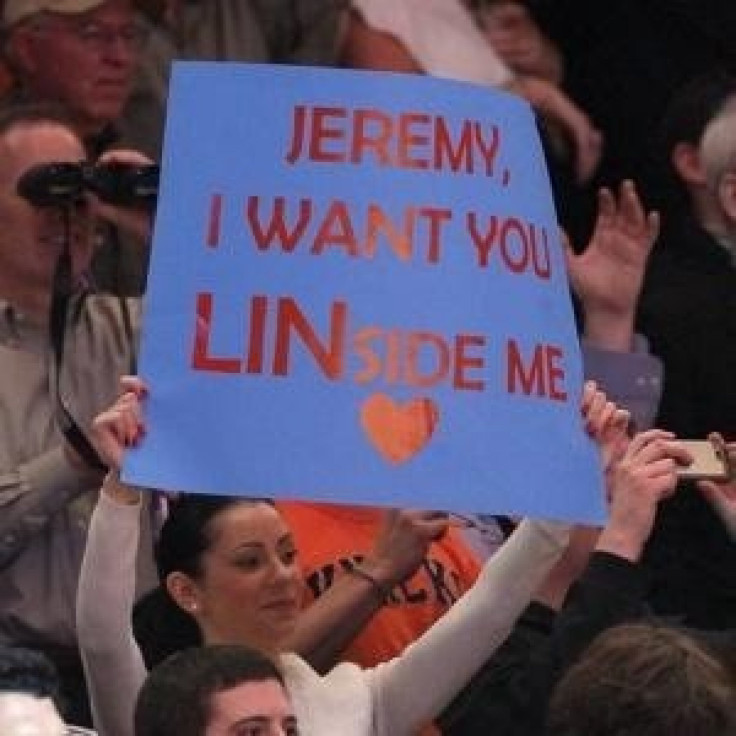 A young woman seized by Linsanity held a sign reading the words Jeremy I Want You Linside Me at the Sunday game between the New York Knicks and the Dallas Mavericks.
The sexy fan with the risque message was treated to yet another night of beautiful basketball from Jeremy Lin, the Knicks' new superstar point guard. Lin put up 28 points, 14 assists and 5 steals in the game, which had Madison Square Garden rocking louder than a metal concert as the whole city got in on the Linsanity.
And stars came out for the show, too, from actor Kevin Costner (one day after speaking at Whitney Houston's funeral) to actress Eva Longoria and Saturday Night Live's Seth Meyers.
But no one made their love for Jeremy Lin as blatantly clear as the fan who wants him Linside her.
Luckily for that bold, unidentified female fan, there is one less person vying for Lin's affections than previously thought. In an interview with ESPN's Rachel Nichols that ran on SportsCenter Sunday night, the New York Knicks' new superstar point guard denied rumors that he's going on a date with reality TV personality Kim Kardashian.
I'm not that type of guy, he said after being asked whether he wants to go on a date with Kardashian.
It was one highlight of many during the wide-ranging interview, during which the 23-year-old Knicks phenom said the most surreal part of Linsanity has been the rumors, including the one about Kardashian.
Kardashian, 31, also appears not to be interested in the basketball star, as her spokeswoman Jill Fritzo, told the newspaper amNewYork that the date rumor was entirely false:
Absolutely 100% NOT true. Someone made that story up! Fritzo told the newspaper.
MediaTakeOut reported last week that the publicist for Kardashian, who recently divorced Kris Humphries of the New Jersey Nets, had made arrangements for her to go on a date with the Knicks player.
She thinks [Jeremy] is cute, and she's good friend's with [Jeremy's teammate Carmelo Anthony's wife] Lala, a friend of Kardashian's reportedly told MediaTakeOut. It's going to be a double date.
The gossip site stated that Lin was excited to meet Kim K, but it appears that the source was incorrect, as Jeremy Lin rejected the Kim Kardashian date idea on ESPN on Sunday night.
Lin, a 6 foot, 3, 200-pound point guard, has taken the sport by storm, overshadowing his All-Star teammates Carmelo Anthony and Amare' Stoudemire by leading the team to its best streak all year without their help.
Lin, who hails from Palo Alto, Calif., was a star in college, when he led Harvard University to its all-time best basketball season in 2009 before graduating and going undrafted in 2010. He proved himself in the NBA summer league, dominating John Wall in one particularly impressive game, and was then signed by the Golden State Warriors.
He played last year with the Warriors, but during this season's NBA lockout, he ended up without a team. He went to the Houston Rockets for a short while, but was picked up by the Knicks in December.
And now he's being compared to some of the best point guards in NBA history, from Steve Nash to Magic Johnson. That's some good company.
© Copyright IBTimes 2023. All rights reserved.