Lionel Messi Picks 2 Favorites To Win Qatar World Cup; Argentina Not Included
KEY POINTS
World Cup 2022 will be Lionel Messi's last
Messi-captained Argentina lost World Cup final in 2014
Argentina won Copa America last year
Argentina captain Lionel Messi has picked two teams that are favorites to win the upcoming FIFA World Cup in Qatar.
The multi-nation tournament is scheduled to begin on Nov. 20 and will go on till Dec. 18.
In a recent interview, when Messi was asked to pick two teams that are the favorites to win the World Cup this year, the Paris Saint-Germain (PSG) forward chose France and Brazil.
Messi is yet to win the World Cup with Argentina. He won his first international trophy last year when he captained Argentina to Copa America glory as they defeated Brazil in the final. Even though Argentina will be entering the Qatar World Cup with an incredible 34-match unbeaten streak, Messi has not included his team among the favorite contenders to win the coveted trophy.
"The big national teams, Brazil, Germany, France, England, Spain and I'm sure I'm forgetting some of them. But if I have to keep one or two, today, I believe that Brazil and France are the two big candidates for this World Cup," Messi said in an interview with the Argentinian channel DIRECTV, reported PSG Talk.
Messi, who has confirmed the World Cup 2022 would be his last, managed to score just one goal in the 2018 edition in Russia. Argentina was eliminated after their loss in the Round of 16 to eventual champions France.
"They have had the same group for a long time. France, beyond the last Euro where it went badly, they have impressive players, and the same coach for a long time. Brazil too. Today 'today, I think they are the two favorites, even if all the big selections are candidates," the PSG star added.
Messi-captained Argentina came close to winning the World Cup in 2014 when they reached the final. But they were beaten by Germany 1-0.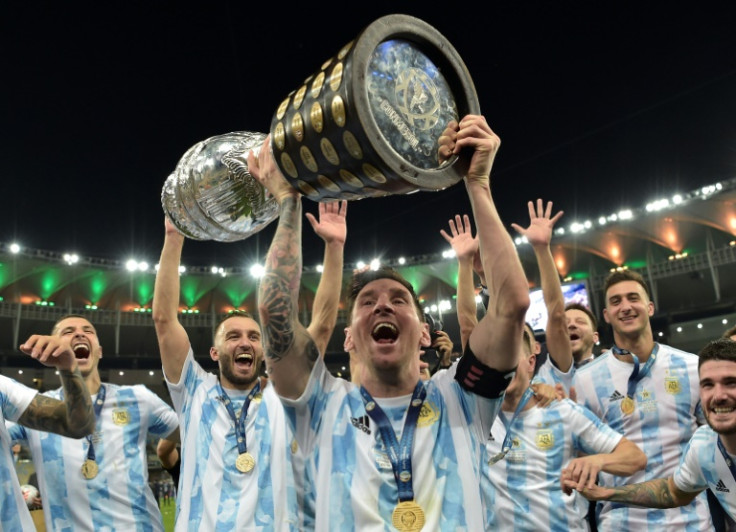 England have not won the FIFA World Cup since 1966. But the Three Lions have reached the last four in each of the two tournaments that Gareth Southgate has overseen. They lost to runners-up Croatia in the semi-final of the Russia World Cup 2018 and were defeated by Italy in the Euro final, which took place at Wembley last year.
Messi will be entering the World Cup next month with great momentum, having scored eight goals and eight assists in 14 matches for PSG in the 2022-23 season.
The Argentinean skipper has netted six World Cup goals so far and overall, he has scored 90 goals and provided 51 assists in 164 appearances for Argentina.
© Copyright IBTimes 2023. All rights reserved.