Little Hope For Refugees Detained Indefinitely In Hungary As Europe Tightens Border Control After Brutal Paris Attacks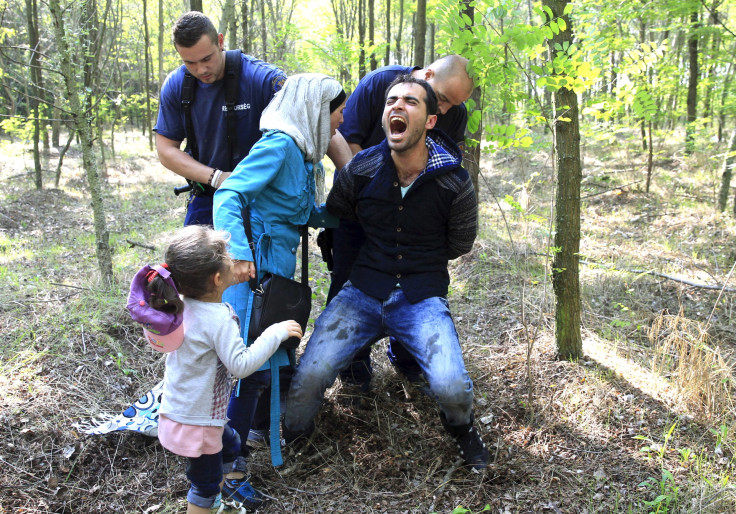 Fahad woke up in the middle of the night, sensing it was time to begin the daily prayers that devout Muslims undertake between four and six in the morning. The 31-year-old rose from the paltry foam sleeping pad that had been his bed for the last two months, ever since he was arrested and detained in a center for refugees in the town of Kiskunhalas, Hungary, about 90 miles south of the capital Budapest. But after his possessions, including his watch, had been seized by security officers, Fahad could only guess the time. And the center's security guard wasn't prepared to help. "All I asked him for was the time and he just ignored me. I missed my prayers," Fahad said.
The Pakistani father-of-three is one of some 1,000 refugees who have been detained by Hungary since September. The landlocked, central European nation was one of the first in the European Union to close its borders after hundreds of thousands of refugees flooded the region from the world's conflict zones. Unable to handle the massive influx, Hungary began building a fence to keep refugees out. When it completed the project in the middle of September, people such as Fahad, who had been traveling from Turkey through the Balkans without regular access to Internet or any other form of communication, were confronted with a closed border between Serbia and Hungary -- a scenario they had not anticipated.
"I thought it was no problem to cross the border. So many people were doing it," Fahad said. "When we came to the border we saw some wire, but it was so dark out we didn't know what it was. We hadn't seen anything like it before." The authorities arrested Fahad and several other of the people traveling with him, but let others go. "I don't understand why they took us into detention and not everyone else," Fahad said.
The recent terrorist attacks in Paris, in which 130 people died and hundreds more were injured, have exacerbated the fear among European leaders that the current open borders system, which allows unfettered travel across 26 European countries, is untenable. In a recent interview Hungarian Prime Minister Viktor Orban declared, "Of course it's not accepted, but the factual point is that all the terrorists are basically migrants. The question is when they migrated to the European Union."
Refugees in Hungary are now facing the brunt of Orban's words; those who began their journeys to northern Europe with the promise of free travel have now been detained indefinitely, with no idea of when and where they can go. The treatment of refugees, once in detention, leaves much to be desired, Fahad told International Business Times. "The guards here don't treat us like we are humans. They just bark at us and yell."
Around 700 people have so far been processed for deportation from Hungary after a court decided they had crossed the border illegally, but many are still in detention. Almost all of them have no idea when they will be released, said Babar Baloch, a spokesman for the UN Refugee Agency in Central Europe, adding that they have been stripped of their belongings, including any form of communication with the outside world. All they have is a landline phone they can use intermittently to call their families and a small television set with the news in Hungarian -- a language none of them understand.
In a separate detention center in Hungary on the Serbian border, Sami and his wife Suad, both 28 and from Idlib, Syria, are living with dozens of other people, including children. There are only two rooms in the detention center, and men, women and children all sleep together. Sami and Suad left Syria almost two months ago and crossed the Turkish border through the Bab al-Hawa crossing, one of the biggest legal crossings that Turkish authorities have now closed. Sami and Suad traveled from Turkey to Greece by boat, a journey for which they paid a smuggler about $2,000, then walked with thousands of other refugees through Macedonia, Serbia and Croatia before getting detained in Hungary. Their goal, like Fahad's, is to get to Germany to find work.
But those detained in Hungary might not be able to leave the country and find work elsewhere in Europe like they had planned. The borders in countries across Europe have been slowly closing, and border controls implemented because authorities fear another foreign fighter with the Islamic State group will carry out an attack.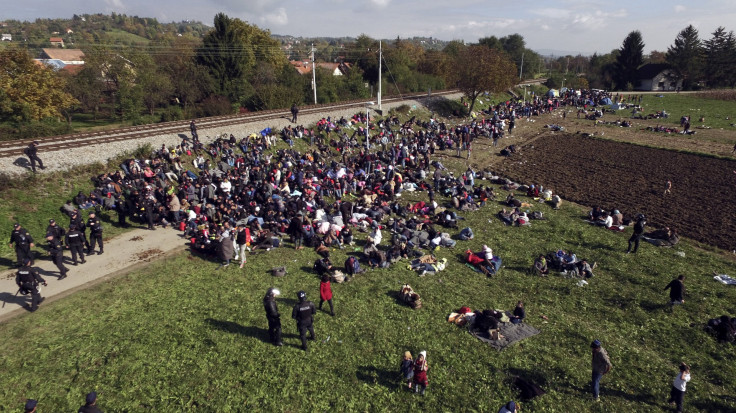 The only chance Fahad and the other 60 detainees in his building have to make a new life for themselves is to hire a smuggler. But Fahad only has 150 euros left in his name after spending $1,500 on his trip to Europe from Pakistan -- not nearly enough to hire someone to get him out of detention in Hungary and safely to Germany.
"I don't want to pay another smuggler [but] if more of the borders are closed it is going to be a big problem," Fahad said. "I want to leave this country and go to Germany or Italy. Whatever work I get I'll do it. I am a skilled person. I am trying my luck."
Stuck In Limbo
Fahad left Pakistan in September, leaving behind his wife, his three children, and his ailing mother and father, to find work in Europe to send back home. "I have nothing in Pakistan for work. I had no other option to get out of there and find work in Europe," he said. Fahad had to take out loans from his father and friends to hire a smuggler to guide him from Pakistan to Turkey. He walked for 12 hours through the mountains in Iran to reach Turkey, not knowing if he would ever reach Turkey and continue on with his journey. He spent all the money he had saved for the journey on a smuggler he did not know. "It's the only thing you have at the time, trust. You have to trust," Fahad said.
He finally made it to Turkey and met other men from Pakistan and Afghanistan that were headed to Germany. It was the middle of the night when he approached the Hungarian border after nearly a month of traveling on foot, and all he had to guide his steps was the light from his cell phone. But just before he and his travel partners crossed over the border, he noticed something unexpected - barbed wire and police officers.
He and his travel companions were detained, with no knowledge of when they might be released. For most refugees on the journey to northern Europe, Hungary does not offer an ideal setting for starting a new life. While many Hungarians have volunteered to help stranded refugees in the main train stations, the government is largely against the newcomers.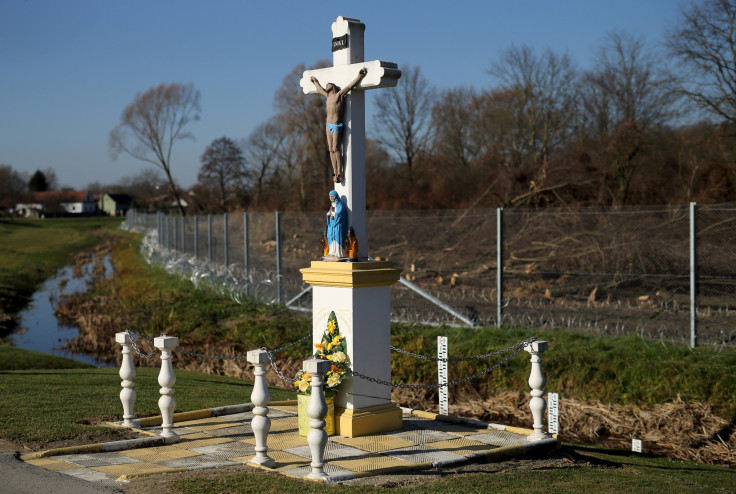 "I think they are racist," Fahad said.
Refugees on the border of Macedonia have protested the closing of borders, by sewing their lips shut with needles and thread. Thousands of people left home just a few weeks too late and are now stumbling upon borders in Europe that are no longer embracing an open arms policy. Although some wait in the winter conditions, others have been detained, including teenagers and pregnant women
Ahmadi Eqbal is a 19-year-old from Afghanistan living in Budapest. He left Afghanistan in 2010 during the war. The only family he has left there is his brother and his brother's three children. Eqbal spent more than a month traveling to Europe, hiring several smugglers and spending nearly $2,000. He was detained several times on his journey and had to paddle his own inflatable boat to Greek shores. After a perilous journey, he said: "I was so tired of everything. I just wanted to stop and stay in Hungary."
Hungarian authorities put him in a children's home in Fot, a town just outside of Budapest, then transferred him to a home in the city with other Afghan men over the age of 18. He now lives there with 13 other men, working at a pizza restaurant 12 hours a week, trying to make enough money to eat.
Although he is comfortable with his life in Budapest, he said he wishes he had attempted to get to the northern European states that are more accepting of refugees. Getting out of Hungary is more difficult now than it was back in 2010, Eqbal said, because the smuggling costs have skyrocketed. It used to cost about $400 to hire a car to take you to Germany. Now, it is nearly impossible to cross even if you have the money to pay a smuggler.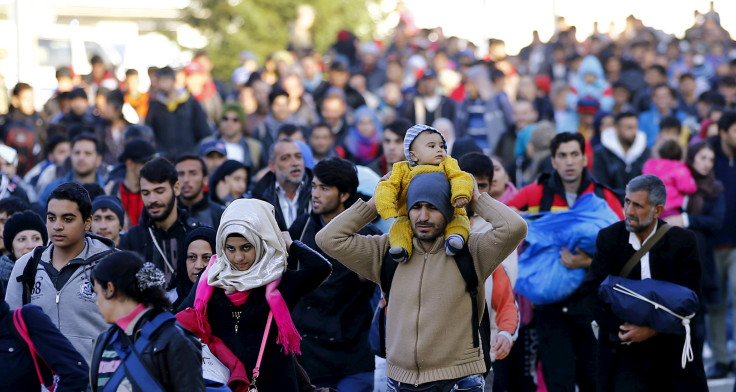 And not everyone that makes it to Hungary is able to find a job. This summer, thousands of children that traveled to Europe without parents were transferred to children's homes in Hungary that were overcrowded and unsuitable for living in long-term. The conditions were so poor that many children simply escaped in the hope of moving on to northern European countries, not knowing if they would ever find protection, IBT reported in September.
But leaving Hungary is no longer a viable option given the recent border closings, Fahad said, leaving him wondering what the future holds for him.
"The authorities originally told me they would deport me after two or three days but when they tried to send us back to Serbia, Serbia said they didn't want us. So, now we are stuck," Fahad said. "We are just waiting, we don't know what is going to happen to us."
Fahad's uncertainty and dearth of information is reflected in the experiences of other refugees. Suad was sitting in a detention center, on the border of Hungary and Serbia, with her husband Sami, but she told IBT she did not know exactly where it was located. Like Fahad, she had her things taken from her when she arrived in the country.
Her detention center has only two rooms that are shared by 30 men, women and children. In the corner of one of the rooms, there is a television, she said, but it only has Hungarian-language channels. When asked about the attacks in Paris, she said she had "no idea" about the news because she had no communication with the outside world. When told the borders in Europe were closing, she repeatedly asked, "Why are they closing?" and "Will they ever open again?"
"What do you mean the borders are closing? All of them or just some?" Suad questioned IBT. "Well, are you sure? Do you know which ones are closing?"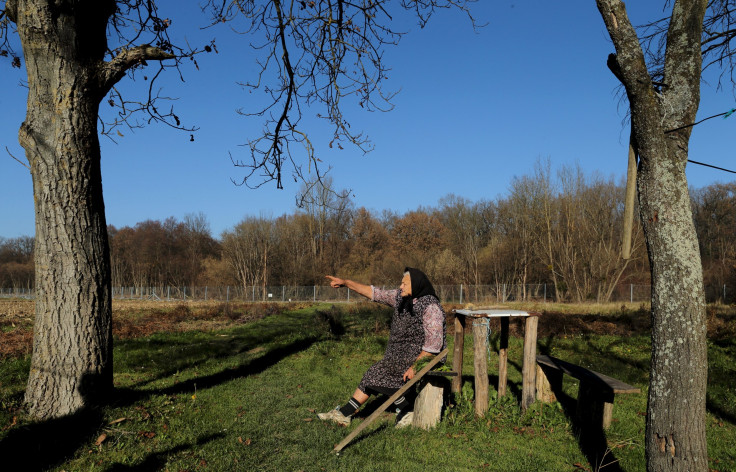 Inhumane Conditions
Lydia Gall, a researcher at Human Rights Watch, reported on the conditions in refugee deportation and detention centers in Hungary this summer. The report outlined the way in which refugees entering Hungary are detained. Many of them are convicted of "irregular entry" and are awaiting deportation to Serbia.
"No asylum seeker should be criminally convicted," Gall told IBT. Under international law, people seeking protection from persecution who present themselves to the authorities should not be prosecuted or penalised for crossing a border without permission, Gall said in her report.
The conditions in the detention centers, she said, are poor and offer a glimpse of Hungary's inhumane approach to asylum seekers.
In Fahad's deportation center, there are three different buildings, with women, children and men separated from one another. Although the rooms are more spacious than Suad and Sami's, there are other aspects of Fahad's detention that are unpleasant, he said.
"We are Muslim. We eat halal meat. But they don't give us any meat we can eat," Fahad said. "One time I was eating my food and this hair came out of it, and I asked the cook if we could get another plate and she said 'If you don't like it here, why don't you just get out.'"
If there is one thing he would ask for from authorities, Fahad said, it would be a definitive answer about when he will be released. "That's what we all want. We just need people to talk to us. No one talks to us," he said.
Suad said the refugees in her center need a doctor, with several detainees whose illnesses have been ignored by the authorities.
Fahad told IBT he feels he has let down his family back home in Pakistan. Sitting in a detention center in Hungary, he said, is one of the loneliest places on earth.
"I miss my kids everyday," he said. "The two young ones don't really understand where I am or what is going on. But my eldest girl, she knows, and she worries about me. My wife is strong though, I think she is fine."
As Fahad sits in detention, not knowing when or how he can leave, his parents are getting sicker by the day. "I worry about my mom the most. My dad hides his feelings, really, so I don't know how he thinks. But I am very close to my mom and now we can't talk. I am 31, but I can't live without my mom."
Sara Belcez reported from Budapest.
FOR FREE to continue reading
✔️ Unlock the full content of International Business Times UK for free
offer available for a limited time only
✔️ Easily manage your Newsletters subscriptions and save your favourite articles
✔️ No payment method required
Already have an account?
Log in
© Copyright IBTimes 2023. All rights reserved.