Liverpool's Lineup Loses Another Center-Back To Injury
KEY POINTS
Jurgen Klopp and Liverpool lose another player to injury
Fabinho could be out for a few weeks
Klopp urges his other players to step up
Jurgen Klopp has a lot to think about in the coming days as Liverpool's center-back Fabinho sustained an apparent hamstring injury in their UEFA Champions League match against Midtjylland on Tuesday.
After playing for 30 minutes for the red shirts, the Brazilian standout was seen hobbling off the field, according to a report by Goal.
Despite the absence of Fabinho on the pitch, Liverpool muscled their way to a 2-0 drubbing of Midtjylland. Digo Jota and Mohammed Salah manned the offense for the Klopp-mentored brigade.
The victory was bittersweet for Kloop as he yielded another player to injury. By the looks of it, the coach is tired of being on the receiving end of bad news.
"We have to wait for the scan obviously, but you know these times when somebody is going off with a muscle problem, then it's really rare that the doctor calls me the next morning and says: 'False alarm, all fine, he can go again,'" he told beIN Sports.
"So it's now only about how long. That's all. And nowadays a week means three games, 10 days means four games, 14 days means seven games and all these kinds of things," Klopp continued.
Tagged as favorites to win the English Premier League once again at the start of the season, the 53-year-old manager admitted that it would be a challenge for him not to have Fabinho in his rotation.
"Exactly the last thing we needed. I don't know, he felt his hamstring so that's not good. He didn't feel it that much. He said he could've played on, but not sprinting so that doesn't help. We will see, we will have to do a scan and see, but clearly, it's not good," he stated.
Keeping each member of the roster healthy appears to be Liverpool's biggest challenge as they already lost superstar center-back Virgil van Dijk, who tore his ACL during the Merseyside derby after a challenge from Everton goalkeeper Jordan Pickford.
"So that's how it is. Yeah, absolutely not cool but that's the situation," Klopp lamented.
With his back against the wall, Klopp will be expecting his second line of booters to step up. Rhys Williams answered the coach's clarion call in their most recent outing, carrying out the squad's defensive duties.
"We have to stick together and fight harder and that's what the boys did tonight. Losing Fabinho in the first half, Rhys William [stepped up]. He's only 19 years old and I think he's played more Champions League games than Premier League games--that's rare," Klopp said in an interview with BT Sport.
The Reds are now at second place in the Premier League table with four wins, a loss, and a draw. Liverpool will try to keep their winning strife untouched as they are set to duke it out with West Ham United this Saturday.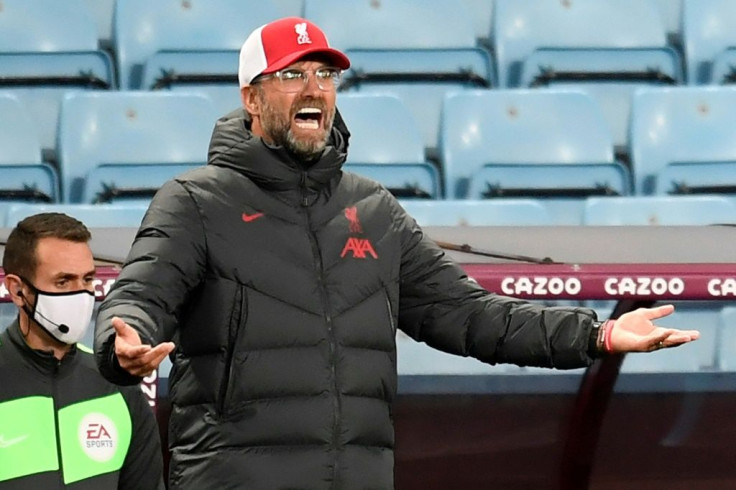 © Copyright IBTimes 2023. All rights reserved.