Lohse Not Intimidated at Texas Launch Pad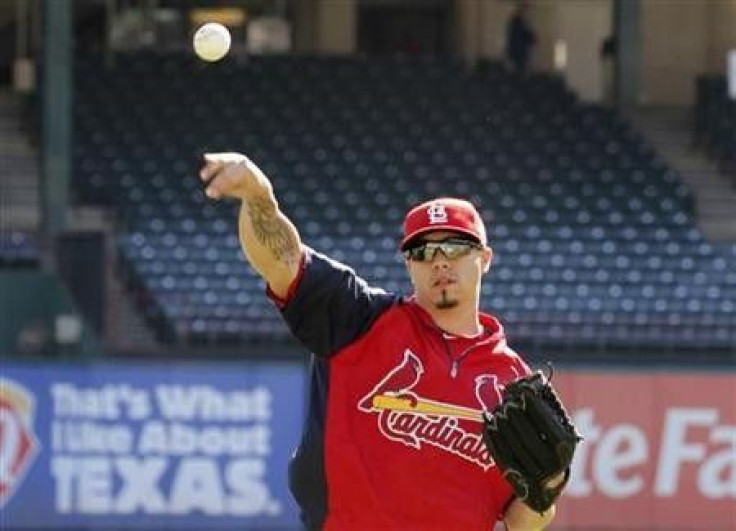 St. Louis Cardinals right-hander Kyle Lohse has no illusions about pitching at Rangers Ballpark, baseball's most unforgiving launching pad.
It's a tough place to pitch, especially when you see those flags blowing in, Lohse told reporters Friday. It usually means that jet stream is going out to right center.
I think everyone in the league knows that.
Lohse (0-2, 7.45 earned run average) will start against Texas southpaw Matt Harrison (1-0, 4.22 ERA) in Game Three of the World Series Saturday with the best-of-seven affair tied at one game apiece.
St. Louis and Texas hit a total of 23 postseason homers prior to the World Series but combined to hit only one at Busch Stadium in the opening two games of the Fall Classic.
That is expected to change with the series moving to Arlington for the next three games as the 228 homers hit at Rangers Ballpark this year were the most in the majors.
Lohse and probable St. Louis Game Four starter Edwin Jackson are not pitchers that entice ground balls, like the Cardinals' first two starters, Chris Carpenter and Jaime Garcia.
St. Louis manager Tony La Russa said he never considered starting Lohse and Jackson at Busch to let Carpenter and Garcia take their chances in Arlington.
I have seen games where both of those guys (Lohse and Jackson) have made pitches that are tough to elevate, so really the key is the quality of their pitches.
The ball does carry here and you're going to have some danger if you don't hit your spots. They're a very good club. They'll penalize you.
Lohse, an 11-year major league veteran with a career 102-106 record, said he could not allow the Rangers to drive the ball in the hitter-friendly park.
They've got power throughout their lineup in a ballpark that's going to be real crucial for me to keep it down and keep out of those big innings, he said.
I'm not a flame thrower, so I've got to locate and hit my spots and keep them off balance. I just really try to keep it simple.
The Cardinals and Rangers scored a combined eight runs in the first two games in St. Louis, a total that might be exceeded Saturday alone.
Lohse said he had pitched in hitters' ballparks before and would not be intimidated.
I was in Cincinnati and Philly for about a year and a half, he said. Nothing really changes a whole lot. You just pay for your mistakes a little more often if you leave the ball up.
I'm not going to try to be pitching up in the zone. Every once in a while you have a case where you try to sneak one by somebody up there if you think they'll chase.
But the strategy for myself has always been keep it down and on the corners, and that's not really going to change here.
© Copyright Thomson Reuters 2023. All rights reserved.