Los Angeles Dodgers vs. Chicago Cubs: Clayton Kershaw Gives L.A. Chance To Win 2016 NLCS, Reach World Series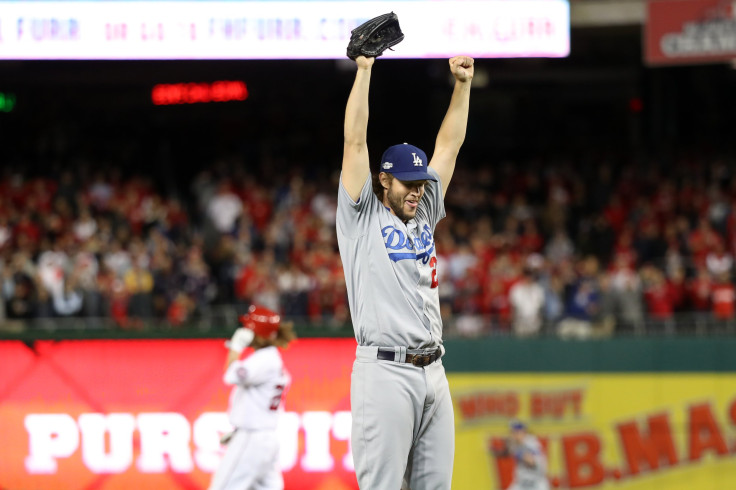 The Los Angeles Dodgers face an uphill battle in the 2016 National League Championship Series. After winning a grueling five-game NLDS against the Washington Nationals, L.A. gets one day off before taking on the Chicago Cubs, who ran away with the best record in MLB this regular season.
Chicago is the heavy favorite to win the NLCS, as well as the World Series, but the Dodgers' best player gives them a chance to pull off the upset.
Clayton Kershaw pitched in each of the Dodgers' wins against Washington. After winning Game 1 on normal rest and taking the ball in Game 4 on three days' rest, Kershaw got the save in the Game 5 clincher. If he's able to appear in three games against Chicago, L.A. can win every one of those contests.
"He's everything that you want in a pitcher," former MLB pitcher and current SNY and TBS baseball analyst Ron Darling told International Business Times.
Not only is Kershaw the best pitcher in baseball, but he's already cemented his place in history as one of the all-time greats. At just 28 years old, the left-hander has been named the NL Cy Young winner three times and finished in the top three in voting for the award five times. His career regular-season ERA of 2.37 is the best of any starter that was born after 1900.
Kershaw has not been the same dominant pitcher in the playoffs that he's been in the regular season. He's just 3-6 with a 4.79 ERA in the postseason, and he posted a 5.84 ERA in the NLDS against Washington.
But a closer look at Kershaw's playoff history shows the idea that he struggles in the postseason is somewhat overblown, and he could very well be unhittable against Chicago.
Most of Kershaw's playoff issues have come against the St. Louis Cardinals, who for whatever reason, seem to hit him well. Even in the regular season, the Cardinals have more success against Kershaw than most teams.
From 2013-2015, Kershaw had a 1.35 playoff ERA when facing any team other than St. Louis, including three starts on short rest. He struck out 37 batters in 26 innings, allowing just 13 hits.
Kershaw's bullpen has often failed him, as was the case in Game 4 against the Nationals. Pitching on three days' rest, Kershaw struck out 11 batters and allowed just two runs in six innings. He ran out of gas in the seventh inning, and L.A.'s bullpen allowed all three of the runners that he left on base to score.
"I thought that was a mistake by their manager (Dave Roberts)," Darling said. "Six innings, five hits, two runs was representative of how he pitched, and I think that's where his last pitch should've come. So I know he didn't get the job done, he and the bullpen in the seventh, but I don't think he even should've been out there."
Darling knows what it's like to pitch on MLB's biggest stage. He made three starts for the New York Mets in the 1986 World Series, including his start in the series' deciding contest, which he chronicled in his book "Game 7, 1986: Failure and Triumph in the Biggest Game of My Life."
"It's one team that has had his number. At some point, he'll have tons of starts, tons of games, tons of strikeouts, and I'm sure tons of wins," Darling continued.
"This is the playoffs. It's so mercurial on what the outcome is. He's had some games that he's thrown that were unbelievable where he's ended up with nothing."
The nature of baseball makes it difficult for one player to carry a team in the playoffs. Kershaw, however, can be so dominant that he's one of the few MLB players who has the ability to change the complexion of a short series.
It's what Madison Bumgarner did in the 2014 World Series, recording two victories and one save. He allowed one run in 21 innings for the San Francisco Giants, helping them beat the Kansas City Royals in seven games.
Bumgarner's performance two years ago was unprecedented. He is a top starting pitcher, but nothing like the player that was nearly perfect in the playoffs. After throwing a complete-game shutout in this year's NL Wild-Card Game, Bumgarner came back down to earth, allowing three runs in five innings in his only start against Chicago in the NLDS.
But unlike Bumgarner, Kershaw doesn't need to raise his game in the playoffs. He's so good as it is that his usual performance could be enough to get the Dodgers into the World Series.
"I think occasionally, real good players try to take it up a notch," Darling said. "The ones that do really well in the postseason don't take it up a notch at all, they just continue to be excellent."
Because he pitched so much in the NLDS, it's unknown when Kershaw will get his first start in the NLCS. But he only threw seven pitches in Game 5 and might be good to go for Game 2 on Sunday. Unless the Dodgers get swept, he should be able to make two starts and potentially pitch in relief in a third game.
Kenta Maeda will get the Game 1 start for the Dodgers on Saturday at Wrigley Field.
© Copyright IBTimes 2023. All rights reserved.