Luka Doncic Channels Ivan Drago In Response To Question About Mavericks' Pride
KEY POINTS
Luka Doncic quoted the famous movie antagonist during his postgame press conference
Doncic dropped a 30-point, 14-rebound double-double to lead the Mavericks
The Mavericks forced a Game 5 after beating the Golden State Warriors, 119-109
The Dallas Mavericks get to live another day as they defeat the Golden State Warriors, 119-109, in Game 4, and Luka Doncic proved his quality once again.
With a 30-point, 14-rebound double-double under his belt, Doncic led the way for the Mavericks to extend the series as they visit the Warriors' home court.
When asked by a reporter whether their Game 4 bounce back was fueled by their pride of not getting swept, the Slovenian superstar's response was similar to that of a famous movie antagonist back in the 80s.
"Swept or not swept, if you lose, you lose. Doesn't matter how many wins, but we have to go game by game. We're going to believe until the end," Doncic remarked.
His comments echoed that of Ivan Drago from the Rocky franchise where the USSR boxer, played by Dolph Lundgren, uttered the words "if he dies, he dies" after soundly beating and eventually ending the life of series favorite Apollo Creed during an exhibition boxing match.
The Mavericks certainly were not ready to call it quits on their season just yet after outscoring the Warriors, 28-24, in the opening frame.
It was a lead that Golden State was unable to overcome as they allowed Dallas to have their lead balloon to 29 points at one point.
Mavericks head coach Jason Kidd said during the postgame presser that his players were simply able to make the shots that they were missing in Game 3.
"I thought the guys came out no different than in Game 3 and Game 2 in the sense that they're executing and playing at a high level. They [Warriors] are going to play zone for the majority of the game so that's going to present a problem for them in the sense that they're giving up threes. We were able to capitalize on that tonight," Kidd remarked of their win.
Cagers like Reggie Bullock, Dorian Finney-Smith and Jalen Brunson came through for the Mavericks in a big way as they combined for 56 points.
On the Warriors' side, Stephen Curry only tallied 20 points on 7-of-16 shooting from the field and both Klay Thompson and Andrew Wiggins were stifled by the Mavericks' blitzing offense.
However, they were able to make the game an interesting one in the last quarter as they started the fourth with a 15-2 run to give them a decent shot at stealing the series away.
The Warriors did not have enough time to mount a comeback and will now look to close out the series in Game 5 on their home floor.
"We've got to believe. I think our defense is way better today and we attacked the paint. Those two things are key and that's what we've got to bring to San Francisco," Doncic later added.
The Warriors can again potentially clinch the series on Thursday, May 26 at 9:00 AM ET.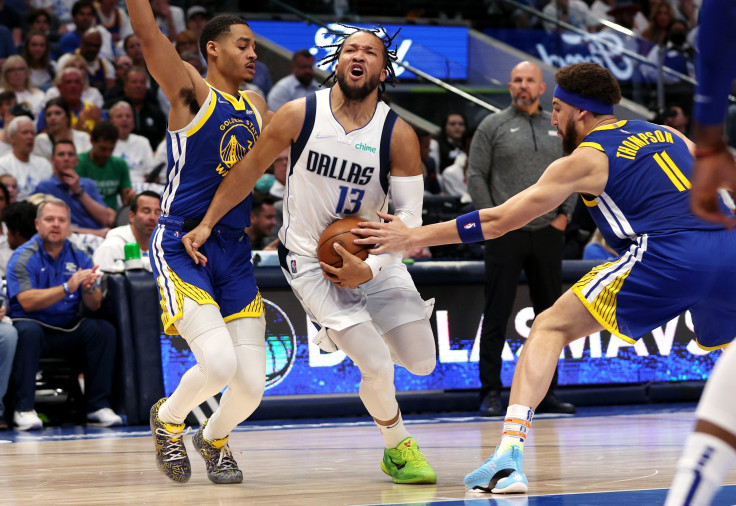 © Copyright IBTimes 2023. All rights reserved.