MacBook Air Release Rumor: Apple Prepping $799 Air For Q3; Will It Be The Biggest Threat To Ultrabooks Market Sales?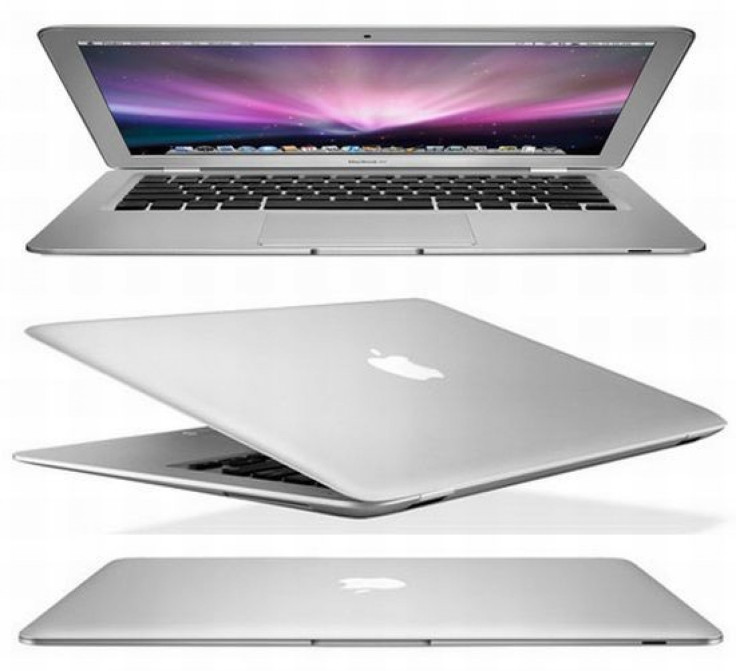 While the tech world still awaits the Windows 8 ultrabooks debut, the Cupertino tech giant already seems to have plans up its sleeves of how to to take maximum advantage of the situation. Yes, Apple is reportedly considering the launch of a new Macbook Air that will be positioned as a budget laptop, which is basically being prepared to give stiff competition to the second wave of ultrabooks coming to the market this year.
According to recent report cited in DigiTimes, Apple will launch a new MacBook Air, sometime around the third quarter of this year. Further, the report has suggested that the new Air will be priced by the company for as low as $799.
The website report also mentioned that the information on the same came from the sources of the upstream supply chain. Details on the rumored device are extremely limited, however, it can be presumed that the new Air might be an updated 11-inch model that could launch around the same time as Apple's new 13- and 15-inch MacBook Pro 2012 models, which are expected to become available some time this summer. Recent speculation depending on the tech insiders' information, have claimed that Apple may also reveal the new model during its annual Worldwide Developer Conference, which begins on June 11.
The current market Apple models are available in the following price range: 11-inch 64GB MacBook Air ($999), 11-inch 128GB version ($1,199) and 13-inch 128GB model ($1,299). The line also features a 256GB version that is priced at $1,599.
Threat to Potential Rivals
Well, industry observers assume that if these rumors turn out to be true and Apple confirms this launch in the coming days, then the new Air device will definitely bring serious competition in the ultrabook market, making it difficult for its potential rivals to survive with their high end prices.
Ultrabooks are lighter than laptops and with the thickness of under 0.8 inches. When introduced in 2011, exclusively with Intel's processors, the device was positioned as having reduced size and weight without compromising performance and battery life. Even the tech enthusiasts appreciated the concept and initially the sales of ultrabooks were good however, with the introduction of tablets in the market, sales of the ultrabook slacked as compared to the growing tablet market sales.
Meanwhile, global tech manufacturers have not lost hope yet on the concept as ultrabooks are still preferred in the professional market. The business professional still prefers a laptop or an ultrabook instead of depending on tablets.
Earlier media reports claimed that Dell's XP13 ultrabook ($999) experienced strong sales that exceeded expectations since its launch in February. The XPS 13 touts a 13-inch display in a compact 12-inch frame and weighs in at only 2.99 pounds. It runs on Windows 7. It also features Intel Core i3 processors, but can also be upgraded to Intel Core i7 processors.
Dell has also announced that the company is working on an experimental project called Sputnik to produce a Linux laptop, tailored to meet the needs of software developers. The first stage of the project is a six-month exploratory effort that will pair Dell's XPS13 Ultrabook with Ubuntu 12.04.
Hewlett-Packard has already refreshed the prices its ultrabook portfolio, as soon as rumors of a $799 MacBook Air came about. HP has cut down the price of its Folio line down to a new low of $798.
The HP Folio 13 (model 13-1035nr) is now priced at $797.77 at Best Buy. That includes a Sandy Bridge 1.6GHz Intel Core i5 processor; a 13.3-inch display, 4GB of memory and a 128GB solid state drive.
Further, on May 8, HP also introduced its new ultrabook -- HP Envy Spectre XT -- starting at a price of $999.99. The new ultrabook also features Intel's third generation Ivy Bridge processors with 4GB of RAM and a 128GB solid state drive, also supporting about 8 hours of battery life. The new Spectre XT has noticeable design and it measures 14.5 mm thin with a weight of 3.07 pounds.
Moreover, with the Spectre XT, HP also rolled out 14-inch and 15.6-inch Envy ultrabooks and both will come with Sandy Bridge and newer Ivy Bridge chips. The 14-inch Envy Ultrabook will start at $749, while the 15.6-inch version will start at $799, in complete competition with the $799 MacBook Air.
As for the specs of both variants, they would also include a 1366 x 768 pixel of resolution display (in both screen sizes), 4GB of RAM and a 500GB hard drive with 32GB of SSD cache. Ports will include two USB 3.0, one USB 2.0, HDMI, Gigabit Ethernet and an SD card slot.
Well, HP is surely trying hard to keep up with competition, some tech industry experts believe that ultrabook market sales are not going to witness really strong figures until the launch of the latest Microsoft Windows 8. However, in the end, it all depends on the consumers thought process and purchasing behavior.
What do you think, would you purchase a $799 MacBook Air over other devices prevailing in this market category? Share your thoughts in the comments.
FOLLOW MORE IBT NEWS ON THE BELOW CHANNELS