Macedonians Demand Prime Minister's Resignation In The Wake Of Wiretapping Allegations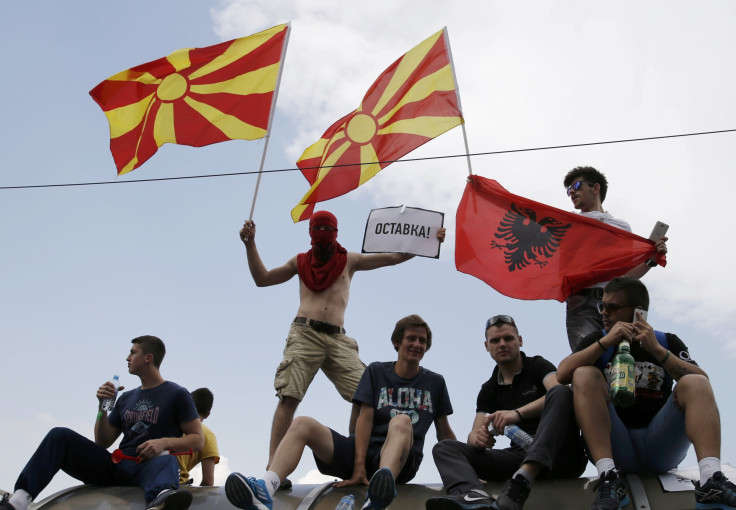 Tens of thousands of Macedonians rallied in the capital Sunday to call for the prime minister's resignation as a range of scandals have plagued the government in recent weeks. Public anger is bubbling over an alleged covert phone-tapping operation, police brutality and accusations of a murder cover-up, scandals that have presented the government with its deepest political crisis in years.
An estimated 20,000 to 40,000 people gathered in the street in front of Prime Minister Nikola Gruevski's office in Skopje to demand he step down. The Associated Press reported protesters hope to prolong the demonstration for days, with some planning to pitch tents. Among the crowd were people holding both Macedonian and Albanian flags in a show of solidarity for the country, which has long grappled with ethnic tensions.
The Macedonian government has been under fire since February as opposition politicians accused the prime minister and intelligence chief of ordering phone surveillance of politicians, journalists, judicial officials and religious authorities. Zoran Zaev, the leader of the opposition Social Democrats party, said the operation targeted more than 20,000 people for four years.
The Social Democrats released some of the alleged covert recordings in recent months, fueling public outrage over what they said were government attempts to influence the judiciary and the electoral process. Gruevski argued the recordings had been doctored, and Zaev was charged with espionage. This week Macedonia's intelligence chief, transport minister and interior minister resigned in the political fallout.
Grievances with Macedonian police are also fueling the discontent. Last week, thousands of Macedonians took to the streets to protest alleged police brutality, accusing the government of trying to cover up the death of a Martin Neshkovski, 22, who was allegedly killed by a police officer in 2011. Neshkovski's death led to weeks of protests in 2011, and Igor Spasov, a member of police special forces, was convicted of murder. Zaev released audio recordings this month he said showed Macedonian government officials were trying to hide evidence of the killing.
Shortly after those protests, police clashed with an armed group, in a battle that killed eight officers and 14 alleged members of the group, raising fears of insecurity in the midst of the political turmoil.
Gruevski, who has served as prime minister for nine years, has refused to give in to protesters' demands. "If I back down it would be a cowardly move. I'll face down the attacks," he said Saturday on Macedonia's Sitel TV. Government supporters have planned a rally of their own for Monday.
© Copyright IBTimes 2023. All rights reserved.