Maedeh Hojabri, Iranian Teen Arrested Over Dancing Instagram Post
The recent arrest of an Iranian teenager for posting dance videos on social media has sparked outrage among activists in the Middle Eastern nation.
Eighteen-year-old Maedeh Hojabri was arrested recently for posting videos of her dancing on Instagram. She was among the many Instagram users arrested by authorities for posting videos on the social media platform in recent weeks. There is no information available regarding the number of people arrested or the names of the others, the Guardian reported.
Hojabri posted around 300 videos on her Instagram account and most of them showed her dancing in her room to Iranian and western music. In some of the videos, she appeared without the mandatory headscarf or hijab. In one video, she spoke about the history of parkour, an outdoor activity popular in Iran, and about women practitioners. Her videos attracted tens of thousands of followers. The teen's Instagram account, which authorities took down following her arrest, reportedly had over 600,000 followers.
Iran's state television on Friday telecasted a video of Hojabri and other arrested persons confessing to breaking moral norms.
"It wasn't for attracting attention," she said. "I had some followers and these videos were for them. I did not have any intention to encourage others doing the same … I didn't work with a team, I received no training. I only do gymnastics."
Protesting the girl's arrest, a number of women posted videos of themselves dancing online. Also, several hashtags like #dancing_isn't_a_crime emerged on Twitter where social media users shared videos and messages supporting the young dancer.
A Twitter user wrote, "I'm dancing so that they [the authorities] see and know that they cannot take away our happiness and hope by arresting teenagers and (girls like) Maedeh."
Blogger Hossein Ronaghi said, "People would laugh at you if you tell anyone in the world that [in Iran] they arrest 17-year-olds and 18-year-olds for dancing, being happy and being beautiful, for spreading indecency, and instead paedophiles are free."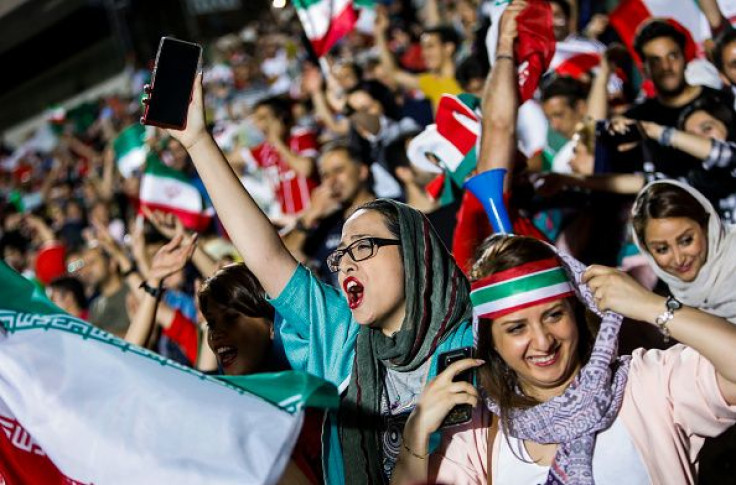 Iranian-American journalist Negar Mortazavi shared one of Hojabri's videos on her Twitter account, which received several comments praising the young girl's courage, and it was re-tweeted over 1,000 times.
One person commented: "Awesome excellent dancer. But more importantly, she is a brave great warrior against the barbaric regime who took a nation in hostage. We praise and admire her as a leader to let our voices for freedom to be heard."
This is not the first time women have become victims of Iran's strict rules. They are banned from appearing in public without headscarves, were told to wear a long tunic over their regular clothes and are restricted from soccer stadiums, a rule that was lifted briefly during this year's World Cup. And when it comes to dancing, the rule is equally strict for both genders. Men and women are banned from dancing in public.
In April, an official of the Islamic guidance department was arrested after a video showing a group of young men and women clapping and dancing during a concert at a shopping mall in Masshad. Similarly, in August last year, six people were arrested for taking Zumba classes at a public square in Tehran. In 2014, six people who appeared in an online video dancing to Pharrell Williams' hit song "Happy" on the streets were sentenced to a one-year jail term and 91 lashes. The sentencing was later suspended.
© Copyright IBTimes 2023. All rights reserved.