Malawi President Cuts Her Salary By 30%, But Still Enjoys The Friendly Skies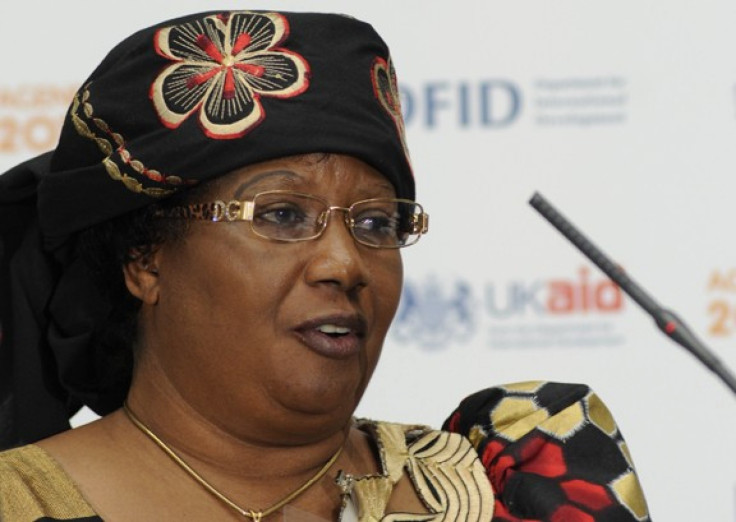 Taking a page from the book of French President Francois Hollande, the leader of the East African nation of Malawi has agreed to submit to a 30 percent pay cut in her salary.
Joyce Banda, who became president of Malawi in April following the death of her predecessor, said the cut was necessary due to the economic crisis her country is enduring after she drastically devalued the currency.
"When I took over, the economy had almost collapsed. I told Malawians we needed to pass through difficult times," Banda told the Business Day newspaper of South Africa during a visit to Johannesburg this week.
"I even cut my own salary by 30 percent to show we are making sacrifices. It is a very low salary, but most Malawians are getting just as little as that. So that's fine, we have a nation to build. Perhaps the next president will get better than that."
Her vice president, Khumbo Kachali, will also see his pay envelope cut by a similar amount.
According to the Daily Telegraph, Banda's annual take-home pay will decline to £26,000 (about $42,000) from £37,000 a year.
(The French president announced earlier this year that the salaries of his ministers and his own pay packet would be slashed by 30 percent.)
In another cost-cutting move, Banda recently said she will sell off certain state-owned luxuries, like the fleet of luxury cars and airplanes acquired by her predecessor, Bingu wa Mutharika.
In May, Banda devalued the local Kwacha currency by 33 percent – as a direct consequence, the inflation rate in Malawi soared to 25 percent three months later, sparking demands for wage increases by striking public sector workers.
The situation has become so grave, that even the country's elite are having a difficult time purchasing such staples as fuel, bread and sugar.
But foreign agencies like the International Monetary Fund and international donors have been demanding that Malawi cut costs, reform its foreign exchange and finances in order to continue to receive funds.
Foreign donors reportedly account for 40 percent of Malawi's developmental budget.
"[Donors] have provided $208 million in the last six or seven weeks," Banda told Business Day.
"That only happened because we got back on track with the IMF. Malawi is standing at a point now where we know the future is bright."
However, some Malawians are cynical about Banda's so-called sacrifices.
For example, Banda reportedly spent the equivalent of almost $1 million to take a 32-member delegation to the United Nations General Assembly in New York, just prior to an excursion to South Africa to attend an investment forum, followed by a planned jaunt to Brussels for an EU meeting.
Banda has taken seven overseas trips in just the past five months (all paid for by the beleaguered Malawi taxpayer).
John Kapito, chairman of Consumers Association of Malawi, told the Telegraph that Banda's belt-tightening amounted to a charade.
"Most Malawians know that they had to endure a certain amount of pain on the journey to recovery, but what's confusing for them is that the people at the top are still enjoying the same lifestyles they always had," he said.
Indeed, according to The Daily Times newspaper of Malawi, the public is growing increasingly irate over Banda's frequent travels, given the country's dire economic straits.
Nicholas Dausi, a spokesperson for the opposition, Democratic Progressive Party (DPP), told the Times that the president and vice president should have declared their assets in order to give their pay cuts some meaning and context.
"This could have given Malawians a semblance of financial discipline and moral obligation. Now that they [top politicians] have amassed wealth, they are economically fluid, they are making this announcement. This does not make any economic sense," said Dausi, the former deputy minister under Mutahrika.
"What they have done is taking one pace forward and two paces backwards."
Despite a rich reserves of mineral deposits, Malawi is one of the poorest nations on earth.
In July, the Malawi Vulnerability Assessment Committee indicated that more than 1.6 million people (about one-tenth of the population) will be unable to feed themselves over the next three to eight months.
One Malawi street trader told Think Africa Press: "I am now using a lot of money to buy just a few things ... I'm worried that I now can't buy enough for my family. "The food I sell is now more expensive, so customers feel I am cheating them and they don't buy."
© Copyright IBTimes 2023. All rights reserved.