Malawi's 'Albino Hunters': Police Launch Campaign Against Brutal Killings Of People With Albinism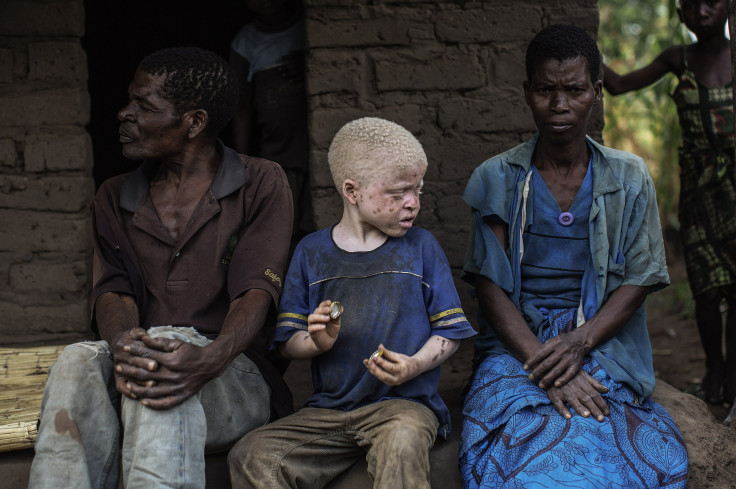 Police in Malawi's central Kasungu district launched an intensive campaign Wednesday against the persecution and killings of people with albinism, after a toddler was stolen from her bed and brutally murdered by so-called albino hunters. Local law enforcement is partnering with community stakeholders to educate residents against the practice of harvesting human body parts, which are prized in witchcraft and black magic, according to Malawian newspaper Nyasa Times.
"There was a need to sensitize people that body parts of people with albinism cannot bring wealth whatsoever. Hard work and dedication to duty are the only principles that can propel one to richness," Kasungu police officer Ax Muwanya was quoted as saying.
The initiative follows a scourge of albino killings that are haunting communities in the southern African nation. Most recently, 2-year-old Whitney Chilumpha was abducted from her bed in the early-morning hours of April 3, while her mother slept soundly at their home in Chiziya village, Kasungu district. The little girl's severed body, along with her teeth and clothes, was found in a nearby forest two weeks after she went missing. Chilumpha's father, who was not home at the time of her kidnapping, has reportedly been detained in connection with her murder. Rights group Amnesty International said the horrific killing highlights the failure by Malawi's authorities to protect albinos.
"The murder of this innocent child is part of a deeply disturbing pattern of disappearances and killings of people with albinism in Malawi where body parts are sold for use in witchcraft," Muleya Mwananyanda, Amnesty International's deputy director for Southern Africa, said in a statement last week. "The Malawian authorities have failed to protect the vulnerable group and this latest horrific incident should galvanize them into action. Not only must the perpetrators of this crime be brought to justice, but people with albinism must be offered effective protection. Authorities must put a stop to these barbaric killings."
Thought to bring wealth and good luck, the body parts and bones of people with albinism have become a hot commodity in southern Africa. Criminal gangs, dubbed "albino hunters," seek to harvest and sell albino body parts for high prices on the black market. Last month, Malawi's police chief issued a shoot-to-kill order against albino hunters in hopes of curbing the horrific killings, CCTV-Africa reported.
© Copyright IBTimes 2023. All rights reserved.
FOLLOW MORE IBT NEWS ON THE BELOW CHANNELS