Mali Hotel Attack, Hostage Crisis: 'Al Qaeda Of West Africa,' Al-Mourabitoun, Claims Responsibility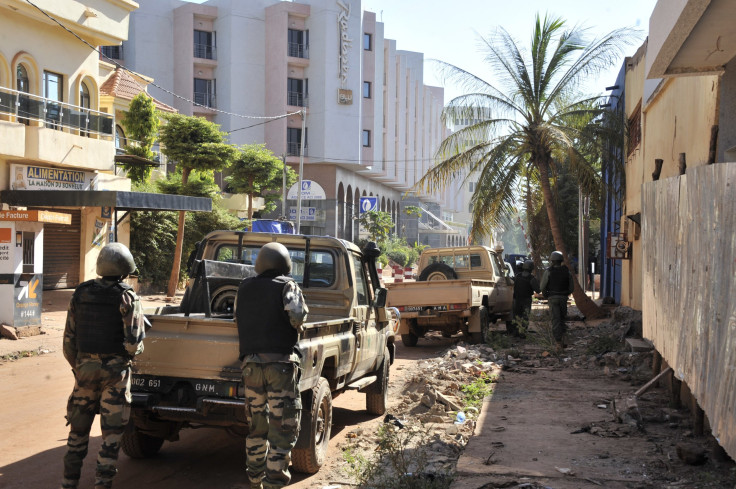 Al-Mourabitoun, an al Qaeda-linked militant group in northern Mali, posted a message on social media Friday claiming responsibility for the attack and hostage situation at a luxury hotel in the center of Mali's capital, Bamako. The claim could not immediately be verified, Reuters reported.
Although these types of attacks and hostage-taking situations have become common in Mali, the siege took place farther south than where the country's rebels typically operate, raising concerns over the groups' apparent expansion of their grip in the region.
"The fact that it's gotten so far south is what's novel about this attack. That's a potentially disturbing development," said Hilary Matfess, an expert on Africa who does research at the Center for Complex Operations at National Defense University in Washington.
Gunmen stormed into the Radisson Blu Hotel and took 170 people hostage Friday. Security forces subsequently launched a counter-assault at the hotel, and French President François Hollande pledged to provide "necessary support" to help Mali. The hostages reportedly were freed, and a senior United Nations official said as many as 27 bodies were counted at the scene, the New York Times reported. The siege comes on the heels of last week's deadly terror attacks in Paris and one day after Hollande praised his troops for successfully fighting Islamic militants in Mali, a former French colony.
"France is leading this war with its armed forces, its soldiers, its courage. It must carry out this war with its allies, its partners giving us all the means available, as we did in Mali, as we are going to continue in Iraq, as we'll continue in Syria," Hollande said Thursday, according to CNN.
Mali, a Muslim-majority nation, was considered a success story in regard to democracy in Africa and the West's counterterrorism efforts for many years. But political unrest in northern Mali between ethnic Tuareg rebels and the Malian government in 2012 led to a military coup and a security vacuum, which has allowed militant groups who operated freely in the north to gain ground and ramp up attacks farther south, inching closer to the capital.
There are dozens of rebel groups in Mali. Some are related to the Tuareg rebel movement, and others are linked to al Qaeda in the Islamic Maghreb (AQIM), the North African wing of the broader al Qaeda network. AQIM emerged in 2007 and has said it seeks to spread Islamic law as well as liberate Malians from their French colonial roots. AQIM has drawn in members from within Mali, neighboring Niger and Senegal as well as Mauritania and Morocco.
The al Qaeda branch has operated freely across northern Mali and has helped other militant groups, such as Ansar al Dine and the Movement for Unity and Jihad in West Africa (Mujao), seize control of strategic cities in the north in recent years. These groups are known for kidnapping, and ransom money is believed to be a chief source of revenue, along with drug trafficking. Algerian national and former AQIM emir Mokhtar Belmokhtar fell out with the al Qaeda branch and formed his own jihadist group, al-Mua'qi'oon Biddam brigade, which merged with Mujao in 2013 to form al-Mourabitoun.
Most Active Terrorist Groups in Mali since 2000 | FindTheData
Belmokhtar, 42, a veteran jihadi, masterminded the group's 2013 siege on a natural gas plant in Amenas, Algeria, that killed 40 people, mostly foreign nationals. The attack gained international notoriety for Belmokhtar, who often wears a patch over his missing eye. He became leader of al-Mourabitoun in August. The group calls itself al Qaeda of West Africa.
"The state of rebel groups, Islamic groups, terror groups in Mali is deeply connected and intertwined," said Matfess of Center for Complex Operations."It's a constantly evolving rebel landscape that makes it difficult to understand if this attack was by an existing group or an emerging group."
The timing of the hotel siege in Mali and the country's French colonial legacy had many wondering whether it was linked to the Paris attacks, for which the Islamic State group claimed responsibility. However, experts said ISIS has less of a presence in Africa and the attack in Mali is more likely the work of an al Qaeda-linked group such as al-Mourabitoun. There are also many disenfranchised groups in Mali that are antigovernment but not religiously motivated that could be involved.
"It's possible it's not the work of a terrorist group," Matfess warned. "I think we should be cautious before we assign this to any specific group."
© Copyright IBTimes 2023. All rights reserved.
FOLLOW MORE IBT NEWS ON THE BELOW CHANNELS