Man With Bionic Limb Scales Chicago Skyscraper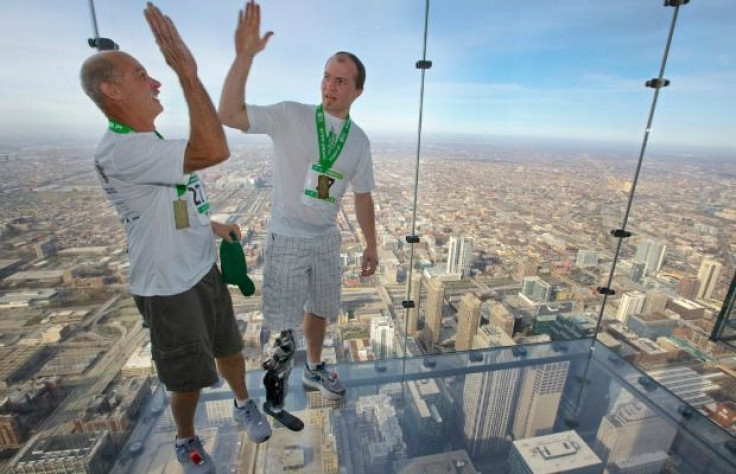 Zac Vawter achieved a rare feat Sunday after climbing 103 floors of Chicago's iconic Willis Tower with a mind-controlled prosthetic limb.
With this amazing achievement, he becomes the first person to complete the task after losing his right leg in a motorcycle accident. This is indeed a commendable achievement for Vawter (31), a software engineer by profession. Even those blessed with two feet may find it difficult to accomplish such a task owing to health ailments or lack of practice.
Vawter achieved this feat for a noble cause entitled "SkyRise Chicago," an annual stair-climbing charity event organized by the Rehabilitation Institute of Chicago where he receives treatment.
Apparently, the robotic leg is designed to respond to electrical impulses from muscles in the hamstring, the Associated Press (AP) reported adding that motors, belts and chains in the artificial limb synchronized the movement of ankle and knee.
Weighing about 10 pounds with two motors, the computerized limb has been available for few years owing to pioneering work undertaken at the Rehabilitation Institute.
The limb is part of an $8 million project funded by the U.S. Department of Defense. The Massachusetts Institute of Technology, Vanderbilt University, the University of Rhode Island and the University of New Brunswick are also involved in this study, AP has pointed out.
Over 3000 climbers are said to have taken part in the event, climbing 2100 steps with Vawter to raise funds for the Institute's rehabilitation care and research.
Speaking to AP, Joanne Smith, chief executive officer with the Rehabilitation Institute of Chicago, stated: "We were testing the leg under extreme conditions. Very few patients who will use the leg in the future will be using it for this purpose. From that perspective, its performance was beyond measure."
Reportedly, Vawter practiced on a small escalator at a gym to prepare for his pioneering climb as researchers spent months adjusting the technical aspects of the leg to ensure that it responded to his thoughts.
However, commercial marketing of limb appears years away as researchers are likely to refine its steering.
Levi Hargrove, lead researcher with the Institute's Center for Bionic Medicine stated: "We've come a long way, but we have a long way to go. We need to make rock solid devices, more than a research prototype."
© Copyright IBTimes 2023. All rights reserved.