Man Dies in Greek Protests Against Government Austerity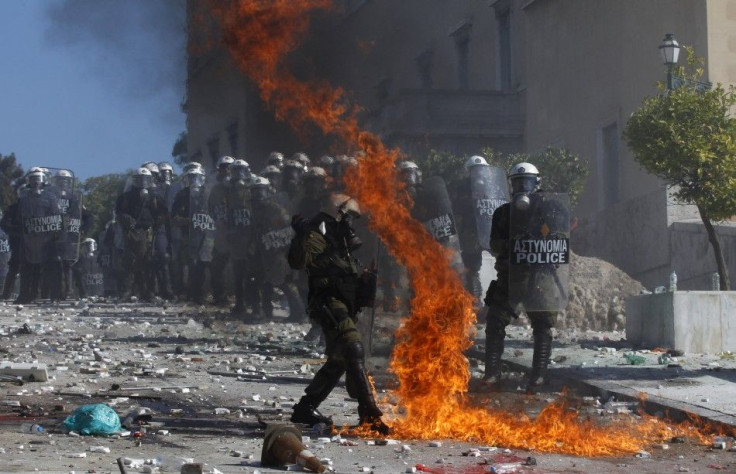 The anti-government protests in Greece have cost a man his life.
Fighting between rivals group of anti-austerity protesters outside the Greek parliament building in Athens has led to the death of one man, while at least sixteen others were wounded.
Greek media identified the deceased as a middle-aged trade unionist.
However, it is not clear if the fatality was caused by fighting itself or medical causes. A deputy minister for the Greek government, Manolis Othonas, told Reuters the man died of a heart attack.
BBC reported that the protests – amidst a 48-hour general strike across the country – pitted rioters against trade unionists.
According to reports, masked youths fought Communist members of unions, with some people also injured by stones and sticks. One unionist was apparently beaten by a band of rioters.
On Wednesday, at least three dozen people were hurt in protest-related rioting in central Athens.
Workers from across all sectors, including public and private employees, are participating in the industrial action to express their anger and frustration at the government's ongoing (and ever-deepening) program of job cuts, pay reductions and tax hikes.
Meanwhile, the parliament is expected to deliver a final approval of a revised austerity package on Thursday, following preliminary approval on Wednesday.
Under terms of the latest austerity package, 700,000 civil servants will be subject to a revised system if payment and promotion; wages of public sector workers will be reduced; bonus schemes for many government workers will be eliminated; and a 20 percent slash in monthly pensions above 1,000 euros, among other measures.
Athens is under extreme pressure to cut spending and lower its huge debt in order to meet demands imposed by the European union, International Monetary Fund and European Central Bank in exchange for the next tranche of desperately needed bailout cash.
Greek Finance Minister Evangelos Venizelos said the country is facing the choice between a difficult situation and a catastrophe.
We have to explain to all these indignant people who see their lives changing that what the country is experiencing is not the worst stage of the crisis, he told reporters.
It is an anguished and necessary effort to avoid the ultimate, deepest and harshest level of the crisis.
© Copyright IBTimes 2023. All rights reserved.