Manny Pacquiao Vs. Brandon Rios: 3 Ways Bam Bam Can Upset PacMan In Saturday's Fight In Macau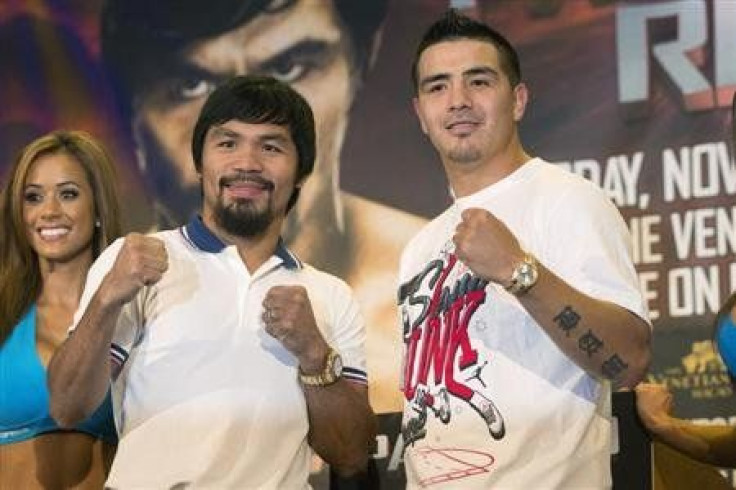 Manny Pacquiao was at the top of his sport a year and a half ago, until he suffered back-to-back losses. On Saturday, the famed boxer will look to get back in the win column.
In Macau, China, Pacquiao will face Brandon Rios for the vacant WBO International Welterweight title. Rios, in the eyes of many experts, has a slim chance of pulling off an upset. According to Bovada.lv, Pacquiao is an overwhelming favorite with -450 odds to win his first match in two years. The 34-year-old, as well as those around him, appear convinced that he will get the 55th victory of his career.
"Am I confident for my fight with Rios? I am more than confident?" Pacquiao said, according to Boxing Scene.
"I know I predicted Manny would knock Rios out inside six rounds, but based on our last workout, I don't see how Rios makes it past the fourth round," said trainer Freddie Roach.
Rios, though, is looking to make a name for himself by defeating one of the most famous boxers of his generation. After a loss in a rematch to Mike Alvarado, Rios needs to regain his status in the division to earn a high-profile opponent in 2014.
Pacquiao is coming off the worst loss of his career and trying to prove that he can compete with the elite fighters in the sport. The Filipino star has the clear advantage, but there are a few things Rios can do that would give him a shot to hand Pacquiao a third-straight defeat.
Bait Pacquiao into exchanging punches
If Pacquiao doesn't stay close to Rios, the fight isn't likely to go in the underdog's favor. Rios must challenge Pacquiao and force him to be more aggressive than he wants. The 27-year-old is bigger than his opponent and will likely have the advantage if the two are constantly exchanging blows. Pacquiao's elusiveness could hurt Rios, so he'll have to keep him engaged throughout the fight.
Be aggressive early
The longer the fight goes, the more the odds tilt in favor of Pacquiao. It will be very difficult for Rios, who doesn't have nearly the amount of experience as his opponent, to keep up with the savvy Pacquiao for too long. Rios is a big hitter and has won 23 of his 33 fights by knockout, including 13 of his last 14 victories. Pacquiao was knocked out in his last fight by Juan Manuel Marquez, and Rios would be smart to try and remind him of that with lots of hard uppercuts.
Maintain composure in late rounds
Rios must be smart if the match goes into the later rounds. Pacquiao will have seen what Rios has to offer and look to take advantage of his opponent's weaknesses. However, PacMan's two straight losses have shown that he may not be the same fighter that he once was. It was a controversial decision, but Timothy Bradley was able to go the distance in a 12-round bout. If Rios can't get that early knockout, he can't afford to be reckless if the fight progress beyond the seventh round.
© Copyright IBTimes 2023. All rights reserved.