Manti Te'o Denies Fabricating Girlfriend Hoax; Admits Misleading Family, Press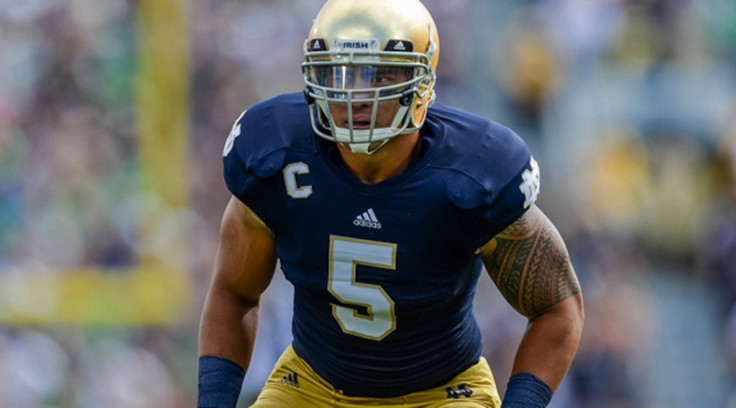 Notre dame star linebacker Manti Te'o confessed that he misled his family and the press about the details of his relationship with Lennay Kekua but denied any involvement in creating the story.
Te'o spoke with ESPN's Jeremy Schaap in an off-camera interview that lasted more than two hours on Friday night, his first public comments since news broke earlier this week that the inspirational story of Te'o's relationship, and his triumph over adversity, was a hoax.
The football player told ESPN that despite what he told his parents and the press, he never actually met Kekua in person. Te'o said he'd only found out Kekua never existed when he received a Twitter message from Ronaiah Tuiasosopo, who admitted he had created Kekua with the help of two friends. Neither accomplice, a male and female, have been identified.
College football fans watched Te'o rise in NFL mock drafts after a stellar season for Notre Dame as T'eo's unlikely relationship became part of a public narrative. That narrative included tales about how T'eo's successful plays on the field were inspired by the emotions that resulted from helping Kekua rehabilitate after a car accident in April, only to lose her on Sept. 12, the same day his grandmother passed away.
Deadspin revealed on Wednesday that it was all a lie, and skeptics immediately started wondering if Te'o had been involved in perpetrating his own myth.
"No. Never," Te'o told Schaap late on Friday. "I wasn't faking it. I wasn't part of this … When [people] hear the facts, they'll know. They'll know that there is no way that I could be part of this."
Te'o said he had tried to meet Kekua in person several times in both Los Angeles and Hawaii but was rebuffed at the last minute. He also tried to get in touch via Skype or a Facebook video chat only to have Kekua's connection show a black screen.
He was firm on the point that he had never met Kekua, although Te'o did admit he pressed his father to tell reporters the couple had seen each other face-to-face. The relationship had been intermittent until Kekua said her father had died and needed emotional support. From there, around mid-May, it escalated.
Te'o shaped his story to lead his family to believe he wasn't dating someone he'd only met online and spoken to over the phone.
"That goes back to what I did with my dad," Te'o said. "I knew that -- I even knew, that it was crazy that I was with somebody that I didn't meet, and that alone -- people find out that this girl who died, I was so invested in, I didn't meet her, as well. So I kind of tailored my stories to have people think that, yeah, he met her before she passed away, so that people wouldn't think that I was some crazy dude."
As for why he didn't visit his long-time girlfriend in the hospital, Te'o said, "It never really crossed my mind. I don't know. I was in school."
He added that he didn't attended her funeral because Kekua's relatives had told him her mother didn't want him there.
"They didn't want -- and I didn't want myself -- I didn't want that to be the first time that I saw her was laying in a coffin," Te'o said.
He said he first became confused upon receiving a phone call from Kekua's phone number on Dec. 6, three months after he thought she died. The voice on the other end told him Kekua had staged her own death to escape "drug people." At that point he alerted his family and Notre Dame that Kekua might still be alive, leading to an investigation from the university.
Te'o said he hadn't read the Deadspin report or news from any other media outlet in the past week but only was "fully convinced" Kekua had been a hoax when the news broke on Wednesday.
© Copyright IBTimes 2023. All rights reserved.