March Madness 2012 Obama Bracket Challenge: Pres. Picks UNC As NCAA Champions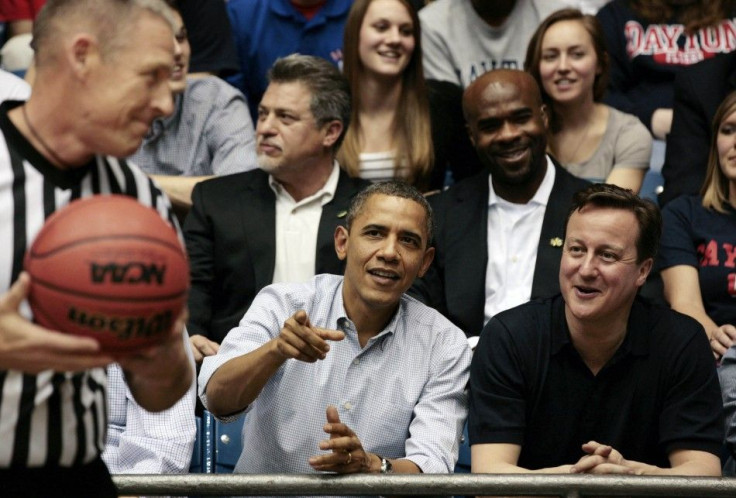 The President of the United States appeared on ESPN Wednesday morning for a yearly segment called Barack-etology to announce his pick for NCAA 2012 March Madness Champion, the North Carolina Tarheels.
Barack Obama has made it a tradition to publicly participate in the March Madness. This year he has taken it a step further, launching a bracket challenge on his official website in an effort to draw support for November's election and bring in donations. On Tue. March 14, Obama leaked his picks for the final four men's tournament (Kentucky Wildcats, Ohio St. Buckeyes, Missouri Tigers and North Carolina Tarheels. Kentucky and North Carolina are number one seeds, while Missouri and Ohio State are seeded second in their regions. It's worth noting that three of the four schools he chose for the final four are located in swing states.
The president was in Dayton last night for the first round with British Prime Minister David Cameron, and the two world leaders were interviewed together. You can go onto the president's website and fill in your own picks for free. Everyone who fares better than Obama will have their names published on the website.
The president is one-for-three in March Madness picks. In 2009 he correctly picked North Carolina to win it all. Since then he's chosen Kansas to win it all two years in a row, but the Jayhawks fell to Duke in 20120 and against the University of Connecticut in 2011.
For 2012 March Madness Obama may be returning to a team he believes he can depend on.
I'm just a sucker for the Tar Heels, what can I tell you, Obama told ESPN's Andy Katz. He added that the Tarheels are an older team, a more experienced team. And since they won it for me last time the last time I picked them, hopefully I'll be able to get a little redemption.
As for his own alma matter, Obama admitted, I will be rooting for Harvard, but it's just too much of a stretch.
© Copyright IBTimes 2023. All rights reserved.