March Madness 2012: Zimbio Launches Challenge For 2012 TV Couples [OPINION]
Opinion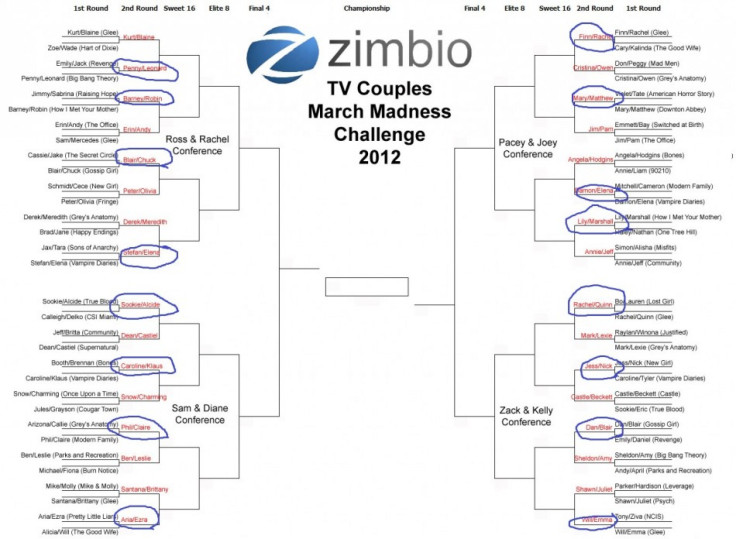 For all the ladies out there who could care less about March Madness, Zimbio.com has made a March Madness Challenge that might catch your interest. The online celebrity magazine has made a 2012 TV Couples March Madness Challenge. So hold onto the money you were going to hand into your office pool, and make one with your friends as your favorite TV couples battle it out to win the title of greatest TV couple. Is your favorite pair of lovers going to make it through?
The 2012 TV Couples March Madness Challenge is already in its second round, with the first starting on March 10. Zimbio took 64 of the hottest couples steaming up the small screen, and voters knocked the numbers in half. The couples are split up into four conferences, Ross and Rachel, Sam and Diane, Zack and Kelly and Pacey and Joey. Who are some of the couples remaining after the first round?
Kurt and Blaine of Glee, Penny and Leonard of Big Bang Theory, Barney and Robin of How I Met Your Mother, Damon and Elena of The Vampire Diaries, Snow and Charming of Once Upon A Time, and Jess and Nick of New Girl are still some of the pairs in the running to become the greatest couple of the 2012 TV season.
Take a look at my choices for round 2, and check out their site to vote for who you want to advance to the Sweet 16. Voting for round two ends tomorrow. This is a March Madness you will definitely be able to jump on board for.
© Copyright IBTimes 2023. All rights reserved.