March Madness 2021 Bracket: What Teams Are Favored To Reach The Elite Eight?
Only 16 teams are left in the March Madness bracket after the first weekend of the 2021 NCAA Tournament, including several teams that weren't projected to advance this far.
While the first and second rounds featured numerous major upsets, the betting odds suggest the Cinderella run for most lower-seeded teams will conclude in the Sweet 16.
The NCAA Tournament is scheduled to resume Saturday and Sunday with eight contests. A pair of teams are favored to win by double digits, and only two games feature a betting line of fewer than six points, according to OddsShark.
No. 1 Gonzaga is considered the biggest lock to reach the Elite Eight. The Bulldogs are favored by 13.5 points over No. 5 Creighton.
No. 3 Arkansas is expected to cruise in the Sweet 16. The Razorbacks are laying 11.5 points against No. 15 Oral Roberts. Oral Roberts is just the second No. 15 seed to reach the second week of March Madness, and they are trying to become the first in history to make it to a regional final.
No. 8 Loyola Chicago is the lowest-seeded team expected to be part of the Elite Eight. The Ramblers are 6.5-point favorites over No. 12 Oregon State on Saturday. Loyola Chicago has pulled off the only upset of a No. 1 seed so far, eliminating Illinois in the opening round. Their two leading scorers were part of the Ramblers team that reached the Final Four in 2018.
No. 1 Baylor is favored by 6.5 points over No. 5 Villanova on Saturday. On the final game of the Saturday schedule, the odds favor No. 2 Houston by six points over No. 11 Syracuse.
The point spread suggests No. 1 Michigan is no sure thing to reach the Elite Eight. The Wolverines are only favored by three points against No. 4 Florida State. When the bracket was first revealed, the Seminoles became a popular pick to reach the Final Four.
Both No. 2 Alabama and No. 11 UCLA had dominant second-round victories Monday night. Alabama is favored by six points over the Bruins.
A Pac-12 matchup is expected to be the Sweet 16 weekend's most competitive game. No. 6 USC is favored by a single point over No. 7 Oregon. USC just blew out No. 3 Kansas by 34 points in the second round. Oregon ran No. 2 Iowa off the floor with a 95-80 victory in the second round.
The Elite Eight games on Monday, March 29, and Tuesday, March 30, will determine this year's Final Four.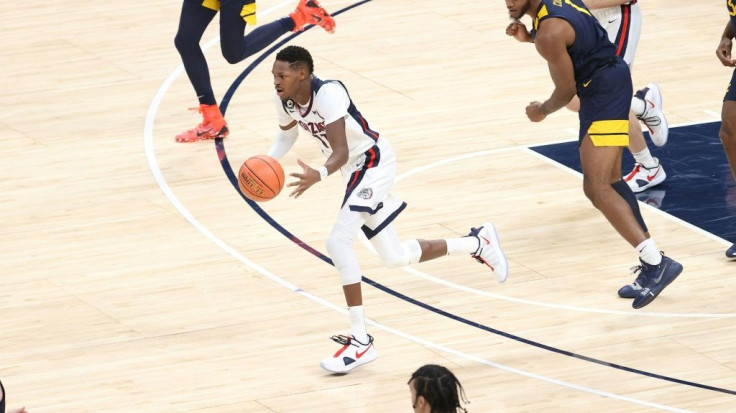 © Copyright IBTimes 2023. All rights reserved.