Margaret Thatcher Dies: Global Reaction Pouring In For Polarizing 'Iron Lady'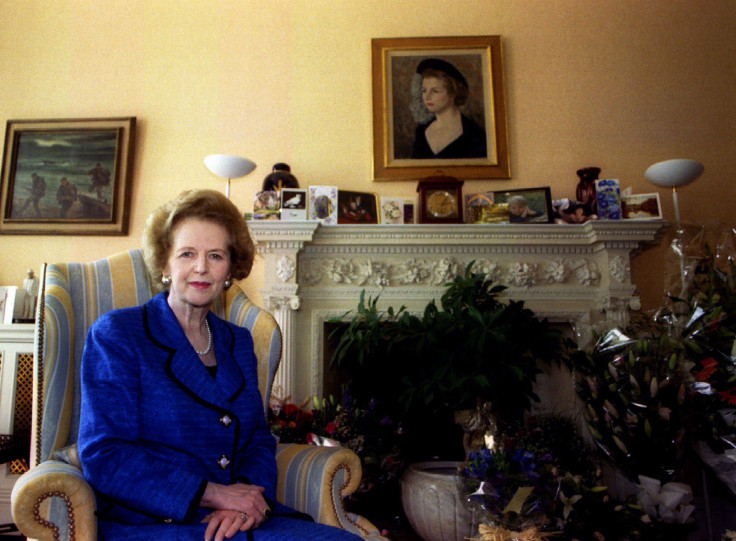 Margaret Thatcher, Britain's first female prime minister and a polarizing post-war figure whose policies reverberated around the world, has died at the age of 87 following a stroke.
In a statement, Prime Minister David Cameron said, "It was with great sadness that l learned of Lady Thatcher's death. We've lost a great leader, a great prime minister and a great Briton."
Thatcher rose to power in 1979 amid industrial strikes, power cuts and worries over Commonwealth immigration. She united the right wing under the umbrella of free enterprise capitalism -- privatizing various industries and throwing tens of thousands of people out of work. She served 11 1/2 tumultuous years in office.
Detested by liberals, socialists and especially the unions whom she sought to destroy, Thatcher was beloved by conservatives on both sides of the Atlantic, especially her contemporary, Ronald Reagan, who shared her strident anti-Communist views.
Indeed, Reagan and Thatcher presided over the final fall of the Soviet Union Empire at the end of their respective terms in office.
Victoria Honeyman, a lecturer in British politics at the University of Leeds, told International Business Times that Thatcher was probably one of the most divisive politicians in British politics, with a very polarizing effect.
"As the only female British PM she certainly showed that women could achieve anything in politics as a woman, and she was certainly true to her ideology," Honeyman said.
"With Thatcher, what you saw was what you got. She won three general elections and was the longest serving post-war PM -- quite an achievement for a grocer's daughter from Grantham."
Condolences and memories from British political figures have come pouring in.
Boris Johnson, the Conservative Mayor of London, who is said to harbor ambitions of entering No. 10 Downing Street himself someday, tweeted: "Very sad to hear of death of Baroness Thatcher. Her memory will live long after the world has forgotten the grey suits of today's politics."
David Davis, a senior Conservative Party stalwart, said "Margaret Thatcher was the greatest of modern British prime ministers, and was central to the huge transformation of the whole world that took place after the fall of the Soviet Union.
"Millions of people in Britain and around the world owe her a debt of gratitude for their freedom and their quality of life, which was made possible by her courageous commitment to the principles of individual freedom and responsibility. Her passing is a very sad event and she will be greatly missed."
Iain Duncan Smith, the Conservative Work and Pensions Secretary, credited Thatcher for being the "the reason I came into politics."
"Watching her set out to change Britain for the better in 1979 made me believe there was, at last, real purpose and real leadership in politics once again," he said. "She bestrode the political world like a colossus. This is dreadfully sad news and my thoughts and prayers are with her family."
Even Queen Elizabeth, who reportedly disliked the "Iron Lady," expressed sorrow over her passing.
"The Queen was sad to hear the news of the death of Baroness Thatcher," a spokesperson for Buckingham Palace said. "Her Majesty will be sending a private message of sympathy to the family."
Politicians of other stripes have decided to remember Thatcher (in many cases, their one-time nemesis) with equanimity.
Harriet Harman, the deputy leader of the Labour Party, tweeted her condolences to the Thatcher family, calling Britain's first female prime minister a "towering figure."
Former Labour prime minister Gordon Brown said he wanted to thank Thatcher for her "many decades of service to our country."
Another Labour PM, Tony Blair, declared: "Very few leaders get to change not only the political landscape of their country but of the world. Margaret was such a leader. Her global impact was vast. And some of the changes she made in Britain were, in certain respects at least, retained by the 1997 Labour government, and came to be implemented by governments around the world."
But at least one Labour firebrand isn't holding his tongue when it comes to the Iron Lady, even in her death.
"She created today's housing crisis," former London mayor, Ken Livingstone, told Sky News.
"She created the banking crisis. And she created the benefits crisis. It was her government that started putting people on incapacity benefit rather than register them as unemployed because the Britain she inherited was broadly full employment. She decided when she wrote off our manufacturing industry that she could live with two or three million unemployed, and the benefits bill, the legacy of that, we are struggling with today. In actual fact, every real problem we face today is the legacy of the fact that she was fundamentally wrong.
Gerry Adams, the leader of Sinn Fein, the Irish Republican nationalist group, didn't mince words in her bitter appraisal of Thatcher.
"Margaret Thatcher did great hurt to the Irish and British people during her time as British Prime Minister. Working class communities were devastated in Britain because of her policies.
"Her role in international affairs was equally belligerent whether in support of the Chilean dictator Pinochet, her opposition to sanctions against apartheid South Africa; and her support for the Khmer Rouge [in Cambodia].
"Here in Ireland her espousal of old draconian militaristic policies prolonged the war and caused great suffering. She embraced censorship, collusion and the killing of citizens by covert operations … alongside more open military operations and refused to recognize the rights of citizens to vote for parties of their choice. Her failed efforts to criminalize the republican struggle and the political prisoners is part of her legacy.
"It should be noted that in complete contradiction of her public posturing, she authorized a back channel of communications with the Sinn Féin leadership but failed to act on the logic of this. Unfortunately she was faced with weak Irish governments who failed to oppose her… agenda or to enlist international support in defense of citizens in the north.
"Margaret Thatcher will be especially remembered for her shameful role during the epic hunger strikes of 1980 and 81. Her Irish policy failed miserably."
Liberal Democrat leader, Nick Clegg, said in a statement, "Margaret Thatcher was one of the defining figures in modern British politics. Whatever side of the political debate you stand on, no one can deny that as prime minister she left a unique and lasting imprint on the country she served."
Tom Brake, also a Liberal Democrat, tweeted "My condolences to the Thatcher family. Mrs. Thatcher made me & many of my generation [Liberals]. But some of the battles she fought had to be won."
Charles Kennedy, a former Liberal Democratic leader, told the Guardian, "In extending sincere sympathy to the Thatcher family we remember today a landmark political figure, both at home and abroad. As a politically divisive figure -- not least where Scotland was concerned -- her legacy will always be controversial. And she continues to cast a considerable shadow across today's Conservative party. But her impact -- positive and negative -- remains near immeasurable."
Jenny Chapman, a Labour MP for Darlington, in the northeast, which suffered massive job losses during Thatcher's reign, told the Northern Echo newspaper, "This is a moment for humanity not politics and this is very sad news, I am sad for her family.
"I did not agree with her politics, but she did make an impact, particularly for women, in Britain. It is difficult, as a North-East MP, to have much to say about her politically that is positive, but on a human level, which is the most important way to think about it, it is just sad."
Stewart Wood, an adviser to Ed Miliband, the current leader of Labour, said "RIP Margaret Thatcher. She showed us that real change inspired by values was possible, [and] whatever our values, we should always remember that."
Other nations also noted the former PM's passing.
French newspaper Le Monde said: "[Thatcher] demonstrated the character traits that founded her reputation: an inflexible will, bordering on intransigence; an almost faultless self-control; above all, the certainty of being right against all winds and tides. So many 'virtues' forged in the family atmosphere of an austere childhood."
Former U.S. Secretary of State Henry Kissinger called Thatcher a "great leader" and a "good friend of the U.S." He added on BBC that he found her a "warm person, however, forcefully she defended her views."
Jose Manuel Barroso, president of the European Commission, expressed his "deep sadness" over Thatcher's death.
"She was without doubt a great stateswoman, the first female Prime Minister of her country, and a circumspect yet engaged player in the European Union," he said.
"She will be remembered for both her contributions to and her reserves about our common project… Her legacy has done much to shape the United Kingdom as we know it today, including the special role of the United Kingdom in the European Union that endures to this day. '
As for China, which was once a target of Thatcher's venomous stance on Communism, she appears to have large number of admirers.
"I think Chinese people respected her and positively assessed her historical role," Shi Yinhong, an expert on foreign relations at Renmin University, told the Guardian.
South Africa's ruling African National Congress party – a group Thatcher condemned as "terrorists," had warm words for her.
"[The conflict was] something we went past," ANC spokesman, Keith Khoza, said.
"Our position was vindicated by the people of Britain who embraced anti-apartheid policies with such enthusiasm that, even though she disagreed, Margaret Thatcher was forced to acknowledge us."
Khoza added: "The passing of Margaret Thatcher is a sad moment not only for the British people but people of the world because when she was prime minister her leadership was felt all over the world. She set standards in public leadership. She was the first female prime minister to lead one of the major economies of the world. That makes her a remarkable leader."
Former Soviet premier Mikhail Gorbachev, who eventually forged a warm, relationship with Thatcher after a rough beginning, said of her: "Margaret Thatcher was a big political figure and a bright person. She will remain in our memory and in history. The news of Margaret Thatcher's death is a sad thing. I knew she was seriously ill, the last time we saw each other was several years ago."
Gorbachev told the Interfax news agency: "Personal relations formed gradually and became more and more friendly. Eventually, we managed to reach mutual understanding and it was a contribution to changing the atmosphere between our country and the West and to stopping the cold war."
Israeli Prime Minister Benjamin Netanyahu, mourned her passing.
"She was truly a great leader, a woman of principle, of determination, of conviction, of strength; a woman of greatness," he said in a statement.
"She was a staunch friend of Israel and the Jewish people. She inspired a generation of political leaders. I send my most sincere condolences to her family and to the government and people of Great Britain."
Similarly, George W. Bush, and his wife, Laura Bush, said they were "saddened" by Thatcher's death.
"She was an inspirational leader who stood on principle and guided her nation with confidence and clarity," Bush said.
"Prime Minister Thatcher is a great example of strength and character, and a great ally who strengthened the special relationship between the United Kingdom and the United States. Laura and I join the people of Great Britain in remembering the life and leadership of this strong woman and friend."
U.S. President Barack Obama released the following statement in response to the passing of Thatcher:
"With the passing of Baroness Margaret Thatcher, the world has lost one of the great champions of freedom and liberty, and America has lost a true friend. As a grocer's daughter who rose to become Britain's first female prime minister, she stands as an example to our daughters that there is no glass ceiling that can't be shattered. As prime minister, she helped restore the confidence and pride that has always been the hallmark of Britain at its best. And as an unapologetic supporter of our transatlantic alliance, she knew that with strength and resolve we could win the Cold War and extend freedom's promise.
"Here in America, many of us will never forget her standing shoulder to shoulder with President [Ronald] Reagan, reminding the world that we are not simply carried along by the currents of history -- we can shape them with moral conviction, unyielding courage and iron will. Michelle and I send our thoughts to the Thatcher family and all the British people as we carry on the work to which she dedicated her life -- free peoples standing together, determined to write our own destiny."
Robert Peston, a BBC business correspondent, perhaps best summed up Thatcher's legacy."For my generation, hard to imagine a world without Margaret Thatcher," he wrote. "We still define ourselves by whether we were for or against her."
FOR FREE to continue reading
✔️ Unlock the full content of International Business Times UK for free
offer available for a limited time only
✔️ Easily manage your Newsletters subscriptions and save your favourite articles
✔️ No payment method required
Already have an account?
Log in
© Copyright IBTimes 2023. All rights reserved.