Margaret Thatcher: Polarizing In Life, Even More Polarizing In Death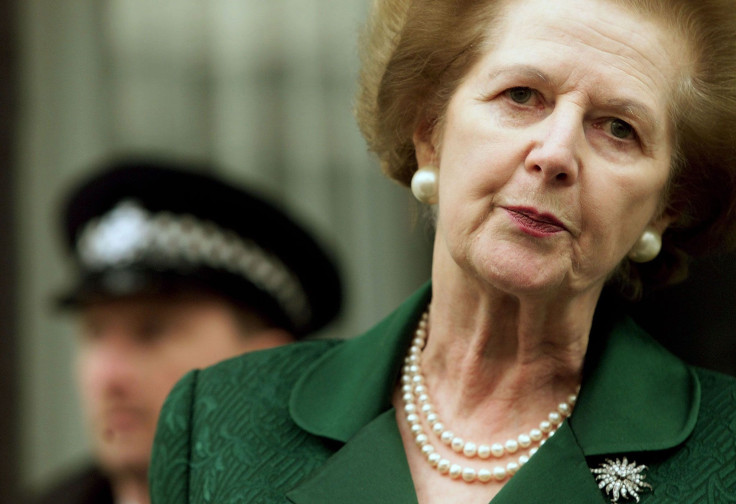 The death of former British Prime Minister Margaret Thatcher continues to elicit expressions of both glee and hostility from her legion of detractors in Britain and around the world.
Now, the foreign minister of Australia is piling on the recently departed Iron Lady.
Bob Carr has described Thatcher as "unabashedly racist" and said she warned him against allowing excessive Asian immigration into Australia.
"If we [Australia] allowed too much of it [Asian immigration], we'd see the natives of the land, the European settlers, overtaken by migrants," Thatcher told Carr during a private conversation after her retirement, according to Australian media.
Carr told Australia's ABC television network that he was "astonished" by Thatcher's comments, especially since his Malaysian wife, Helena, was in the same room at the time.
"I couldn't believe it," Carr stated. "It reminded me that despite [Thatcher's] greatness on those big questions, the role of the state, the evil nature of communist totalitarianism, there was an old-fashioned quality to her that was entirely out of touch and probably explained why her party removed her in the early '90s."
Carr added: "I remember one thing she said as part of that conversation, she said: 'You will end up like Fiji.' She said: 'I like Sydney but you can't allow the migrants' -- and in context she meant Asian migration -- 'to take over, otherwise you will end up like Fiji, where the Indian migrants have taken over. … I was so astonished I don't think I could think of an appropriate reply. I think we moved on to other subjects pretty quickly."
[Ironically, since a 1987 coup, the percentage of Fijians who are of Indian descent – a majority in 1970 -- has actually decreased substantially.]
In contrast to Carr, Australia's Labor Prime Minister Julia Gillard gushed over Thatcher.
"Her service as the first female prime minister of the United Kingdom was a history-making achievement," Gillard told reporters in Beijing.
"Her strength of conviction was recognized by her closest supporters and her strongest opponents."
Gillard is herself the first female prime minister of her country, an achievement she shared with Thatcher.
Carr, a member of Australia's Labor Party, did have some positive things to say about Thatcher, however, praising her for the "boldness of her political leadership" and asserting that she had been "the most significant" leader since Winston Churchill, pushing social democratic parties to "think more deeply about the function of the state."
Carr also said he admired her joining former U.S. President Ronald Reagan in "denouncing the old Soviet Union as an evil dictatorship."
Carr's statements about Thatcher have elicited a sharp rebuke from other Australian lawmakers.
"His [Carr's] decision to make these claims after her death is a crude attempt to slur the reputation of one of the 20th century's most outstanding leaders," Julie Bishop, the deputy leader of the opposition Liberal Party in Australia, said in a statement on Wednesday.
Carr's comments on Thatcher actually pale in comparison to the kinds of attacks she has endured from other sources, including Labor and leftist leaders in the British Isles who have openly condemned her policies, and some MPs who have stated they will not attend any memorials in honor of the late prime minister.
Even a politician in Tasmania, Minister David O'Byrne, wrote on Twitter that Thatcher was a "war criminal," citing the sinking of the Argentine cruiser Belgrano, which was torpedoed by the British nuclear submarine during the Falklands war, killing 368 people.
In Thatcher's native England, parties celebrating Thatcher's death have been reported in a number of cities, as well as in Scotland and Northern Ireland.
Victoria Honeyman, a lecturer in British politics at the University of Leeds in England, explained that Thatcher was a very polarizing figure in life and that it was inevitable that that polarization was going to become more entrenched after she left office and continue even after her death.
"Her style was very confrontational, as were her policies, and that means that some individuals and [British] MPs have been unable to put policy aside in the wake of her death," Honeyman said.
However, the opprobrium heaped upon such a major political figure appears to be unprecedented in recent British history.
"I can't think of another example of this," she noted. "British politicians don't tend to be so confrontational, both in style and substance, and therefore, when they die; the public can usually unite behind the idea that even if they weren't well loved, at least they were respected. Thatcher didn't seem to care what people thought of her in life."
Moreover, opinion polls in the U.K. indicate that Thatcher is one of most popular British prime ministers in history, suggesting that her supporters form a kind of silent majority.
"The majority who voted for Thatcher seem to be overshadowed by her detractors and are receiving less coverage in the media, but she was a very popular and electorally successful PM during the 1980s," Honeyman added.
"Questions have been asked about those rejoicing in her passing, as to whether they were actually even alive during her time as PM."
Thatcher's gender may also be playing a role in attacks she has received (both before and after her passing).
"In terms of her being a woman, I think it has exacerbated the criticism toward her," Honeyman stated.
"A man pursuing her policies would still have come in for plenty of criticism. … However, her being a woman somehow seems to have made the vitriol even worse. She is accused of a lack of empathy, a lack of sympathy, an inability to question her own attitudes or change her mind. These criticisms can quite easily be leveled at a male leader, but somehow we seem more accepting of strong, unyielding male leaders in general."
Thatcher, who died of a stroke on Monday at the age of 87, will be buried at London's St Paul's Cathedral on April 17 with full military honors and Queen Elizabeth in attendance.
© Copyright IBTimes 2023. All rights reserved.
FOLLOW MORE IBT NEWS ON THE BELOW CHANNELS