Marian Kotleba: Slovakia's New Neo-Nazi Governor Only Latest of Right-Wing Extremists Emerging In Eastern Europe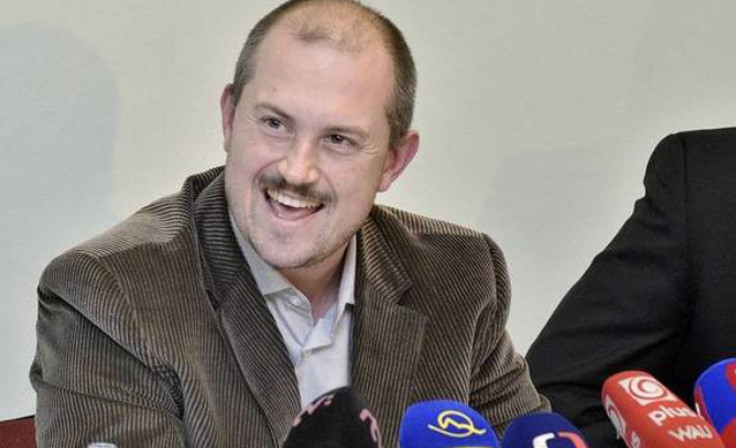 An extreme right-wing political candidate has gained high office in the Eastern European nation of Slovakia, a member of the European Union and NATO. Marian Kotleba, chief of the ultra-nationalist Our Slovakia (LSNS) party, won election as regional governor of Banska Bystrica in the central part of the country, by polling 55.5 percent of the electorate in the second round of polls against the incumbent Vladimir Manka, who represents the Smer-Social Democrat party of Prime Minister Robert Fico. In Slovakia's other self-governing regions, the ruling Social Democrats won six districts, while the opposition Slovak Democratic and Christian Union Party (SDKU) retained the capital of Bratislava.
Kotleba, whose organization has long agitated against Slovakia's Roma (Gypsy) minority, branding them as "parasites," once belonged to the now-outlawed Neo-Nazi Slovenská Pospolitosť (Slovak Community) movement that praised the Nazi puppet government that ruled the country during World War II. Bloomberg reported that Kotleba openly admires praised Jozef Tiso, president of the Nazi satellite state in Slovakia during World War II, which dispatched thousands of Jews to Nazi concentration camps. Kotleba, a 36-year-old former high school teacher, has been notorious for sporting Nazi-style uniforms in public, and also repeatedly arrested and sued for spreading racism and hate (no such charges have ever stuck, however).
BBC reported that, with respect to foreign policy, Kotleba has called for Slovakia to cancel its membership in NATO, which his party considers a "terrorist" organization, gain more independence from the EU and establish a national currency. PressEuropa also noted that Kotleba once vowed to "end the unfair preferential treatment accorded to parasites, and not just the gypsies."
According to Bloomberg, Slovakia's Roma community, which account for about 7 percent of the population, has become a scapegoat for an economic slowdown and the likelihood of increased government austerity measures to satisfy the EU's deficit targets. SME, a Slovak daily newspaper, said Kotleba's triumph was sparked by "a mixture of hatred, powerlessness and outrage against the elites." Pavol Freso, the SDKU candidate who won in Bratislava, characterized Kotleba's victory as "a huge blow for democracy." However, Radio Free Europe/Radio Liberty reported that Kotleba's victory came as a surprise since he lost in the first round of the election, did not campaign much and participated in only one debate. RFE/RL added that less than one-fifth (17 percent) of eligible voters bothered to cast ballots in the election, suggesting that Kotleba's performance reflected voter apathy and hardly represents a mandate by the public.
Nonetheless, some Jewish figures in Europe are alarmed by Kotleba's gaining a regional seat of political power. Moshe Kantor, the head of the European Jewish Congress, has asked European officials to "launch an action plan to reverse the momentum achieved by neo-Nazi political parties in Europe. " "The neo-Nazis are gaining many political victories and are using the democratic system against democrats," Kantor said in a statement. "Democracy has to fight back and European officials should immediately create a plan of action, including the proscription of neo-Nazi political parties, to deal with this phenomenon before it is too late."
Kantor proposed that the Greek model of suspending state funding for the neo-Nazi Golden Dawn party, and the revocation of parliamentary immunity for its members will be enacted elsewhere in Europe. Kantor added: "We need to stem the neo-Nazi momentum and reverse the tide of hate which is sweeping parts of Europe." (There are reportedly fewer than 2,000 Jews living in Slovakia.)
Indeed, extreme right-wing parties, likely aided by economic malaise, have made some gains across Eastern Europe in recent years. In Hungary, the far-right Jobbik party has openly assailed Jews and Roma. Hungary's Prime Minister Viktor Orban acknowledged that anti-Semitism is increasing in Hungary but said that his government would not tolerate such hate, BBC reported. "Anti-Semitism is unacceptable and cannot be tolerated," Orban declared. "[We have a] moral duty to declare zero tolerance on anti-Semitism."
At a rally last year against the World Jewish Congress in Budapest, Reuters reported, Jobbik chairman Gabor Vona told the crowd: "The Israeli conquerors, these investors, should look for another country in the world for themselves because Hungary is not for sale." Hundreds of people attended the demonstration, with many wearing the black garments of Jobbik's outlawed paramilitary wing, the Hungary Guard, which have reportedly attacked Roma camps over the years. Another Jobbik official at the rally, MP Marton Gyongyosi, warned that Hungary had "become subjugated to Zionism, it has become a target of colonization while we, the indigenous people, can play only the role of extras." Gyongyosi, like many top Jobbik members, has a long history of making anti-Semitic statements. Last year, he demanded that the government release a list of Jewish MPs and cabinet members who might pose a "national security risk" to Hungary.
Ironically, last year, it was revealed that the former leader of Jobbik, Csanad Szegedi, is himself Jewish and that his grandmother was a Jewish Holocaust survivor. In a bizarre interview with the Hungarian press, Szegedi tried to downplay the revelation by declaring: "I think that what counts is not to know who is a pure race Hungarian, the important thing is the way one behaves as a Hungarian. To be Hungarian for me has always been a responsibility [toward my country], that has nothing to do with racial supremacy." Szegedi was eventually forced to resign from Jobbik.
Meanwhile, in another part of Eastern Europe, The Ukraine, a neo-Nazi group called the Svoboda All-Ukrainian Union, which espouses a virulently xenophobic, anti-Semitic, anti-gay, and anti-Russian agenda, has gained seats in parliament. European and Israeli leaders expressed shock in October 2012, when Svoboda gained more than 10 percent of the electorate in parliamentary elections, entering the legislature for the first time ever. (In some western regions of Ukraine, Svoboda gained as much as 40 percent of the vote.) As recently as the 2007 parliamentary elections, Svoboda only garnered 0.76 percent of the total vote. It is now one of five major parties in the Ukraine.
Founded in 1991 as the Social-National Party of Ukraine, Svoboda has apparently appealed to hundreds of thousands of Ukrainians weary of economic woes and rampant corruption in government. Recent reports suggest that the party has derived significant support from the well-educated and the young. Among other things, Svoboda (which means 'freedom') seeks to end all immigration and ensure that all civil servant jobs are filled by ethnic Ukrainians.
Anti-Semitism appears to hold a core position in Svoboda's party ideology. In 2004, the party's charismatic leader Oleh Tyahnybok delivered a speech in parliament in which he alleged that a "Muscovite-Jewish mafia" was controlling the Ukraine and threatened the country's very existence. Tyahnybok also claimed that "organized Jewry" dominate Ukrainian media and government, have enriched themselves through criminal activities and plan to engineer a "genocide" upon the Christian Ukrainian population.
Extreme far-right groups have also sprouted in the Czech Republic, Bulgaria and Romania.
© Copyright IBTimes 2023. All rights reserved.