Martese Johnson Lawsuit? UVa. Student To Sue Virginia Officers After Viral Arrest: Report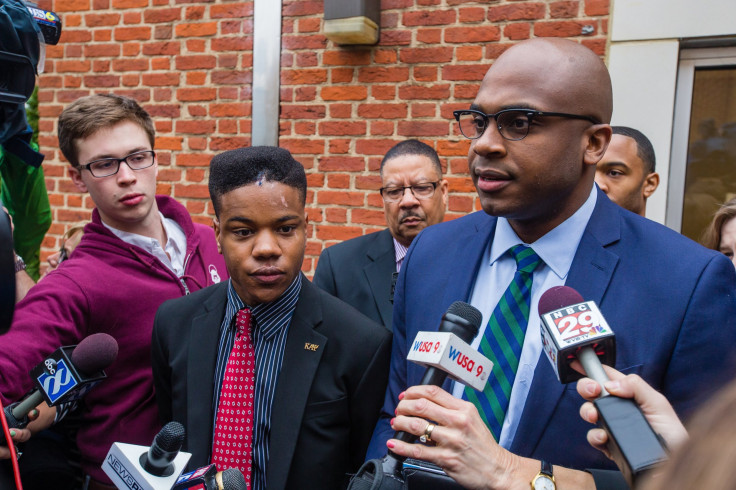 A black University of Virginia student whose rough arrest went viral in March may sue the authorities involved, the Guardian exclusively reported Friday. Martese Johnson could soon file a lawsuit alleging the Virginia Alcoholic Beverage Control officers violated his rights when they tackled him to the sidewalk near campus after a disagreement over his ID card. Johnson could reportedly request about $5 million in damages.
"I'm uncomfortable with the idea of these officers patrolling the area where I will have to live for another year," the 21-year-old told the Guardian. "And if a person is slammed into the ground and has to get stitches -- that an innocent person is treated in this way -- there should be some repercussions or some punishment and changes to ensure it does not happen in the future."
The charges against Johnson -- public intoxication or swearing and obstruction of justice without force -- were dropped the month after his controversial arrest, a video of which caused outcry on social media from people who argued the officers were racist. The Virginia Alcoholic Beverage Control were previously criticized when they arrested a woman with a water bottle they thought was beer, WVIR reported.
Johnson's case inspired Gov. Terry McAuliffe to order a review of the agency's practices, which has been completed but not announced yet. The three officers who arrested Johnson were found Monday to have done nothing wrong.
"After thoroughly reviewing the incident and the report, Virginia ABC concluded that the agents did not violate agency policy and returned these special agents to active duty today," the agency said in a news release to the Associated Press.
Johnson and his lawyer, Daniel Watkins, would not conclusively tell reporters whether they planned to file a lawsuit. But Johnson continued to criticize the agents in interviews with various media outlets.
"The fact of the matter is, in spite of the policies that they had not broken, there needs to be proactive steps to make positive change so something that happened to me doesn't happen to anyone else in the future," he told WVIR.
© Copyright IBTimes 2023. All rights reserved.