Mary J. Blige Opens Up About 'The London Sessions' Album And Documentary At Tribeca Film Festival Premiere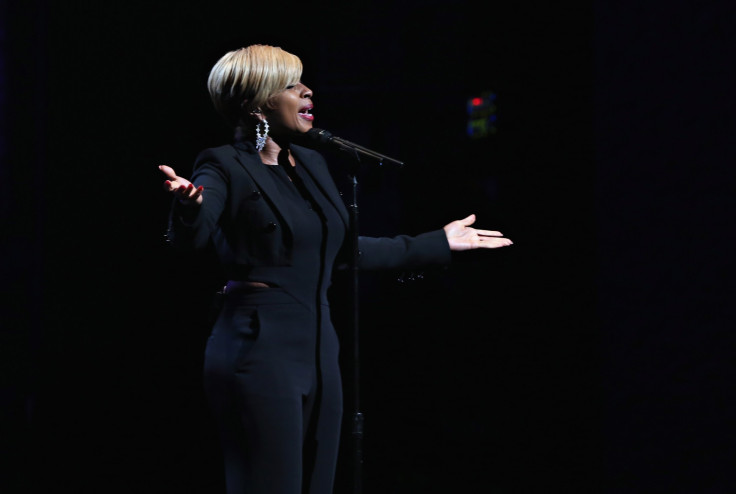 The documentary "Mary J. Blige – The London Sessions," which screened Thursday at the Tribeca Film Festival, is a whirlwind tour inside the soulful singer's creative process during the making of her critically acclaimed 2014 album. The film gives fans something beyond a backstage pass to see her perform: Director Sam Wrench takes viewers right to the heart of the Grammy Award winner's music and how hard she works to create it.
"The London Sessions" is Blige's first overseas studio recording, but the film reveals a pro right at home, even during lunch breaks and emotional meetings, including one with Amy Winehouse's father. Tapping into some of Britain's musical talent, the singer invited Sam Smith, Disclosure, Emeli Sandé, Naughty Boy and Sam Romans to collaborate on "The London Sessions" and give the album a sound unlike anything she has recorded before.
Before the film's big festival premiere at the Beacon Theatre, Blige was on-hand to talk about why "The London Sessions" was still her sound and what she hopes fans will see when they watch the lovingly composed black-and-white documentary.
"What I would tell my fans that have been with me since day one is that your girl is still here," Blige said at the Tribeca red carpet. "I know people [are] going to wonder. I'm just Mary J. Blige, just evolved. And I continue to be evolved.
"When you watch the documentary, you'll see Mary J. Blige," she said, referring to the film's honest and candid moments between recording takes. "People get a chance to see me. Not me all dolled up, but me going to work every day. I feel so good about this."
The Mary fans love is still out there supporting the ladies in "The London Sessions." "There's songs like 'Doubt,' where you have to encourage yourself to be better and stop doubting yourself. If you're not loving you, then who else can?" Blige said about one of the standout songs from the album. " 'Long Hard Look,' 'Whole Damn Year,' 'Nobody But You,' I could go on. I think there's a lot of inspiring records for my female fans."
Click here to see more from the "London Sessions" premiere. Want to attend the Tribeca Film Festival? Check out our guide.
© Copyright IBTimes 2022. All rights reserved.
FOLLOW MORE IBT NEWS ON THE BELOW CHANNELS