Maryland Set to Wear Black Uniforms Against West Virginia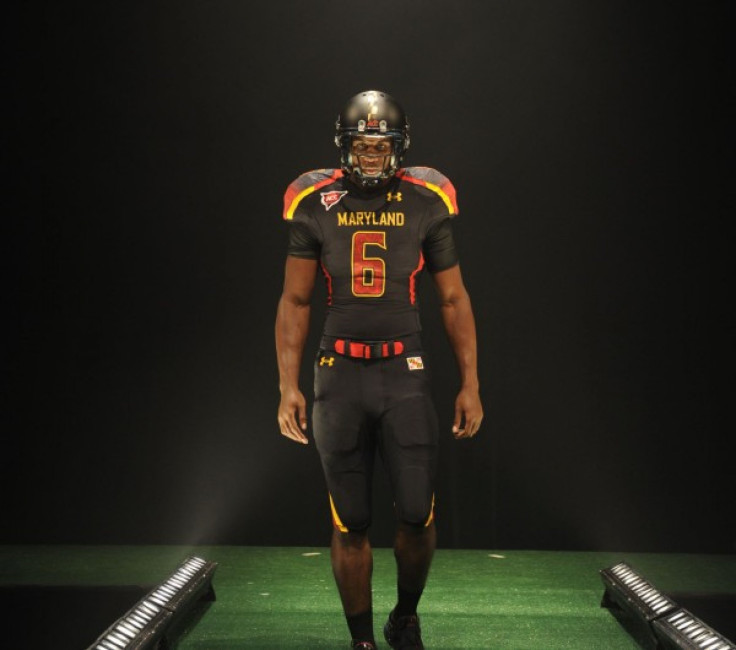 Maryland football coach Randy Edsall announced via Twitter on Wednesday that his team would unveil its all-black football uniform for its game on Saturday against West Virginia.
Captains decided we'll be wearing ALL Black Saturday against WVU, said Edsall.
The news was picked up all over the country, in part because there's still a tremendous buzz surrounding Maryland's uniform choices.
On Wednesday night, the lead stories for both The New York Times and The Washington Post both dealt with college football uniforms and prominently mentioned Maryland.
Maryland created the intense attention after unveiling its Maryland Pride uniforms during its ESPN primetime Labor Day game against Miami. The uniforms, modeled after Maryland's state flag, dominated Twitter and Facebook for the next few days as almost everyone had an opinion about the threads.
Basketball superstar LeBron James wasn't a fan, ESPN commentator Michael Wilbon called them brilliantly ugly, as well as countless other media commentators and athletes offering their thoughts on the uniforms.
The uniforms, created by Under Armour, created such a buzz and demand that Maryland decided to auction off 10 jerseys and 10 helmets to raise money for its cash-strapped athletic department.
The auction began on Friday and runs until Sept. 19 and has already generated a lot of interest. Bidding for the jersey ranges from $625 to $1,000, while the helmets are going for a bit more from a low bid of $1,228 to a high of $1,900.
The all-black uniform combo was initially unveiled in August during an Under Armour/Maryland fashion show to release the school's new 32 football uniform combinations. Maryland will officially debut their uniforms against rival West Virginia at noon on Saturday.
For the rest of the season, Edsall will announce the team's uniform choice on his Twitter and Facebook accounts on the Wednesday before game day.
© Copyright IBTimes 2023. All rights reserved.