Match Preview - Who will get back on track when Manchester United host Arsenal?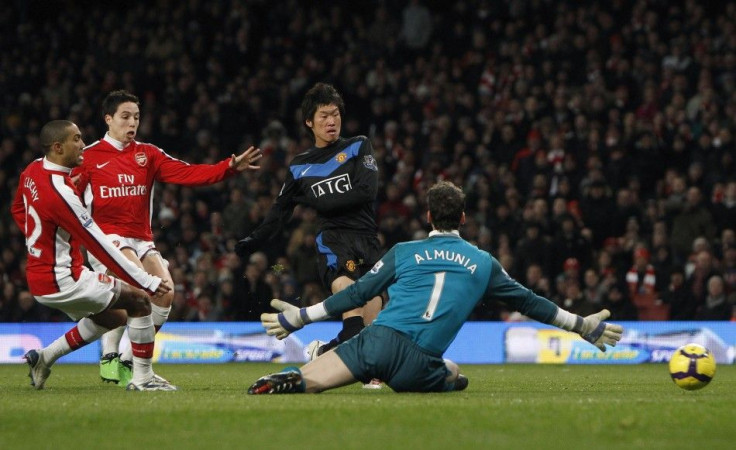 Click here to follow the live-coverage of the FA Cup quarter-final between Manchester United and Arsenal!
Arsenal travel to Old Trafford on Saturday for the FA Cup quarter-final against arguably their greatest rival Manchester United.
It is normal to anticipate a classic whenever these two clash. Given that it's an FA Cup quarter-final adds to it. It is their 14th meeting in the FA Cup and a semi-final spot is at stake. Both teams come to the game following respective 3-1 losses, and it has all the makings of a great game.
Memories of the 1999 semi-final replay, arguably the greatest Cup game between these two sides, is sure to rise. On that occasion, David Beckham had United in the lead with well-struck shot but Arsenal equalized in the 69th minute when Dennis Bergkamp's shot deflected in off Jaap Stam. United found themselves seeped in further misery when four minutes later, Roy Keane was sent off and Arsenal had a penalty in the last minute. Remarkably, Peter Schmeichel save from Bergkamp to take the game to extra-time. Chances were slim for United, being a man-down. However, what followed next will be remembered for a long time. A loose Patrick Vieira pass near the half-line landed to Ryan Giggs. Just 24 at the time, Giggs seized onto the loose ball and took off. He beat the backtracking Vieira, cut across Lee Dixon, dragging him inside, while Andy Cole generated space with an intelligent run. Giggs continued, cut between Keown and Dixon, showed good strength to hold them off before launching a near post shot into the roof of the net past David Seamen. Enough said.
Times have changed. Those were the days when the rivalry between the two teams was at its bitter peak. Now, Arsenal have flagged a bit. A continuously used cliché - they haven't won a trophy for six years. The last trophy they won was the FA Cup against United, amazingly, when in the 2005, the Gunners won the penalty-shootouts and Vieira lifted the trophy. However, Arsenal have showed signs of trophy-winning material this season. They lie three points behind leaders United in the table and have a game in hand. They were eliminated from the Champions League against probably the greatest team of recent times in Barcelona, while the manner in which they lost the Carling Cup cannot be helped.
The Gunners will be raring to get their season back on track. They are still in the running for two trophies, and if they win against United, they'll be favorites to win it. However, winning against United is easier said than done. A point well noted by Gunners' boss Arsene Wenger.
They always play always against us with a very tight midfield, try to put pressure on us from midfield, and (in December) they had only (Wayne) Rooney up front, so I think they always set up against us to defend well,'' he said. However, I wouldn't say they are scared. They have no reason to be scared because they have enough experience. They always have a realistic approach to the game. At home they score more goals than before, and you feel they are still a dangerous side - when they get in the final third they can score goals.
Manchester United come to this game after losing two games on the road. They saw their title ambitions dented at Chelsea last Tuesday after a 2-1 loss after which they went to Liverpool and were crushed 3-1. The loss against Chelsea saw United boss Sir Alex Ferguson charged for improper conduct after blasting the referee. It then led to Ferguson boycotting the media, including United's own channel MUTV. It was an unnecessary distraction. With Nani's injury at Liverpool adding him to an already lengthy injury list, United find themselves under pressure.
Going into the final phase of the season, the fixtures are piling up and a draw today will see the replay being played out on the coming Friday. With a Champions League game against Marseille on Tuesday and with injury problems stretching their squad, a replay would make it very hard for United. So, they can be expected to go all out today.
Sir Alex broke his media-blackout on Friday, and he highlighted Arsenal as the main danger to his side's trophy ambitions, adding that he was impressed by the Gunners resurgence this season.
He said, Last season they faded around the February to March period to leave Chelsea and ourselves in a two-horse race that saw us pipped at the post by a point. I think most pundits expected to see something similar this season, plus a challenge from Spurs and Manchester City to make it even more difficult for Arsenal to get back up to the top.
But Arsene Wenger and his players have rearranged the pecking order somewhat to come storming through to lie in second place. Clearly they represent the main danger to us achieving our ambitions in a revival of the rivalry of a few years ago, and I am sure they regard us as the major threat to their hopes.
For similar reasons, this tie becomes crucial for both sides. It could provide the spark for a strong remainder of the season, or it could de-motivate the losing side into submission. Whatever happens today is, therefore, crucial. As mentioned before, it has all the makings of a classic!
Team News -
Nani's injury means he joins Rio Ferdinand, Anderson, Michael Owen, Jonny Evans, Owen Hargreaves, Antonio Valencia and Ji-Sung Park in the United sick-bay.
Arsenal will be without their skipper Cesc Fabregas, Thomas Vermaelen, Wojciech Szczesny, Lukasz Fabianski, Alex Song and Theo Walcott.
Match Fact -
The two sides have lifted the FA Cup trophy 21 times between them and they are the two most successful clubs in FA Cup history. Overall, it is the 212th time they are meeting competitively and United have a better head-to-head record with 9 wins more than the Gunners. If United win this tie, it'll be their fourth consecutive win over Arsenal.
Prediction -
With both sides looking to bounce back from respective losses, and with the intense rivalry between them, this ought to be a hard-fought, exciting encounter. A score draw, 1-1 maybe, looks likely.
Click here to follow the live-coverage of the FA Cup quarter-final between Manchester United and Arsenal!
© Copyright IBTimes 2023. All rights reserved.