Mayweather Fight: Bernard Hopkins, Miguel Cotto, Timothy Bradley, Or Ruslan Provodnikov, Floyd's Next Opponent For 2014?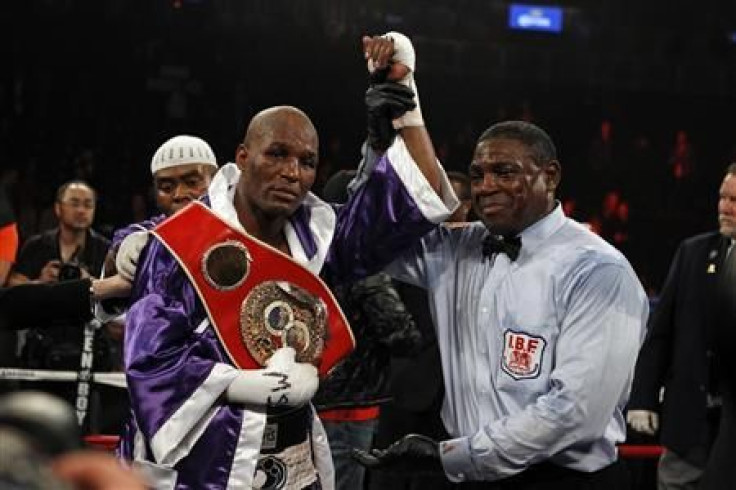 Floyd Mayweather is still looking for an opponent to fight in March 2014. A bout with Bernard Hopkins isn't likely to happen in a few months, but that doesn't mean one can't happen eventually.
While Golden Boy Promotions CEO is concentrating on scheduling Mayweather's next fight, he's thought about who the undefeated boxer might face in later bouts. If Hopkins can continue to fight at a high level, the two could meet in the future.
"One thing that's out there is that No. 50," Schaefer said, according to the New York Daily News. "Bernard approaching 50 (years old) and Floyd Mayweather approaching 50-0 — we all know that Rocky Marciano retired at 49-0 and so Floyd is approaching the 50 number and Bernard is approaching a 50 number and that sort of makes my promotional juices going."
Mayweather improved his career record to 45-0 by defeating Saul "Canelo" Alvarez in September. On Saturday, Hopkins beat Karo Murat at 48 years old. If Mayweather waits to fight Hokpins until he can go for his 50th career win that would mean he'd have a bout after his six-fight deal with Showtime has ended. Mayweather has been adamant that he wants to retire after his 49th fight.
Another obstacle standing in the way of Mayweather vs. Hopkins becoming a reality is the weight class for a potential bout. Mayweather would have to fight at his highest weight ever, while his opponent would be forced to lose 15 pounds. Still, Hopkins believe they could have a quality fight.
"Floyd, his skills are so out there that he can risk going up to 160," Hopkins said, according to Chris Mannix of Sports Illustrated. "It isn't the weight that is going to win the fight, it's the skills. The only way to stop a bad guy with a gun is a good guy with a gun. The only guy who is going to beat a guy like Floyd Mayweather is a master chess player. And who is the master chess player? I'll go back to 160. It's the biggest old [man] fight. Everyone from the nursing home will be watching."
Schafer hasn't had any discussions with Mayweather about facing Hopkins, but he believes the matchup would have the potential to break records. Mayweather vs. Alvarez made history by generating $150 million in Pay-Per-View revenue.
Before Mayweather can go for his 50th win against Hopkins, though, he'll have to find a challenger for March. Several boxers have thrown their hat in the ring for a shot at Mayweather, including those that have already lost to the champ.
Miguel Cotto lost a unanimous decision to Mayweather in May 2012. Earlier this month, however, he knocked out Delvin Rodriguez, and it appears Cotto feels it's time for a rematch. His trainer, Freddie Roach, says Cotto thinks he would've beaten Mayweather if he was in the shape that he's in right now.
Timothy Bradley and Ruslan Provodnikov have also been speculated as potential opponents for Mayweather. In March, Bradley beat Provodnikov to retain the WBO Welterwight title, but the challenger made the fight much closer than many expected, even knocking down Bradley in the final round. While his win against Manny Pacquiao in 2012 was extremely controversial, Bradley now has two major wins on his record, following his defeat of Juan Manuel Marquez a few weeks ago.
© Copyright IBTimes 2023. All rights reserved.