Mayweather Recalls 2015 Pacquiao Clash, Hints At 2020 Rematch Anew
KEY POINTS
Mayweather plants another teaser on a potential rematch with Pacquiao in 2020
Mayweather wants to fight two more times, one against Pacquiao
Pacquiao has yet to respond to Mayweather's latest swipe
Floyd Mayweather Jr. and Manny Pacquiao are busy with their respective endeavors but a rematch remains up in the air. A Pacquiao vs. Mayweather rematch has been raised several times but nothing has come close. Could this much-talked-about rematch come to fruition in 2020?
According to TMZ Sports, Mayweather is dead serious about a boxing return next year. He reportedly wants two more fights and one of them is against the eight-time division champion. However, Mayweather has made a name for himself coming up with empty promises. All he wants is attention and he has done a splendid job doing it.
The latest jab at Pacquiao was also mentioned in the same report by TMZ. This time, it happened when a fan sought Mayweather's autograph on a ticket during his first clash with Pacquiao back in 2015. It would be best to note that fans were not allowed to use their cell phones when interacting with Mayweather. But for some reason, the Flamboyant One allowed the fan to record what he was about to do.
"So, what I'm about to do right now is sign 'Victim 48,'" said Mayweather who was inadvertently referring to Pacquiao.
Mayweather grabbed a pen and scratched a big X over Pacquiao's face on the ticket. That alone is a statement from the undefeated American boxer so it will be interesting if the Filipino boxing icon will respond to the swipe.
A rematch with Mayweather is something that Pacquiao also wants. However, Money has always found a way to shoot any rumored rematch down. Mayweather has always been known to call the shots - meaning a rematch will happen only if he wants to. Critics feel that a rematch may not generate the same revenue as the first one since most were disappointed with the 2015 clash.
Pacquiao is wise to Mayweather's antics. Back in July, Mayweather witnessed Pacquiao win the WBA super welterweight title against Keith Thurman. The Pac-Man took exception when the retired boxer used him to stay relevant. He issued a challenge to Floyd Jr. for a rematch, using the hashtag #MayPac2.
As far as seeing a Mayweather vs. Pacquiao rematch, nothing has been set in stone. Pacquiao is ready but Mayweather is holding out. 2020 could show something - or then again nothing.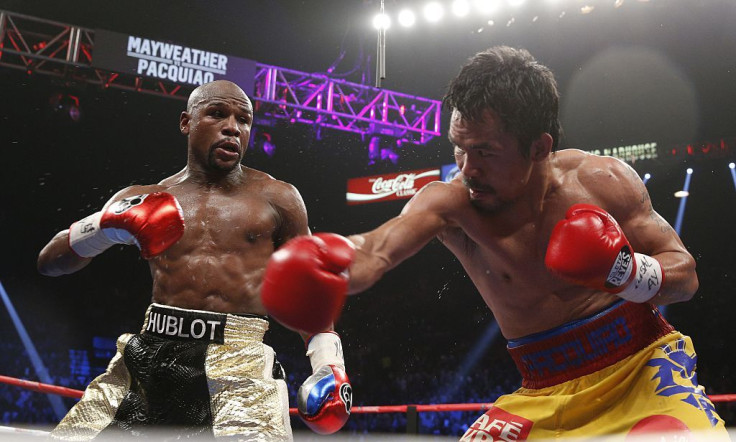 © Copyright IBTimes 2023. All rights reserved.