Mediterranean Migrant Boat Disaster: Vast, Adaptable Smuggling Networks Pose Challenge As EU Considers Solutions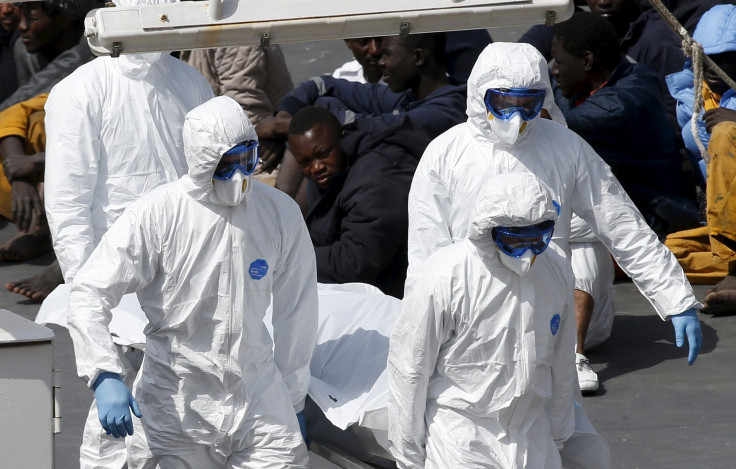 Calls by European officials to crack down on human traffickers and smugglers have gained more urgency in the immediate aftermath of what could be the Mediterranean's deadliest migrant disaster. But whether the initiative, proposed by government officials from the U.K. to Malta as a solution to the European Union's ongoing migrant crisis, will succeed is questionable. The smuggling networks it would target are not only vast but also adaptable in the face of changing security realities.
EU officials met Monday to discuss proposals to address the migrant crisis as the search for victims continued after a migrant vessel from Libya capsized in the Mediterranean 120 miles south of the Italian island of Lampedusa late Saturday. More than 700 people are feared dead in the disaster, with some suggesting nearly 1,000 could have been aboard the vessel. If the death toll is confirmed, it would constitute the biggest loss of life of its kind. Crossing the Mediterranean is more and more dangerous for migrants. At least 3,500 of the 219,000 migrants who crossed the Mediterranean through irregular routes last year died, the United Nations High Commissioner for Refugees reported.
Ahead of the meeting, British Foreign Secretary Philip Hammond said the priority for authorities needs to be on identifying and tackling the human traffickers who profit from migrants' desperation to seek a better life in the EU. "The world is horrified at the appalling loss of life that is taking place in the Mediterranean and rightly angered by the cynicism of the criminal gangs who are profiting from this people-trade," Hammond said in a statement Sunday. "We must target the traffickers who are responsible for so many people dying at sea and prevent their innocent victims from being tricked or forced into making these perilous journeys."
Part of the challenge in cracking down on these smuggling networks is they often are organized in horizontal rather than hierarchical structures, relying on a dispersed system of facilitators along every step of the journey, said Elizabeth Collett, director of the Migration Policy Institute Europe in Brussels. "Smuggling networks stretch as far afield as Bangladesh, Afghanistan and further," she said. "If [migrants are] moving over a long distance, they will be coming into contact with a variety of people who are often involved for different reasons."
A 2011 report by the United Nations Office on Drugs and Crime found while the resources required to carry out human smuggling might seem to imply a highly organized central structure, smuggling over the Mediterranean is more often carried out by flexible criminal organizations or individuals who can be involved in various capacities.
Some of the primary facilitators of the transit might be career criminals with transnational networks of contacts who help transport migrants from their home countries onto EU-bound vessels. However, many of the people involved in the process have legitimate jobs, like fishermen and truck drivers, who are nonetheless considered smugglers because of the support they provide at different stages of the process. Sometimes even stranded migrants who are indebted to smugglers participate after unsuccessful sea crossings. One thing that remains consistent about smugglers is they are almost always nationals of the countries from which or to which the smuggling takes place.
Because of their informal, ad-hoc nature, many of these networks can adapt fairly quickly in response to new security obstacles posed by the EU, Collett said. "Changes in EU policy tend to be glacial and smugglers are able to adapt quickly and circumvent them," she said.
A report by the Migration Policy Institute published last year underscored this point, finding traffickers have operated as logistics specialists. "While not quite as complex as the operations of large-scale narcotics traffickers, human traffickers and smugglers do require military-like intelligence capacity to successfully avoid obstacles," the report said.
Such a phenomenon has already taken place in the last decade as major people smuggling flows on the western Mediterranean shifted to the more central "hotspot" between Libya and Tunisia to Italy and Greece in response to tighter controls. Many of the migrants currently braving these journeys are fleeing instability and conflict in countries like Syria, Yemen and Iraq while others are in the search of greater economic opportunity. Along with its porous land border connecting it to some of the world's poorest countries, Libya has functioned increasingly as a central springboard for these journeys because of the instability that has flourished across the country since the uprising that drove out former ruler Moammar Gadhafi in 2011.
These underlying problems reveal the true challenge of tackling the issue, which transcends the relatively narrow focus on smuggling alone, Collet said. "Any policy from the EU will have to be a raft of different policy interventions along a broad set of policy areas rather than just focusing on just counter smuggling as a core solution," she said. "One hopes that once the immediacy of this tragedy fades, the EU will still focus on a comprehensive approach."
FOR FREE to continue reading
✔️ Unlock the full content of International Business Times UK for free
offer available for a limited time only
✔️ Easily manage your Newsletters subscriptions and save your favourite articles
✔️ No payment method required
Already have an account? Log in
© Copyright IBTimes 2023. All rights reserved.