Meet Ricki Lander: Pictures Of Robert Kraft's Girlfriend Before Patriots' Appearance In Super Bowl XLIX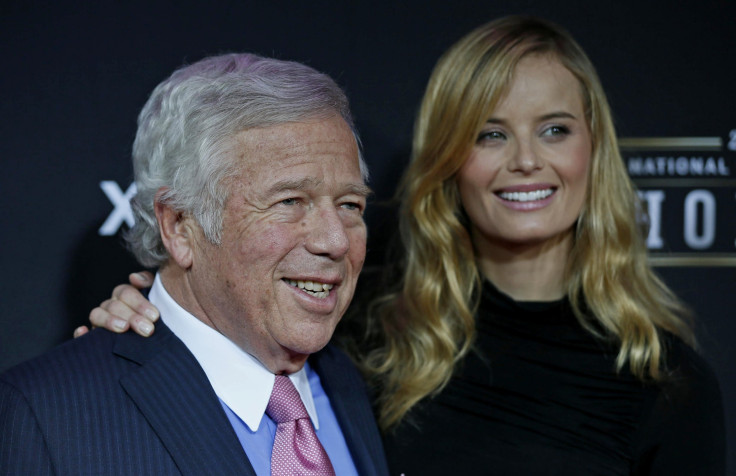 New England Patriots owner Robert Kraft will be in attendance Sunday when his team takes on the Seattle Seahawks in Super Bowl XLIX, and his longtime girlfriend Ricki Lander will almost certainly be at his side. Kraft, 73, began dating the 34-year-old actress in 2012, and the pair have been seen together frequently since.
Kraft started seeing Lander nearly a year after the death of his wife, Myra Kraft, who died at age 68 of ovarian cancer in 2011. Media reports say he spent months in a deep depression, and the Patriots dedicated their 2011 season to her memory. Kraft does not publicly discuss his relationship with Lander, but people close to the Patriots owner credited the actress with helping to pull Kraft out of his funk, the Boston Globe reported in 2013.
"I'm blessed with four great children and eight grandchildren," Kraft said at the time. "But you go home, and you go home alone, and no one's there. It's just really sad."
Lander is best known as an actress, having appeared in "Iron Man," "True Blood," "Blue Bloods" and various other productions in minor roles. She also served as a producer on a 2014 PBS documentary entitled "Israel: The Royal Tour," TMZ Sports reported last year.
Kraft and Lander were first photographed together at a Boston Celtics game in June 2012, Deadspin reports. At the time, Kraft described her as his "pal." The pair quickly became inseparable, with Lander accompanying the billionaire to Patriots games, several movie premieres, the 2014 BCS National Championship and various other events.
The couple found itself embroiled in a minor scandal in 2012 after an audition tape they made for the Owen Wilson comedy "The Internship" went viral on YouTube. Lander played a scantily-clad exotic dancer in the video, while Kraft said an expletive while reading Wilson's lines, according to the New York Daily News. Kraft later issued an apology for the video.
Look for Kraft and Lander at University of Phoenix Stadium on Sunday. Pictures of the two together can be viewed above.
© Copyright IBTimes 2023. All rights reserved.