Mehmet Ali Agca, John Paul II Shooter, Pays Surprise Visit To Vatican, Lays Flowers At Saint's Tomb
Mehmet Ali Agca, the would-be assassin of Pope John Paul II, paid a surprise visit to the saint's tomb in St. Peter's Basilica, the Associated Press reported. Agca fired four rounds at John Paul II, two of which struck the pontiff on May 13, 1981. John Paul visited Agca in 1983 and had him pardoned in 2000. Agca served a 10-year prison sentence for the 1979 murder of a Turkish journalist and was released in 2010.
It is believed to be the first time Agca has returned to the Vatican since the assassination attempt 33 years ago. Agca laid white roses at the saint's tomb and the visit lasted a few minutes, marking the anniversary of John Paul's prison visit. Agca's visit was aired on Italian television and the papal shooter was heard saying, "A thousand thanks, saint," AP reported.
Agca opened fire on John Paul in his car in St. Peter's Square, hitting the pontiff twice. The gunshot wounds -- one to the abdomen and wounds to his right arm and left hand -- required nearly 5 1/2 hours of surgery. Agca was arrested quickly after the shooting, and it is believed he acted alone despite his later claims he was supported by the Bulgarian and Soviet secret services, AP reported.
"I am killing the pope as a protest against the imperialism of the Soviet Union and the United States and against the genocide that is being carried out in El Salvador and Afghanistan," read a handwritten note found on Agca during his arrest. Agca was convicted of the murder of Abdi Ipekci, an editor for the Milliyet, a Turkish newspaper, in 1979. Agca escaped prison and threatened the pope in a letter Nov. 26, 1979.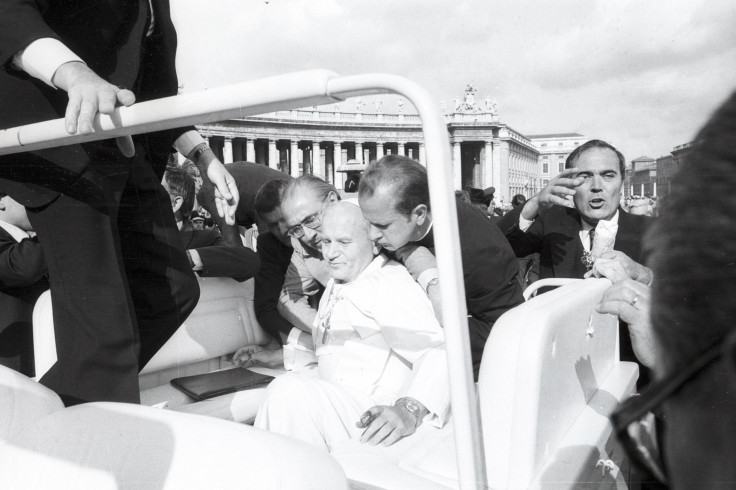 During his time in the papacy, John Paul was the target of two more assassination attempts. The second attempt occurred in 1982 when a Spanish priest, Juan Maria Fernandez y Krohn, stabbed John Paul with a bayonet. An al Qaeda-backed plot to kill John Paul during his trip to the Philippines in 1995 was foiled a week before his visit.
John Paul died on April 2, 2005, and was canonized on April 27, 2014.
© Copyright IBTimes 2023. All rights reserved.