Merkel Clears Way for Opposition Candidate to Take Presidency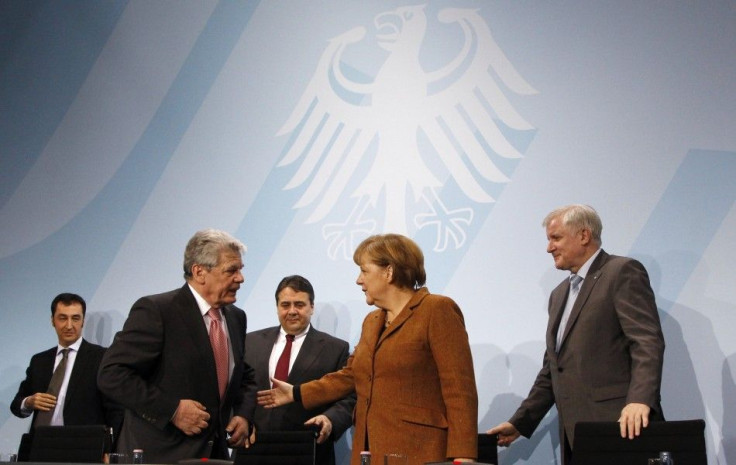 (Reuters) - German Chancellor Angela Merkel bowed to pressure Sunday and agreed to dupport popular opposition candidate Joachim Gauck to become president, averting a political fight that might have distracted her government from solving the euro zone crisis.
Merkel confirmed her support for Gauck at a press conference in the Chancellery in Berlin with leaders of the other major parties. The announcement paves the way for the 72-year-old Protestant pastor and former East German rights activist to be confirmed in the post by Germany's Federal Assembly in the coming weeks.
Let's not forget that we have churchmen like Gauck to thank for the success of East Germany's peaceful revolution, said Merkel, herself the daughter of a Protestant pastor who grew up in the former German Democratic Republic.
Gauck will succeed Christian Wulff, a conservative Merkel ally who resigned as president Friday in a scandal over financial favors.
Wulff's departure was a blow to Merkel who pushed through his election in 2010 despite the fact many Germans and the leading opposition parties preferred Gauck at the time.
By supporting Gauck now, Merkel exposes herself to accusations that she erred in her choice two years ago. But refusing to back him could have unleashed a divisive battle with the opposition that might have been even more harmful.
Berlin is currently spearheading European efforts to save Greece from a chaotic default and Merkel cannot afford to be distracted by domestic political conflicts.
The 72-year-old Gauck was one of a number of pastors who played an active role in bringing down the East German regime, setting the stage for reunification in 1990.
He ran the state-run archives on the Stasi after the Berlin Wall fell, earning recognition for exposing the crimes of the dreaded East German secret police.
The opposition SPD and Greens, who nominated him two years ago, argue that he is the ideal person to restore credibility to the office after the premature departure of Wulff and his predecessor Horst Koehler, former head of the International Monetary Fund.
At the news conference with Merkel, SPD chief Sigmar Gabriel took a dig at her for refusing to back Gauck last time around.
We Social Democrats put forward Joachim Gauck at the last Federal Assembly and I am sure that since then, to put it cautiously, everyone regrets the fact Joachim Gauck was not elected, Gabriel said.
A poll in the Sunday edition of German newspaper Bild showed a majority of Germans want Gauck in the post.
Sources had told Reuters earlier in the day that Merkel's conservatives were initially reluctant to back him, instead favoring theologian Wolfgang Huber or Klaus Toepfer, former head of the United Nations Environment Programme.
With broad support, the Federal Assembly is likely to confirm him as president without a hitch. The Assembly, a 1,244-seat body composed of national and state representatives, must vote in a new president by March 18.
(Reporting by Sarah Marsh, Andreas Rinke, Thorsten Severin, Thomas Seythal; Writing and Editing by Noah Barkin and Sarah Marsh)
© Copyright Thomson Reuters 2023. All rights reserved.