In Merkel-Hollande Talks, Euro Zone, Not Just Euro Bonds, May Be At Stake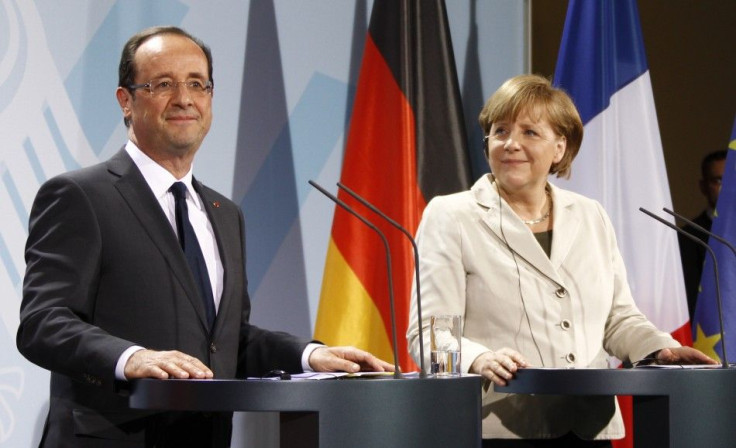 European leaders are to meet for crunch talks in Brussels on Wednesday, with the heads of France and Germany set to clash over the continent's economic recovery and the issue of euro zone bonds.
Also, in a break from normal protocol after two years of debt-crisis talks, the heads of France and Germany will not meet prior to the dinner, Francois Hollande choosing instead to meet with Spain's Prime Minister Mariano Rajoy before travelling to the Belgian capital.
The election of Hollande earlier this month has fractured the traditional Franco-German alliance, with the French premier's desire to tackle the sovereign debt crisis through growth clashing with Chancellor Angela Merkel's predominantly austerity-led agenda.
Wednesday's summit is expected to focus on the issue of euro bonds, a financial instrument championed by Hollande as a way to stimulate growth in the continent's ailing economies.
The Socialist President believes capital raised by issuing the bonds could be used to fund continent-wide job-creation programs.
Speaking in Paris on Wednesday, Rajoy said that stubbornly high borrowing costs could drive the country into financial ruin, before calling on the European Central Bank (ECB) to come to the rescue of weaker countries in the currency bloc.
His call for aid came as rumors began to emerge that beleaguered Spain had already approached the ECB for a bailout, something Rajoy denied.
Hollande enters the Brussels talks with Italian Prime Minister Mario Monti and EU Commission President Jose Manuel Barroso in support of his euro bonds plan.
But despite a growing support for the bonds, Merkel has held firm in her opposition to the instrument without the signing of an EU-wide accord on strict fiscal constraints.
The German Chancellor is supported by the Netherlands, Finland and other smaller euro zone member states.
Introducing euro bonds is the equivalent of ringing the bell for a happy hour so the inebriated can postpone their hangover indefinitely, one EU diplomat told Reuters.
While neither side is expecting a definitive decision to be reached at Wednesday's summit, the debate is expected to be heated as the pro-austerity camp tries to maintain its once hegemonic grip over the terms and direction of European-wide economic policies.
© Copyright IBTimes 2023. All rights reserved.